One killed, five injured in tribal clashes on Nandi-Kakamega border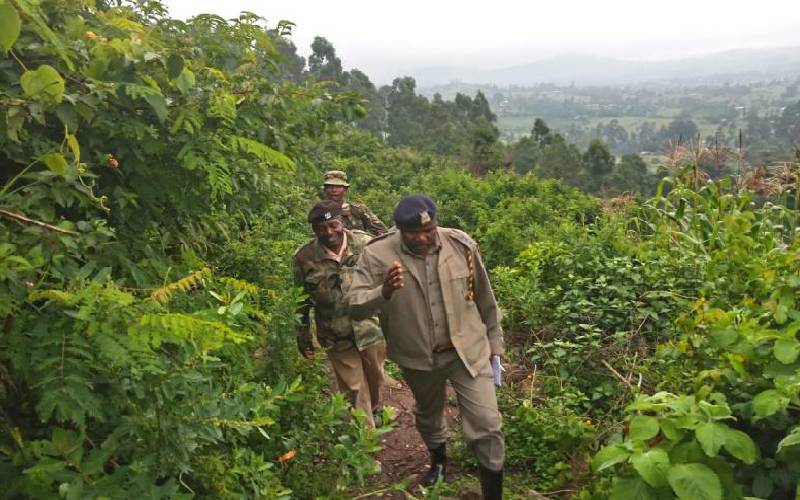 One person was killed and five others sustained serious injuries on Friday after tribal clashes erupted along the Nandi-Kakamega counties border over a land dispute.
Trouble started after two families living in Kataniin village, Nandi North, on the common border of two neighbouring counties, disagreed over a piece land at flaring up into a tribal clash.
The fight across Nandi escapement was reportedly elicited by a land dispute between one Patrick Angasi and Samuel Rono living along the common border between the two neighbouring counties in Kataniin Village, Nandi north.
According to Nandi-Kakamega Joint peace committee secretary, Paul Koech, livestock belonging Mr Rono strayed into Igoli sub location where it was suspected to be in Angasi place.
Residents from Kataniin village reportedly crossed the boundary to look for the livestock and confronted the residents from Igoli community sparking the fight.
"Wilson Kiprono from Kataniin village who was unaware of the clashes was attacked by armed residents in Igoli sparking a fight between the two communities living in both location," he said.
Attempts by officers from the nearby Kufasali Police Post in Kakamega to quell the fight failed forcing them to call for reinforcement from Malava Police Station.
According to Nandi North police boss Antony Shimoli, a 25-year-old man was shot and killed as police tried to bring order between the two warring factions.
"A man identified as Bonface Kiprotich died after being shot on the left side of the chest and the right leg below the knee," he stated.
Hospitalised
Wilson Kiprono and Moses Kwani sustained cut wounds on the head and they are admitted at Malava hospital in Kakamega.
"Kelvin Kipchumba and Dennis Letting both in their early thirties are admitted at Kabiyet sub county hospital after sustaining bodily injuries during the fight," said Shimoli.
Another man identified as Alexander Kitarbei was cut with a sharp object on the right hand and is admitted at Kaiboi Mission Hospital.
Shimoli said officers from both counties have contained the situation and are investigating the matter.
No arrest has been made.