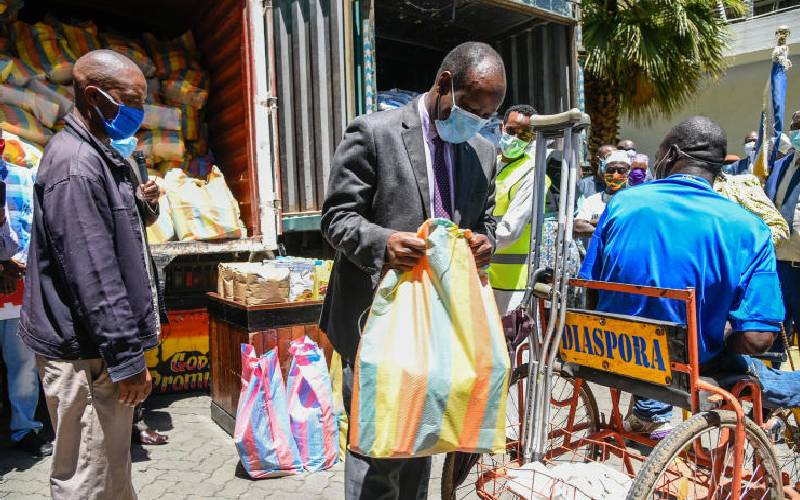 Nakuru County yesterday released the first tranche of food and non-food donations to residents whose incomes have been hit by the coronavirus pandemic.
Governor Lee Kinyanjui flagged off trucks carrying rice, sugar, wheat and maize flour, cooking oil and bar soap.
"Each family will get 5kg rice, 5kg maize flour, 2kg cooking oil, 2kg wheat flour and a bar of soap. The beneficiaries will be receiving the donations every two weeks," Mr Kinyanjui said.
The county government also donated 2,000 kilos of dates for the Muslim community who began fasting last week.
Owners of small and medium enterprises (SMEs), such as salons and barbershops, were given masks and sanitisers.
Read More
"More than 2,000 businesses were registered to receive the donations. The SME sector is a key driver of our economy and the county is obliged to ensure they continue operating safely," Kinyanjui said.
The county assembly approved a Sh300 million budget aimed at offering incentives that would cushion residents against the economic effects of Covid-19.
The governor lauded Muslim leaders in the county for adhering to social distancing rules and other measures set by the government to curb the spread of the highly contagious virus, even as their fasting season kicked off.
"Muslim leaders have been at the forefront of sensitising their people on measures to curb the spread of the coronavirus. Their level of co-operation is commendable," said Kinyanjui.
The county boss further cautioned residents against moving in and out the county, saying anyone caught flouting this rule would be put in mandatory quarantine.
He also urged parents, especially those in informal settlements, to ensure that their children remain indoors to minimise physical interaction.