State calls off search for bodies in Kerio Valley mudslides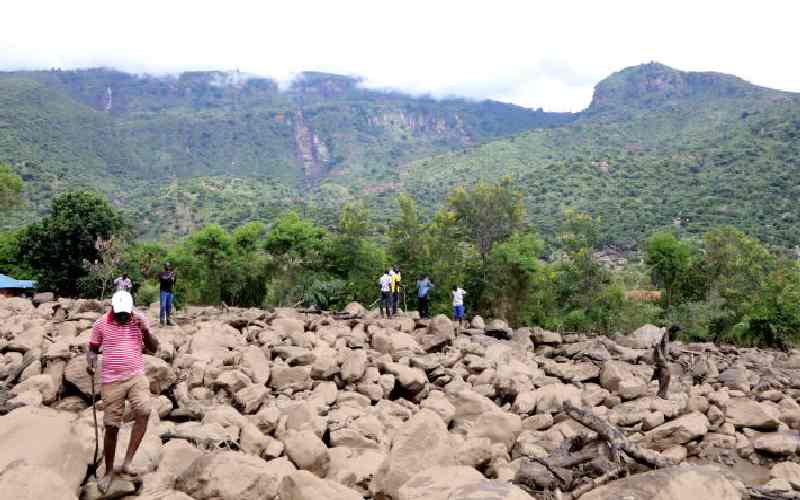 The State has ended the operation to retrieve bodies of missing persons following mudslides on the border of Elgeyo Marakwet and West Pokot counties.
Senior security bosses leading the operation ended the search for other 17 missing people who were swept away.
They cited heavy rains and difficulties in retrieving bodies buried under boulders and mud.
One body was retrieved from the mud on Thursday, two days after two others and a foetus were recovered.
The operation has been led by Rift Valley Regional Coordinator George Natembeya.
However, the move to call off the search was criticised by Elgeyo Marakwet Senator Kipchumba Murkomen who accused the state of "giving up too early."
A multi-agency team comprising of Kenya Defense Forces (KDF), the police, Red Cross and community scouts have been combing Chesegon, Liter and Cheptulel areas in search of bodies.
Natembeya declared that 17 people who are still missing after the mudslides that rocked Sambalat and Liter in Elgeyo Marakwet and Chesegon and Cheptulel in West Pokot are buried in the debris.
The Red Cross said it is no longer possible to find survivors five days after the calamity.
"Under the circumstances, we have decided to call off this operation," said Natembeya, who has pitched camp in the area since Sunday.
Some of the bodies retrieved on Tuesday were retrieved more than 20km away from Kipchumwa area where the mudslide happened.
"We have been looking for 35 people who could be accounted for when flooding occurred. We have found 18 bodies and 17 are still missing.
"A DNA test will be done in some of the bodies because they were dismembered when they were swept away. The only bodies positively identified are those of two police officers," he said.
He warned local politicians against exaggerating number of beneficiaries for the relief food supplied by the state.
"We have a challenge because politicians want to include everybody in the list of those affected."
To mark the end of the search, the multi-agency team laid a wreath on one of the spots where victims were swept away.
But Senator Murkomen said area leaders will continue support local men to continue the search for missing bodies.
"It is very sad that the RC has called off the search. It is very unfortunate for state to give up so fast. Even then, we have supported our local men to continue the search and they have found one body," Murkomen said.
Reports by local chiefs indicated that 70 families were affected by the floods in Elgeyo Marakwet and 66 families were displaced in West Pokot.