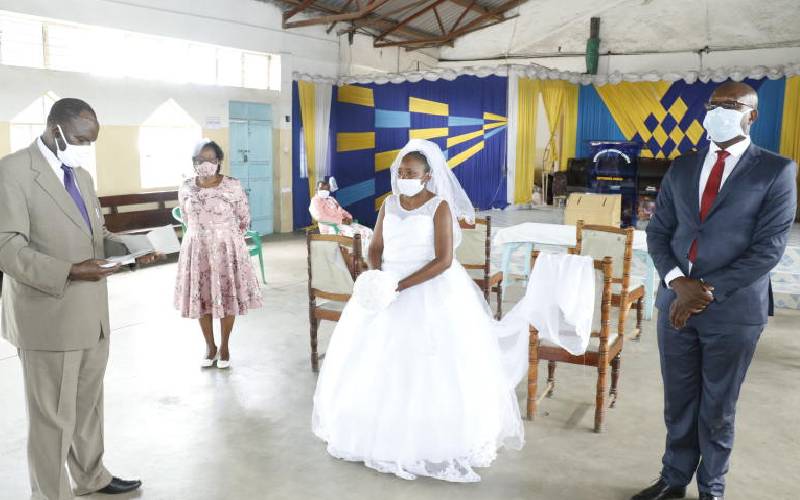 The midday sun struggled to peek through a cloudy sky following a night of heavy rains yesterday.
At Angaza SDA Church in Kaptembwa, Nakuru, a small group gathered for a wedding.
"Love reigns even in tough times like this. Today, we will not have much time to talk but we will go straight to the ceremony," presiding pastor Samuel Mwaniki said of the event that took just about 29 minutes.
The event strictly followed the rules set to contain the spread of Covid-19. The bride and groom wore masks; there was strict social distancing. Less than 15 people witnessed the two tie the knot.
Read More
At noon, the bride, Jackline Torori, and groom, Job Mogire, arrived at the church compound in separate cars.
Both, as regulations dictate, wore masks. The bride, in her flowing white dress, balancing on delicate cream high-heeled shoes, beautifully toyed with her bouquet of flowers. The groom was resplendent in his navy-blue suit with shades of grey.
At the church entrance, attendants washed and sanitised people's hands. Social distancing, too, was strictly observed.
After sanitising their hands, the bride was ushered into the church at exactly 12.45pm. A minute later, her parents followed, then the groom tagged along followed by his parents. Three pastors presided over the event.
Wooden table
At the pew were four chairs and a wooden table. The groom, bride, best maid and best man sat separately. Only their parents and a few witnesses were allowed in the church. The rest of the people, less than five, followed the proceedings from outside
"We have always looked forward to our wedding and our plans started in November. We had a budget of more than Sh500,000. We wanted to invite many people. Despite the pandemic, we thought the wedding could still go on uninterrupted because love conquers all," Mr Mogire said.
Based on observation, the ceremony met all the legal requirements.
"It has been a happy occasion. We will have a bigger party once the pandemic is over," Mogire said.
At the event, no cake was cut. Only certificates were signed at 12.50pm just before the closing photo sessions.
The couple exchanged vows while facing each other with the groom slightly bending over to lift the veil off the bride's face.
The vows lasted a minute. The wedding officially ended at 12:54, exactly 29 minutes after the bride entered the church.
"We will spend our honeymoon at home and respect the stay at home orders," Mogire said. Charles Torori, the bride's father, was happy that the wedding was a success.