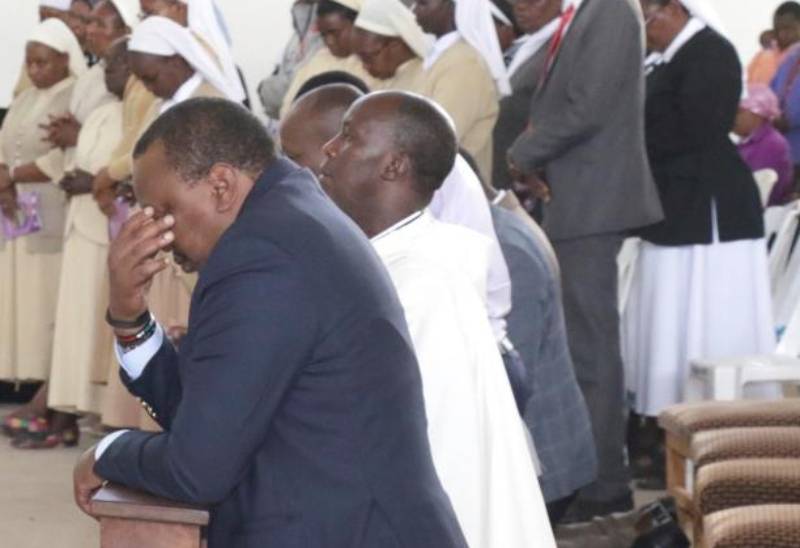 The Catholic faithful have pledged to support President Uhuru Kenyatta's war against corruption.
President Kenyatta had joined the faithful in marking the beginning of the 40-day lent period, which starts on Wednesday, at the Subukia shrine.
He reiterated the church's position that fight against graft can only be won through individual and collective responsibility.
"The fight against graft should start with all of us at a personal level. We have to start by looking at ourselves as the first agents of change. If we all responsibly play our roles we shall be able to address the challenges facing our country," Uhuru said.
This comes just a few months after the Kenya Conference of Catholic Bishops (KCCB) launched a campaign against corruption.
The president, who later addressed a rally at Subukia town, said he will remain committed towards leaving a legacy of unity through the Building Bridges Initiative (BBI).
Peace and cohesion
"We must maintain peace and cohesion even as we seek political leadership. This is the basis for life and the whole world. When we talk of BBI we aim at bringing to an end recurring bloodshed due to politics," he said.
He called on the political class to stop dividing the country along tribal lines.
"If we are to compete politically let us do so based on our dreams and not based on tribal lines. If we are led by development agenda we are bound to live a life of peace without fear of elections and their outcomes," he said.
Catholic Justice and Peace Commission Chairperson John Oballa said this year's lent campaign is meant to sustain the war against corruption and focus on improving lives of ordinary people.
"Our theme for the lenten campaign is 'Stewardship for a Transformed Nation – My Obligation'. It should take cue and address how we can continue this fight against corruption," said Bishop Oballa.
He said there was a great need for the church to decisively confront the graft scourge and lead by example.
"Stewardship will spur the country to greater heights. Our stewardship must imitate that of Christ. All we have belongs to God. We are simply managers or administrators acting on His behalf," Oballa said.
Among the issues the church will focus on during the period include agriculture, youth and development, natural resources and responsible exploitation, leadership and accountability, sanctity of life and dignity.
"As good stewards, we should strive to preserve the earth. This will enable us feed the nation and take care of future generations. We shall look at how we can contribute to the empowerment of the youth," Bishop Oballa said.
KCCB Chairperson Phillip Anyolo urged the Judiciary to cultivate a culture of truth in the justice system even as Kenyans resolve to fight graft.
"Even as we urge the various agencies to play their roles, we encourage Kenyans that this is a call to action. It starts with admission of individual and collective failures to bring sanctity and directions on how we shall take forward the country," said Archbishop Anyolo.
He said the amount of untold deaths, suffering and desperation in the country was too high as people struggle to get basic needs.
"It is unfortunate to see resources set aside for the common good being looted for personal gain. Such acts have broken the hopes of many youths who now feel they are supposed to do the same," said Anyolo.
On the BBI and referendum debate, the bishop called for truce in the political class to ensure the country is not divided while in pursuit for unity.
"We don't want a divisive referendum as seen in 2005. We need to be cautious that the unity we are seeking does not leave us even more divided," he said.
Archbishop Martin Kivuva of Mombasa Archdiocese, who led the mass, called on those given government positions to be accountable and responsible.