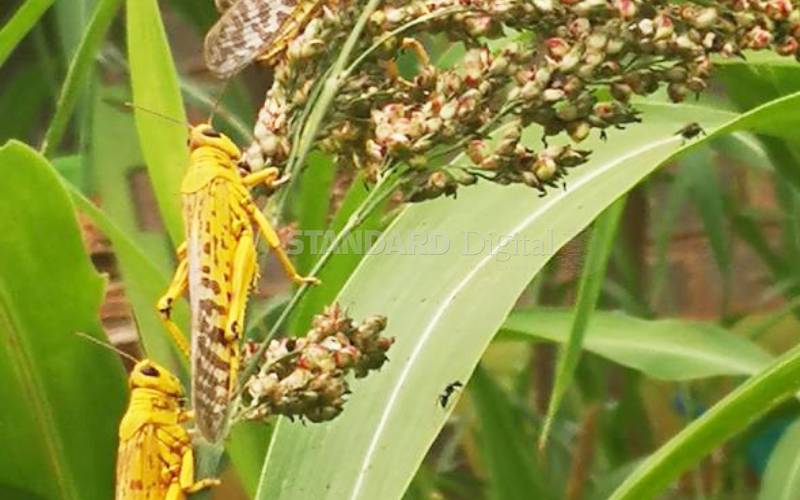 The government has started aerial spraying desert locusts that invaded parts of Elgeyo Marakwet, Baringo and West Pokot counties. On Friday, officers from the National Pest Control unit using aircraft fit sprayers at dawn. The locusts have covered approximately 48 square kilometres along the Kerio River belt.
SEE ALSO: Two years later, locals sleep easy as guns go silent
The locusts estimated by agricultural officials to be a swam of over 50 million insects have been traversing the three counties. They destroyed crops before swarming into the Romoi game reserve that hosts elephants, zebras, giraffes, camels and livestock. Residents are optimistic that spraying the locusts would restore the fragile ecosystem and protect food security. Resident Barnabas Morori said they have never witnessed such invasion and thanked the government for coming to their rescue. "We tried chasing them but they seemed stubborn. We hope the pesticide kills them," the 70-year-old man said.
SEE ALSO: Girl killed, two rescued in West Pokot gold mine collapse
James Komen, a small scale livestock farmer, said he is worried his livestock may lack food. "They have invaded the whole village. I thought it was a whirlwind. They are feeding on acacia leaves which are also food for our cows and goats and we feared they would starve to death." Elgeyo Marakwet Deputy Governor Wisley Rotich said immediately reports of the locusts invading the region were reported, a team from the Agriculture department led by CEC Anne Kibosia and the provincial administration was dispatched. "Through Governor Alex Tolgos, Agriculture CS Peter Munya instructed that we monitor ... the exact location of the swarms. We are optimistic the insects will be controlled from further destroying our vegetation," Rotich said. Among the most sought trees by the insects, observed the DG, is the acacia, whose flowers are good for honey production.
SEE ALSO: Alarm raised over measles outbreak in West Pokot County
Its leaves and pods are livestock feed and the Ficus Egyptica, locally known as ngoswo, a traditional vegetable. Rotich added that the spraying will contain the locusts but at the moment, it is a wait-and-see situation. "The locusts have consumed a lot of vegetation which poses a great threat to food security and livestock pasture." He said county officers were recently trained by the Food Agricultural Association (FAO) on how to manage the locust invasion. Barnabas Kwambai, the Emsoo ward Agricultural officer, was among the officers trained on locust management. He said the situation in Kerio is complex and could not allow hand spraying. "With the tall trees, it would be difficult to use manual sprays. They are currently at stage three where they can mate and hatch," Kwambai said, warning that the insects could fly back due to the available warm breeding places along River Kerio and Lake Kamnorok.