Guard at Ruto's office was planning to wed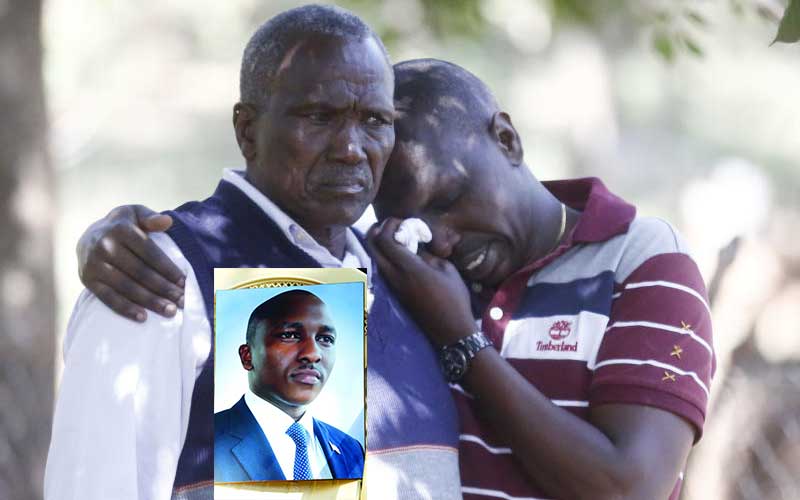 Kipyegon Kenei, a police sergeant who was found dead in his house in Nairobi on Thursday, was planning to wed Judith Yegon, mother of his 10-day-old baby boy.
The officer was jovial when he visited his home village in Rongai Sub-county last weekend, and was happy to meet his baby boy.
Kenei, 33, was scheduled to record a statement with the Directorate of Criminal Investigations in connection with the Sh39 billion firearm scandal linked to Deputy President William Ruto's office where he worked as a security officer.
The officer was said to be on duty when former Sports Cabinet Secretary Rashid Echesa hosted some foreigners at Harambee House Annex Building.
His body was discovered in his house in Villa Franca, Imara Daima, after a neighbour reported a foul smell.
Newly constructed
Yesterday, a sombre mood engulfed Chemasis village in Rongai Sub-county, Nakuru where he lived with wife and family.
Looking confused and deep in grief, Yegon was yet to come to terms with the tragic news. "They were planning a wedding after living together happily for a year and having been blessed with a child," said John Chesang, Kenei's father.
A WhatApp group comprising family members and friends had been set up to help plan the wedding that was scheduled for August.
A newly constructed three-bedroom house in the homestead tells of a man who was prepared to settle down with his small family.
Chesang said it is unfortunate his fourth-born child did not live long to enjoy the house he recently built. "He was ready to settle down. He was hard working and he did his best to put up this house," he said.
The father of seven recalled that a week ago, Kenei was in the village to pick his first-born son from school after breaking for half term.
"He was here for three days. He was jovial, full of life and did not share any challenges that might have led to his sudden death. He asked me about marriage customs and how to make his impending wedding successful. I told him everything - little did I know it was the last time I would be talking to him," Chesang said.
The grieving father said he learnt of his son's death through the media. "I could not believe it, until I saw his pictures being aired on television and a story saying he had committed suicide and that his body had been recovered in his house," he said.
Chesang had not heard from Kenei for days, and recalls that the last time they spoke was when his son announced to him that he had arrived safely in Nairobi.
"As a family, we are not satisfied with the suicide theory. We need the government to speed up investigations and tell us what happened," he said.
According to family members, the late, who joined the National Police Service in 2006, held his infant for about an hour before handing him over to his mother. "His face brightened as he looked at the baby; he looked satisfied," said his elder brother Emmanuel Kenei.