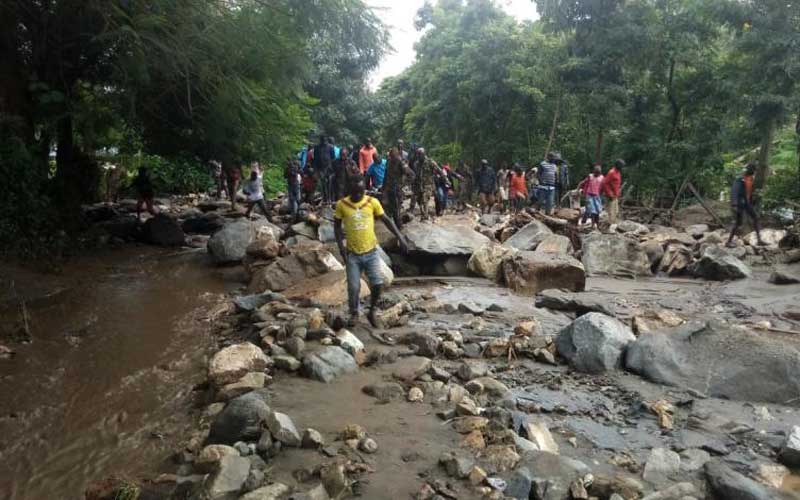 Reformed warriors have donated 100 goats to victims of floods and landslides that hit West Pokot County in November last year. The more than 100 former warriors from Baringo County travelled from Amaya in Tiaty constituency to Chesta village of West Pokot to support the families who suffered the calamity. They said they were touched by effects of the landslides that killed more than 50 people and livestock, destroyed property and displaced more than 1,500 locals in Batei, Tapach and Weiwei wards. West Pokot Governor John Lonyangapuo, who received the goats, welcomed the gesture saying it should be emulated by other reformed warriors.
SEE ALSO: Girl killed, two rescued in West Pokot gold mine collapse
Prof Lonyangapuo said it was unusual for reformed youths to give out livestock to other people. He praised the initiative saying locals should cultivate solidarity and coexistence among residents.
Embraced change
The governor said it was now an indication that the youths have embraced change and shunned retrogressive cultures. "This is history because it has never happened. It is not easy for Pokot youths to donate goats to others. The youths never went to school and neither do they speak English or Kiswahili but have a giving heart," said Lonyangapuo. Former Tiaty MP Asman Kamama, who accompanied the delegation, said the move was good gesture for the Pokot community.
SEE ALSO: Teacher killed in Laikipia banditry attack
"Recently, we fundraised for the youths to engage in income generating activities and they have decided to give back to the community. This is the heart of Pokots," said Kamama. The chairman of reformed warriors in Tiaty, Benjamin Naitale, said the negative narrative of Pokot youths being referred to as 'cattle rustlers and bandits' ended.