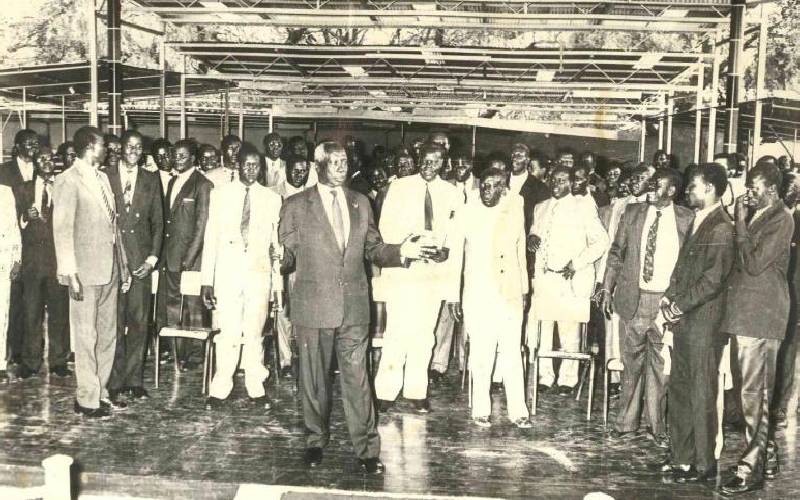 Former President Daniel arap Moi is hailed as a masterful political chess player who was always one step ahead of his rivals.
In his biography Not Yet Uhuru, Kenya's first Vice President Jaramogi Odinga Oginga described Moi as 'the giraffe that saw far' - an apt observation that was vindicated when Moi patiently waited in the wings before taking over after the death of Jomo Kenyatta in 1978.
Moi had vowed to follow in Kenyatta's footsteps and he would prove to be adept at political maneuvering that always caught his rivals flat-footed.
Author Blaine Harden, who was overbearingly critical of African leadership when he wrote his book Africa: Dispatches From a Fragile Continent, could not hide his admiration for how the country was being managed in a region racked by turmoil.
"In comparison to its East African neighbours, Kenya is an island of sanity. Ethiopia, to the north, is starved by Marxism and bleeding from civil war. Uganda, to the west, is stunted from two decades of ethnic killing. Tanzania, to the south, is struggling to recover from a failed brand of African socialism that specialised in production of gaping potholes and pandemic apathy," wrote the former long-serving correspondent of the Washington Post.
A practice that Moi borrowed from Kenyatta and faithfully adhered to was hosting delegations at his different residences. The most popular venues were State House Nakuru and his private home in Kabarak.
Weekend visits
The delegations that would arrive almost every weekend when the president was in Nakuru allowed Moi to stay ahead of everyone else at a time when the situation demanded that a president could not legitimately share the limelight without weakening his leadership.
"He was always in the habit of leaving everybody flat-footed. Authority was not shared. He guarded his space and power very jealously and the only thing left for everybody else was to toe the line," writes Moi's last vice president and Amani National Congress leader Musalia Mudavadi in his autobiography Soaring Above the Storms of Passions published last year.
Kenyatta had also been fond of hosting delegations mostly at his rural home in Ichaweri in present day Gatundu South. But when in Nakuru he would also be entertained by troupes of traditional dancers.
Delegations to Kenyatta, which in the 1970s included one from Juja constituency asking him to acknowledge the political ambitions of his son, Peter Muigai, against incumbent Gitu Kahengeri, are also remembered for raising funds for his pet project - the Gatundu Self-Help Hospital (now the Gatundu Level 4 Hospital).
Moi's delegations were a different kettle of fish. According to former long-serving Njuri Ncheke Secretary General Phares Ruteere who made many such visits, they never left without gifts.
A case where Moi deftly used delegations to make desired changes involved President Uhuru Kenyatta.
In August 1995, Uhuru, who had just joined Kanu, led a delegation of coffee growers from Gatundu to meet Moi at State House.
According to Peter Thatiah in Uhuru's unauthorised biography Hard Tackle: The Life of Uhuru Kenyatta published in 2014, the delegation smoothed the way for the young politician to get a Kanu ticket in the 1997 elections.
Political debut
"To make his debut in Gatundu politics spectacular, Uhuru needed to politically liquidate the competition. The biggest threat was Patrick Muiruri who had announced that he coveted the Gatundu seat. A detective who ran a private firm called Private Eye in the city, Muiruri had risen to prominence through the local coffee co-operative movement and was the chairman of Gatukuyu Coffee Farmers Co-operative Society."
At the end of the visit by the farmers' delegation, Gatukuyu's management was dissolved and the society liquidated. The Kanu Gatundu sub-branch where Muiruri was chairman was also dissolved leaving him without a public office in the constituency.
During a harambee at Thika High School in 1996, Juja MP Stephen Ndicho, who had been elected on a Social Democratic Party ticket, made an impassioned plea to the president to be allowed to lead a local delegation to Kabarak to air their grievances.
When the delegation went to Kabarak, Moi announced Kanu elections in Thika District in the newly created Juja and Gatundu constituencies from Kiambu and Gatanga constituency from Muranga.
The elections paved the way for the election of Uhuru as Thika Kanu chairman shortly before the elections. Thatiah writes that another western Kenya Kanu delegation to State House in Eldoret on July 28, 2002 led by Lugari MP Cyrus Jirongo was expertly used by Moi to send word that he had anointed Uhuru as his preferred successor.
Former assistant minister and Tigania MP Mathew Adams Karauri recalled having been in three Meru delegations.
"I was the vice chairman of the Kanu branch, deputising Jackson Angaine who would always lead us there," said Karauri, adding that he felt Moi first wanted to gauge his popularity on the ground and, secondly, send a coded message on who he wanted as a point man in a particular area.
Rogue leaders
"The delegations were also an opportunity to read the riot act to some rogue leaders and to sway hostile regions in his favour," said Karauri. "Remember, at those meetings the president could grant projects that the leaders lobbied for."
National Council of Elders Secretary General Phares Ruteere also recalled the many Njuri Ncheke delegations he took to Kabarak and State house with Angaine's blessings.
"Once we went with a delegation to break the news that Angaine had sired a son and named him after the president. He was gratified and visited the family in Timau where I was Angaine's neighbour," said Ruteere.
He added that Moi developed a fondness for the Njuri Ncheke and would always request them to visit before Christmas.
"The president would keenly listen to local perceptions on issues and gauge the political feeling on the ground. We would always leave with presents to share with our members who were unable to visit," said Ruteere.