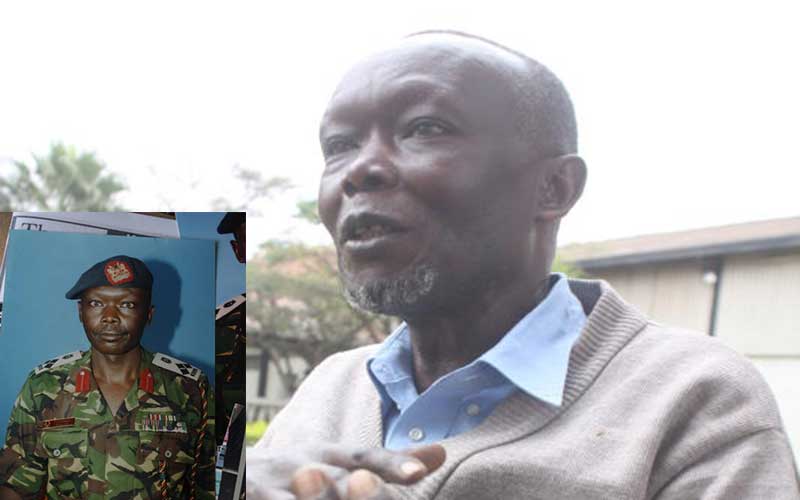 A burst of gunfire rang out at night, shattering the calm at Nairobi's Kabarnet Gardens, where President Daniel arap Moi was about to retire to bed.
Major Philip Kipkoech Chebet and his soldiers scrambled to secure the president in his official residence.
"It was just after the president had supper and he had gone upstairs," Chebet recounted. "We switched off the lights and came down with the president."
While any security scare to the president is serious, this one had the men on edge because it was four days after the attempted coup on August 1, 1982.
The gun shots came from the Nairobi Dam side, which was uninhabited at the time.
"Some of the soldiers set off in pursuit of the attackers but they were never caught. Our colleagues reported seeing four silhouettes disappear into the darkness," said Chebet.
The soldier tasked with protecting Moi during those troubled days said the Head of State demonstrated bravery and courage in the face of adversity.
"The president's only concern was to restore normalcy to the country."
At the time, Nairobi's tranquility had been shattered after it was overrun by rogue Kenya Air Force soldiers. And as loyal soldiers combed the streets, the air was rent by staccato bursts of gunfire as they clashed with the heavily armed rebels who retreated to their hideouts.
The mayhem had started on August 1, at around 11.30am when Chebet, on the orders of Brigadier John Musomba, travelled to State House in Nakuru where he was charged with ensuring the president's safety.
He arrived in Nakuru commanding a company of 120 men. He had at his disposal four armoured cars, three military trucks and two Land Rovers, one fitted with communication equipment.
Nightmare in city
But even before the last embers of mutiny had been extinguished, Moi did the unthinkable. "I was shocked when the president told me that he needed to be in the city to assess the damage. From a security perspective, it was a nightmare as the city was still very dangerous. There were rebel soldiers still hiding in houses in some areas," Chebet recalled.
They started the journey back to Nairobi with Chebet at the head of the slow-moving convoy. The presidential limousine was sandwiched between the armoured cars and the heavily armed soldiers. They did not encounter any major hitches along the route.
But on reaching Uplands in Limuru, the military convoy found a crowd of curious onlookers by the highway.
When the civilians saw the presidential limousine, with its national and standard flags flapping, they fled into the bushes.
"When President Moi saw this, he ordered us to stop so he could address the public. As the officer entrusted with his safety, I was against the idea but the president had spoken. I had to obey," said Chebet
The soldiers had to get creative to win the confidence of the residents who had mistakenly thought that Moi had been captured by rebels.
"We started chanting 'Nyayo.. Nyayo ..Nyayo'. This drew the crowd closer. Then the president emerged from the sunroof of his car and greeted the people. He assured them that he was safe and that their country was safe as the rebels had been crushed."
During the short address, Chebet said his hairs were on end because he feared danger to the president could come from anywhere and this would mean that he had failed in his mission to secure his commander-in-chief's safety.
But this was nothing compared to what Moi did when the convoy reached Kawangware. There was another crowd and the president was determined to assure the worried people that he was okay.
In the background, the thunderous clap of gunfire could be heard tearing apart the city sky. Unknown to Chebet, by this time - as Musomba told The Standard in a separate interview - the city had been retaken by loyalists although there remained pockets of resistance.
After Moi gave a short address, his convoy snaked into the city through Dagoretti Corner and Ngong Road before making its way to State House. The route was lined with soldiers posted to ensure safe passage.
They arrived at State House without incidence. He freshened up and read a speech that was recorded and rushed to KBC by armed soldiers. And before sunset, apprehensive Kenyans heard his reassuring message.
There was a collective wave of relief and police officers who had deserted their posts put on their uniforms and started restoring order.
But Chebet had not delivered Moi from State House to his official residence in Kabarnet Gardens. He had to use several decoy cars to confuse any enemies who may have been lying in wait.
Musomba said he was assigned the task of mopping up the city by arresting all the rebel KAF soldiers. So it came as a shock when he learnt that the president wanted to fly to Mombasa a few days after the coup.
"Moi was not afraid to be flown by a member of the very same Kenya Air force that had tried to topple him. This showed that he was unbowed."
He said his most lingering memory of the president was his bravery, generosity and knack of remembering faces and names.
"He was a brilliant leader who was sometimes underrated. He was ready to reward and mentor people. He knew how to appreciate those who did their jobs well," said Musomba.
People freed
To demonstrate the president's fairness, Musomba recalled how thousands of people who had been arrested in connection with coup were freed on his orders.
"He ordered us to release those who had no direct role in the coup. He was a good commander-in-chief who was fair but firm. That is why he was able to hold the country together for 24 years against a fast-growing and changed political order."
Chebet would remain by Moi's side for two months as the military exercise to restore normalcy continued. He interacted with his boss every day and got to better understand him.
"I got to know him at a personal level. After staying at State House for only one day, he invited me for dinner where he joked that we had to learn to relax, observing, "kama tungekufa, hii chakula ingekuliwa na nani?"
His breakfast, Chebet recalled, comprised of porridge, boiled maize, boiled meat, indigenous vegetables and ugali made from sorghum.
He did not like fried food. The former president's generosity knew no bounds as Chebet was to learn. He recalled how he was treated like the Head of State's son.
"One thing I learnt from my commander-in-chief was that he was a very generous and compassionate man. He would buy things by the roadside, not because he needed the merchandise, but out of compassion for the sellers. He was also open to different views and had a gift for listening."
Chebet later retired from the military with the rank of brigadier while Musomba retired with the rank of major-general.