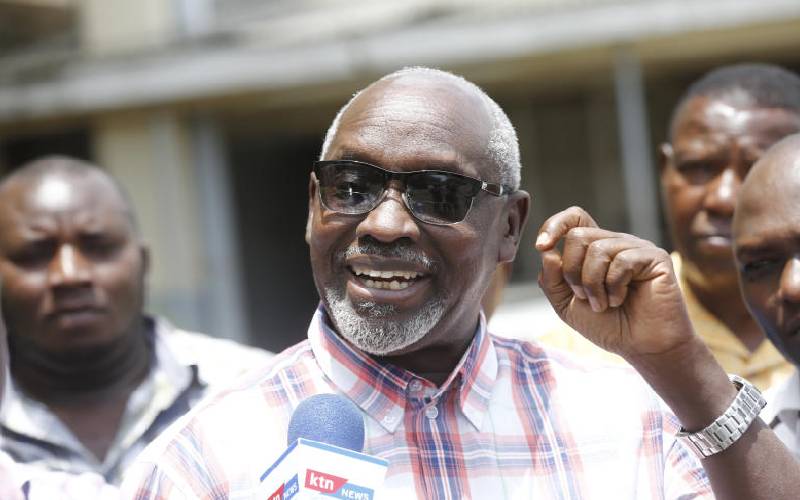 Former president Daniel arap Moi, who retired at the age of 78, did not require side notes on details discussed earlier while chairing Cabinet meetings.
Former State House Comptroller Frankline Bett (pictured), who served in the position between 1996 and 1998, has revealed that Moi would recall fine details in a manner that always startled his cabinet.
"Former President Moi had a good memory. Even towards his final years as president, he could remember details of proceedings in the Lancaster House as if it was yesterday. Many in his cabinet were younger than him and were wowed by his sharp memory," said Bett.
Bett said members of the Cabinet would get shocked, as Moi recalled some issues that a specific minister might have overlooked.
Read More
"Moi was fond of making roadside pronouncements, some which would not be noted down. It would, however, come up in future. I can't recall any of these declarations that he did not remember to follow up on," said Bett.
The former Bureti MP added that through Moi's cabinet appointments, which were balanced in terms of ethnicity, he managed to hold the country together.
"He was cognizant of the fact that Kenya was made up of many tribes and he tried his best to ensure there was a balance in cabinet appointments," said Bett.
Bett who is the current chairperson of the Agricultural Finance Corporation (AFC) described Moi's death as a big blow to the country, saying the country has lost a forthright person, determined leader and a patriot.
"He worked very passionately, never leaving anything to chance. When it came to education his desire was to have every child in the country get education without discrimination," said Bett.
The former legislator added that Moi was thorough and selfless in his job and would wake up early to personally make calls to various government offices to get abreast with how the country was.
"He mostly woke up as early as 3am. He personally made calls to every Provincial Commissioner to get a security briefing from them," he added.
Bett noted that handling Moi's itinerary was challenging, as the former Head of State loved having a one on one interaction with Kenyans whenever he made visits.
During the stopovers, Bett said, Moi would give two residents opportunity to say what their challenges were, after which he would address them.
"He was a man who had no boundaries when it came to interacting with citizens. Most of his visits were by road and he never bypassed a crow. Managing his itinerary was one of the most difficult tasks, but whenever we discussed it he made sure all was covered," he said.