Police deployed in Samburu after cattle theft attacks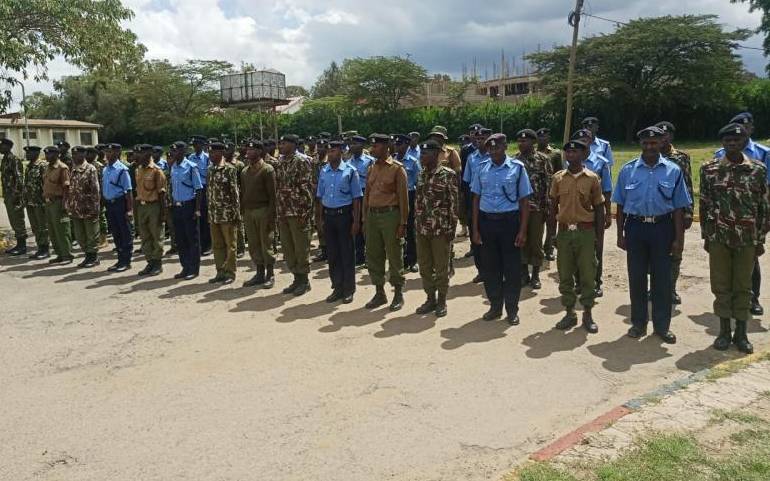 A contingent of police officers has been deployed in Baragoi in Samburu North Sub-county to contain cattle rustling.
Samburu police commander Samson Ogelo said the officers were deployed on Monday after at least three people, among them two children, were killed by armed bandits in Baragoi three weeks ago.
A 12-year-old boy was shot dead at Bendera area by suspected bandits from neighbouring Turkana County.
The bandits had raided several villages in the area and drove away 150 goats and 15 cows.
In retaliation, a 13-year-old boy and a 52-year-old man were shot dead in Baragoi by suspected bandits from Samburu County.
Police officers providing escort along the route repulsed the raiders and recovered two camels and six goats that had been stolen at Bendera.
The officers have been deployed to Marti and Murijo areas.
"Police have been deployed to contain tension brewing following several cases of attacks that were recently reported in parts of Baragoi," said Mr Ogelo.
Police are also conducting regular patrols on Murijo Marti road.
Cases of cattle rustling in the county are linked to illegal firearms in the hands of civilians.
Last June, a 24-year-old man was arrested with a G3 rifle and 21 bullets at Serolipi in Samburu East.
In another incident in April last year, police officers were deployed to conduct the operation in Lomerok in Samburu North after armed bandits raided Samburu East and drove away 50 head of cattle.
Ambushed by bandits
A team of police officers went to help recover the livestock but was ambushed by bandits, who shot dead a senior officer.
In November 2012, 42 police officers were killed by armed bandits at Suguta Valley where they had gone to recover stolen livestock.
Security operators have accused some politicians in Turkana and Samburu counties of sympathising with bandits. According to police reports, a number of armed bandits were hiding in Suguta Valley, an area that has been combed by a contingent of police officers.
Rift Valley Regional Commissioner George Natembeya has maintained that plans to conduct an operation to recover illegal guns are on course.
The tough-talking administrator has warned leaders against funding cattle rustling and arming bandits for political gain.
He promised to restore calm in Elgeyo Marakwet, West Pokot, Turkana, Samburu, Baringo and Laikipia counties.
"There is a ready market for firearms in the Rift. We want to find a way of containing that," said Natembeya.
But Samburu North MP Alois Lentoimaga said no stringent measures had been put in place to restore sanity despite loss of lives.