Landslide victims still live in deplorable camp 22 years on
RIFT VALLEY
By Fred Kibor | Dec 29th 2019 | 3 min read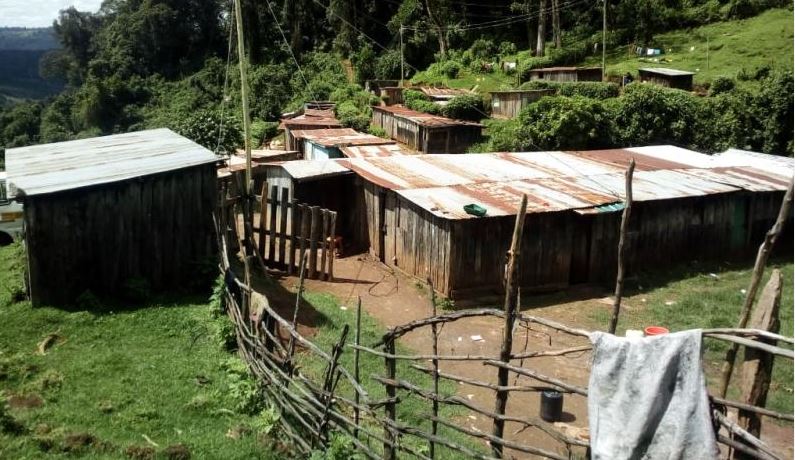 Over 400 families in Elgeyo Marakwet have spent two decades at a campsite after being displaced from their homes by a landslide.
During the 1997 El nino rains, Kabawa village in the Elgeyo escarpment was swept away, leaving at least 10 people dead and dozens injured.
Hundreds of livestock and other property were buried in the deluge as the raging waters wreaked havoc.
The government, to avert more deaths, evacuated survivors and resettled them at Kimoron in Keiyo South Sub-county along the edge of Tingwa Forest.
And now, the campsite is steadily turning into a shanty village due to population explosion. The victims feel neglected by the government even as they grapple for basic sanitation.
"In the 1997 El Nino rains, people, livestock and other property were swept down the escarpment by massive landslides. Since then we have been squatting here, wallowing in poverty and the government has failed to resettle us elsewhere," said the victims' chairman, Samuel Kemkem.
He said after the tragedy, 78 families were evacuated but they have since increased to about 400, huddled in the small camp.
In memory of the devastating rains, the survivors renamed the settlement 'El Nino campsite' to serve as a constant reminder of the misery they went through.
"We feel abandoned by the government, more than two decades after the tragedy that left us poor. Successive governments have failed to resettle us and our lives are getting unpredictable by the day. We now depend on causal jobs to fend for ourselves," said Mr Kemkem.
At the camp, the residents grapple with crowded space and deplorable living conditions.
Families are huddled in tiny rooms in wooden houses that are steadily wasting away, some already caving in. Latrines are overflowing and locals fear an outbreak of waterborne diseases.
Humanitarian crisis
El Nino campsite village elder Abraham Kiprop said the wooden structures might collapse any time because they were built 22 years ago.
"As you can see, a humanitarian crisis is looming and we cannot expand the campsite because it is in a gazzeted forest land where any development has to be sanctioned by the Kenya Forest Service (KFS). We are appealing for urgent relocation," said Mr Kiprop.
He said they had asked the government to take their plots in Kerio Valley in a land exchange programme.
The locals showed us a dozen letters they have written to the government in a land transfer programme where the State would take parcels declared unsafe in exchange for safer ground of equal size.
"The recent rains have brought great loss of property and lives due to steep gradient of their land. I have visited their land several times and appreciate their problem," reads one of the letters written in 2005 by then District Commissioner SM Mwadime to the Lands and Natural Resources PS.
The administrator, in the letter dated March 5, 2005, said, "They would wish that they be compensated for land and that the acreage be as what they have surrendered."
Subsequent administrators have also written to the government for resettlement of the survivors to no avail.
Jelagat Kibet, a resident, said the campsite has been their home since and their children do not know their original homeland.
"When the tragedy struck, government administrators assessed our Kabawa village and advised that we relocate. It is now two decades and it seems the government forgot about us. We are now sitting here waiting for another tragedy," said the mother of three.
Ms Jelagat said they have been asking the government to honour its pledge to resettle them but nothing has been done since then.
"We don't have space even to conduct income-generating activities, thus adding more misery to our lives," she said.
Elgeyo Marakwet Environment executive Abraham Barsosio said the victims have been left on their own even after agreeing to forfeit their ancestral homes.
"If the government had implemented the land exchange programme, this people would have since been resettled. The population is steadily rising and it will precipitate into a humanitarian crisis if a permanent solution is not found urgently," said Barsosio.
Elgeyo Marakwet County Commissioner Ahmed Omar said he will follow up the matter since it had not been brought to his attention.
Raila meets Western leaders
Opposition leader Raila Odinga and a section of legislators from Western Kenya met on Thursday night at the home of Cotu Sec-Gen Francis Atwoli