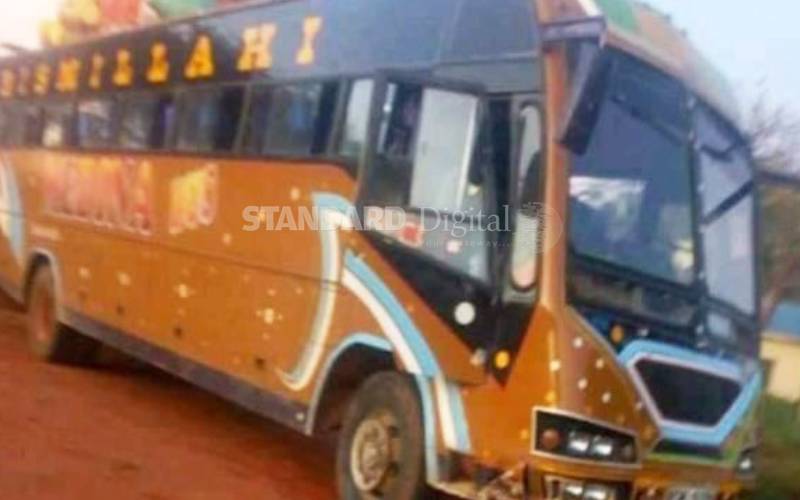 When Wesley Kipkurui left his Saramek village in Uasin Gishu County on December 3, his hope was to return before Christmas ahead of his much-awaited engagement ceremony slated for January 2. The 25-year-old officer attached to Anti-Stock Theft Unit (ASTU) promised his fiancée Abigael Jelimo he would be back in time after seeking leave approval from his bosses. Little did Kipkurui know that Al Shabaab militants Kenya has been battling since 2011 were plotting an ambush that would end his life and that of seven other police officers. He died in the attack on the Mandera-bound Medina bus between Kutulo and Wargadud in Wajir County on December 6.
SEE ALSO: Student seeks compensation after losing finger
Jelimo and the slain officer had been close friends for seven years. Their friendships that was set to get elders' approval in a traditional wedding ceremony started when the duo was in high school. Kipkurui was recruited to the police service in 2017 and graduated last year. He had just worked for a year. At Saramek village, it has been one week of pain and anguish for relatives and friends. Jelimo says she is yet to come to terms with the loss.
SEE ALSO: Driver vanishes with politician's Sh2.1 million in Nairobi
She recalls events of December 6 after the officer bid her farewell that turned out to be the last. "We talked on phone several times as he (Kipkurui) travelled by bus to Mandera, but some time in the evening his phone went off and I became worried," Jelimo told
The Standard
amid tears. Jelimo says she kept calling her fiancé one day after she lost contact but still found his phone still off, compounding fears of a tragedy. She says she received the news of the Medina bus attack last Sunday morning, through online news, but later during the day, the shocking news of Kipkurui's killing hit her so hard. "I lack words to express what I feel right now. I still believe he is just missing and will show up and we proceed with our plans," she says. Kipkurui's brother Stanley Kirwa said he confirmed his brother's death on Sunday after viewing the body that had been transported to Nairobi.
SEE ALSO: Alarm as town becomes new pandemic hotspot
Mr Kirwa, a pastor in Soy, says postmortem results indicated his younger brother was shot once on the head. When he later visited the ASTU camp, Kirwa says an officer who escaped unhurt narrated an ordeal in which militants held hostage non-Muslims, killing them one by one. Sarah Birgen, Kipkurui's mother, said she was with her son three days before the attack.
Phone off
"We parted on Tuesday (December 3) and I wished him a safe journey back to Wajir. Since then, I never called him. But on Saturday, I asked one of his brothers to call to find out whether he arrived safely, but I was told his phone was off," a devastated Sarah said. Soy MP Caleb Kositany has pointed an accusing finger at the Interior ministry, saying the officers should have been allowed to carry their weapons during their travel to their homes and back to work. Speaking after visiting Kipkurui's family, Kositany said no official from the Interior ministry had gone to condole with the family after the heinous attack.