How camel rearing helped group unlock shackles of poverty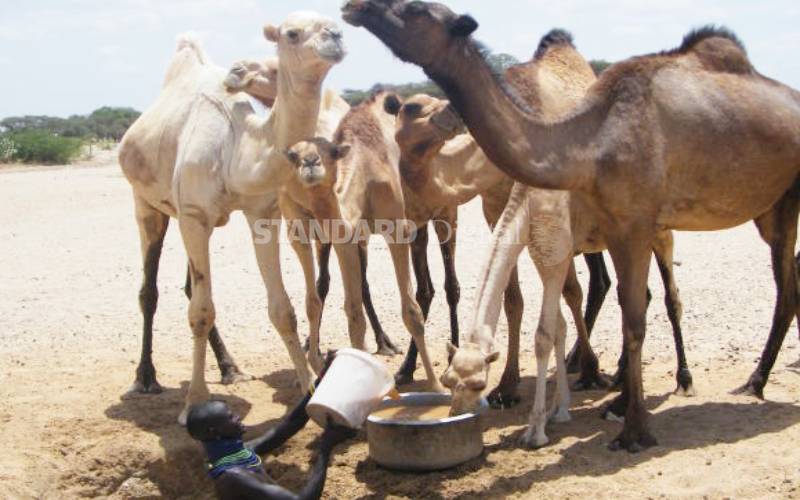 Some 14 years ago, a group of pastoralists in the semi-arid Kerio Valley decided to do what was considered a taboo; rear camels for milk and meat.
The Lapkeiyet self-help group, whose members are from the Keyio community, was determined to fight perennial food shortages and was ready to do whatever it takes to achieve their feat.
Lapkeiyet means a new dawn in Keyio language. At the time, it was unheard of for locals to keep camels. They only reared cows, goats and sheep. The group's idea was thus dismissed.
Apart from trivial taboos, residents also believed camels would attract bandits to Kerio Valley, which is prone to cattle rustling.
But members of Lapkeiyet group did not listen to the naysayers who dismissed their idea.
They approached a local community organisation, the Iten-based Community Agricultural Development in Semi-Arid Lands (Cadsal).
Cadsal gave them five camels - a bull and four females. The Kenya Camel Association (KCA) also added them one more camel.
The group began to rear the camels with utmost care, winning the admiration of Cadsal.
In 2008, KCA visited them and was so impressed with their husbandry practices that it gave them five more camels.
Envy of community
Today, Lapkeiyet is the envy of the rest of the Keyio community. Gone are the days group members and their families struggled with malnutrition and hunger.
Raphael Cheboi, the group's chairman, said in an interview that the camels had changed members' lives.
"Camels are actually helping us combat food shortages. We are now financially empowered since we can sell surplus camel milk. The milk is high-priced compared to cow milk," said Mr Cheboi.
The group now rears camels that are a mixed breed of Somali and Turkana breeds.
They occasionally slaughter the animals for their own consumption and for commercial purposes.
According to Cheboi, locals never wanted to taste camel milk or meat initially.
"There were a number of myths that people here used to pass around. Some said the mere existence of camels would turn Kerio into a desert. But all that has now changed. People are rearing them," Cheboi said.
He explained that a camel bull or a barren heifer is sold to slaughter houses for not less than Sh50,000 depending on its size and age.
A litre of camel milk goes for Sh100. Cheboi said due to the harsh climatic conditions in Kerio camels are the only animals that can save locals from starvation.
Dry season
"Each year during the dry season, crops wither and many animals die. There is widespread malnutrition. People migrate to the highlands in search of food. Surviving animals became emaciated. But camels cushion us from all this," said Cheboi.
When the The Standard visited the group in Keu location, Keiyo North Sub-county, it found that the members have increased their camels from the initial six to 100.
Several other self-help groups in the area such as Ufunuo and Upendo have also embraced camel rearing.
Besides supplementing food and income to the families, the animals have also helped in environmental conservation.
"Unlike other livestock, camels' feet have a flat sole which does not loosen the top soil making it vulnerable to erosion," said Milka Kigen, a member of the Lapkeiyet group.
"They have improved soil conservation in the region."
She continues: "Our farm is now a resource centre where other farmers troop in to learn camel rearing."
Ms Kigen said group members have constructed a charcoal-walled cooling equipment that can store milk even up to two weeks.
Benjamin Cheptum, another group member, said they want to introduce camel riding as a sport in the region.
According to Anne Kibosia, the County Executive for Agriculture, camels have added to the residents' food sources.
"Malnutrition was a major challenge in the region but the camels have supplemented the residents with milk, making children healthy unlike before when undernourishment was rife," Ms Kibosia said.
She noted the animals are also important for conserving the environment.