Scare as Silverstone airplane tyre detaches on take-off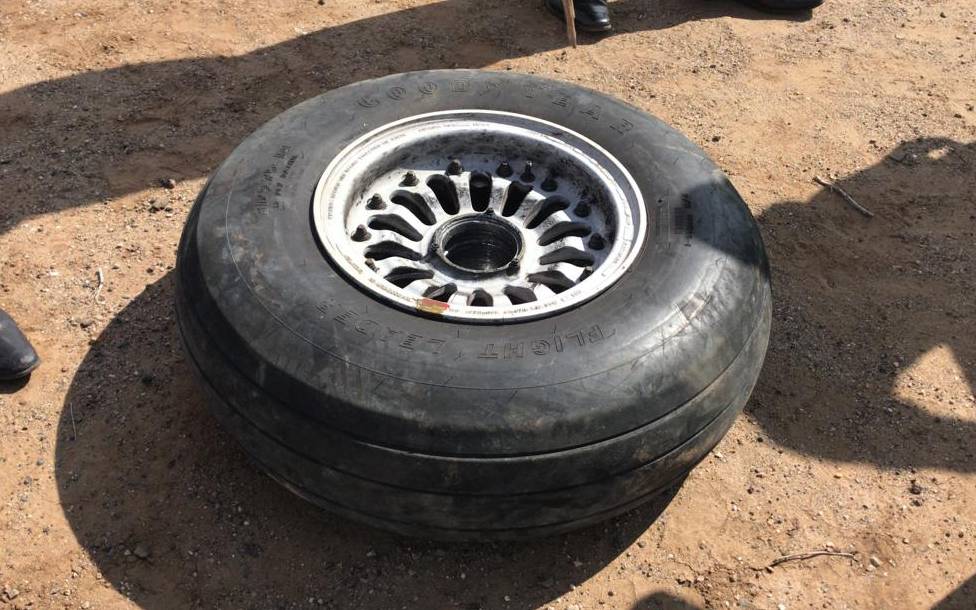 An aircraft belonging to Silverstone Air on Monday caused panic after one of its rear wheels detached as it took off from Lodwar Airstrip in Turkana County.
The plane which was carrying four passengers and five crew members en route Nairobi was forced to land at Eldoret International Airport.
In a statement after the incident, the Silverstone Air said all the nine people who were on board were unhurt.
"We would like to confirm that earlier today our flight Dash 8 – 300 from Lodwar to Nairobi experienced an incident during takeoff and as a result, lost the number 3-wheel assembly," read the statement.
The wheel (pictured) is said to have dropped off the plane as it took off prompting members of the public to collect it to the Lodwar Airstrip manager's office.
The Silverstone Air officials further revealed that the passengers were booked into another aircraft operated by Skyward Airline for the remainder of the journey.
"Silverstone Air has activated its contingency plans and the customers affected were rebooked and have since landed safely in Nairobi," added the airline.
The incident comes barely two weeks after another plane operated by Silverstone Air crashed at Wilson Airport shortly after take-off.
The plane on October 11, 2019, was leaving Nairobi for Lamu when it skidded off the runway.
"We can confirm that our Fokker 50, 5Y-IZO has had an incident while taking off at Wilson Airport at 9 am this morning. The aircraft was operating the Wilson-Mombasa-Lamu-Mombasa-Wilson route," Silverstone Air said in a statement then.
Uasin Gishu Police Commander Johnstone Ipara said at around 9. 30 am said they received a distress call from their counterparts in Lodwar that one of the wheels of the plane had fallen off.
"We immediately assembled a multi-agency response team and rushed to Eldoret International Airport. We laud the pilot for navigating the plane professionally despite the panic to ensure all those on board came out safe," said the senior police officer.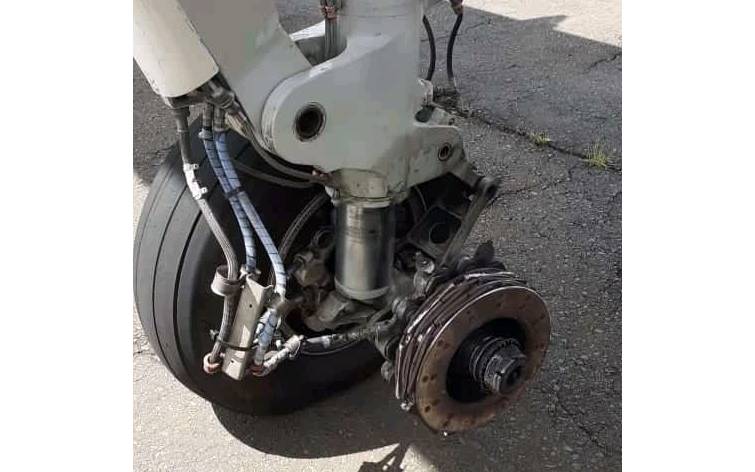 The incident has left the airliner with a bitter taste in the mouth as Kenyans took to social media to raise pertinent issues about air safety.
Lawyer Donald B Kipkorir on his twitter handle posted: "As usual, a public regulator Kenya Civil Aviation Authority is asleep and has been giving a free pass to Silverstone Air to operate when it can't even afford new tires! Does KCAA want to be called to action when we have dead passengers? Do regulators in Kenya know their mandate?"
Nelson Havi also on twitter criticized the government: "The Government of Kenya is patiently waiting for a Silverstone Aviation plane to kill several Kenyans before taking action. Patience pays here in Kenya. In the meantime, stop noising. Just don't board the damn plane."
TV personality Tony Gachoka said: "Am a frequent Flyer to Diani using Silverstone often, staff are friendly & polite but the safety concerns now evident are a danger to passengers & crew am calling for an immediate safety appraisal from civil Aviation Authority before these plane fly."