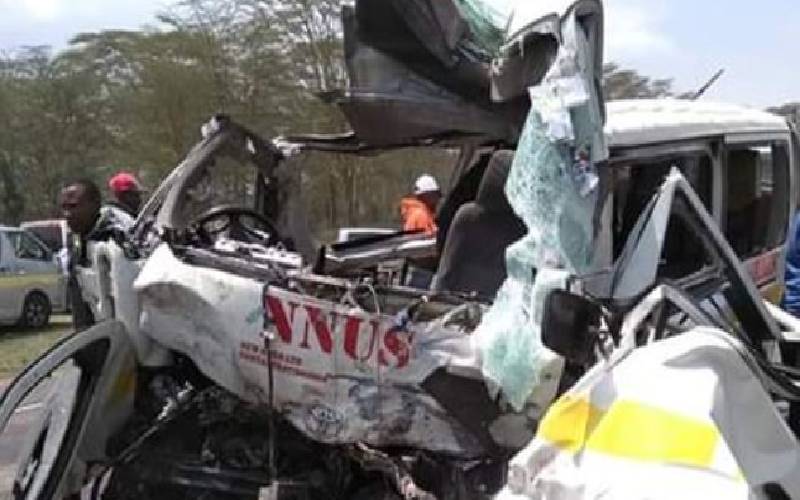 Three people died while more than 10 people have been hospitalised following a grisly road accident involving a Nissan matatu and a mini-bus along the Nairobi-Nakuru highway.
Two passengers died on the spot while another one passed on while undergoing treatment at the nearby Naivasha sub-county hospital following the midday accident near Delamere Farm in Naivasha.
15 people were admitted in in the same facilty, six in critical condition.
The accident occurred after the matatu that was heading to Nakuru from Naivasha rammed into an on-coming private minibus carrying students.
The crash caused a major traffic snarl-up on the highway as police and members of the public moved in to rescue passengers trapped in the wrecks.
According to a witness Paul Karuga, the highway had in the last couple of months seen an increase in the number of accidents.
He said the rising number of accidents to is as a result of an increase in the number of vehicles using the road, adding that there was need to expand it.
"Today's accident would have been avoided if this highway had been expanded but the drivers also need to be careful while overtaking," he said.
Samson Ngigi, another witness, said blamed the matatu driver for the accident, saying the driver decided to overtake a fleet of vehicles before ramming into the minibus.
"The driver of the matatu and another passenger died on the spot while scores of others mainly those in the matatu were seriously injured," he said.
Confirming the accident, Naivasha police boss Samuel Waweru said the injured were getting treatment at the sub-county hospital.
He added that the bodies had been taken to the local mortuary linking the accident to careless overtaking.
"We have lost three men in the accidents and over ten others have been seriously injured and are undergoing treatment," he said.
Last week, six people died on the same highway at Nyakairo trading centre in Naivasha following an accident involving a Nissan matatu and a lorry.