Kajiado Speaker faces rebellion after joining the governor's critics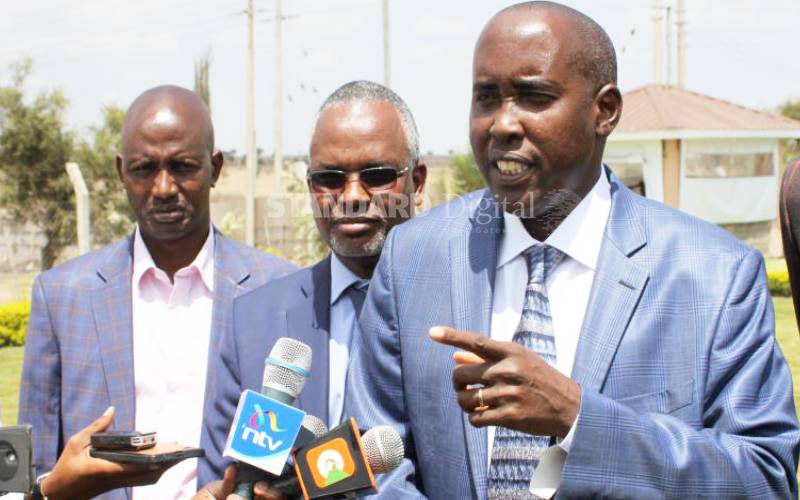 A newfound political alliance between county assembly Speaker Johnson Osoi and rivals of Governor Joseph ole Lenku has caused cracks among members of the county assembly (MCAs).
The speaker and the governor who have enjoyed a cordial relationship for the past two years seem to be pulling in different directions after the governor's rivals "poached" him. They are said to prefer him for the position of senator in 2022, but Lenku is backing someone else.
Mr Osoi has publicly indicated his interest in the seat and he is fitting into the rivals' game plan due to regionalism and clannism.
The speaker and the governor come from the same Orokiteng' clan while the rivals are a conglomeration of the dominant Odomong'i clan.
The rival team revolves around MPs Peris Tobiko (Kajiado East) and Elijah Memusi (Kajiado Central), former Governor David Nkedianye, former Kajiado Senator Peter Mositet and former Olkejuado County chairman Tarayia ole Kores. This group is now commonly referred to as the Tata Alliance.
The reference emanates from the team's public pronouncements in support of Tata Chemicals Magadi Ltd, the soda ash miner at Lake Magadi who have suffered a relentless onslaught from Lenku over unpaid land rates.
Ultimate flag-bearer
It is not clear who will be the ultimate gubernatorial flag-bearer but because all the teammates are from the Odomong'i clan, Mr Osoi has found a slot in the senatorial seat where he wants to oust Philip Mpaayei, an Odomong'i.
Heading a critical arm of the county government, Mr Osoi has become a valuable asset to the Tata Alliance, unknowingly stepping on a political live wire.
The Lenku-Tata Alliance supremacy contest has split the assembly, with 30 MCAs backing the governor while the speaker is enjoying the support of 11 MCAs.
On Wednesday, the speaker was surprised when the Lenku faction disrupted assembly proceedings by storming out of the House. They were protesting the speaker's decision to form an ad hoc committee to conduct public participation on nominated MCA Onesmus Ngogoyo's Rain Water Harvesting Bill.
They claimed the move undermines Water and Environment Committee whose chairman is Nkaimurunya MCA James Waichanguru, a Lenku backer.
Mr Ngogoyo has been a supporter of the governor after he was nominated after losing the Olkeri seat by a big margin to Peter Gitau, now in team Lenku.
Ngogoyo has shocked political pundits as he is a known Lenku soldier, especially after he was saved from the indignity of losing his seat in 2017.
The misunderstanding in the committee comes hot on the heels of a campaign, led by Mr Osoi, to have Majority Leader Julius Moipai removed from office.