Experts harvest eggs to save dying rhino species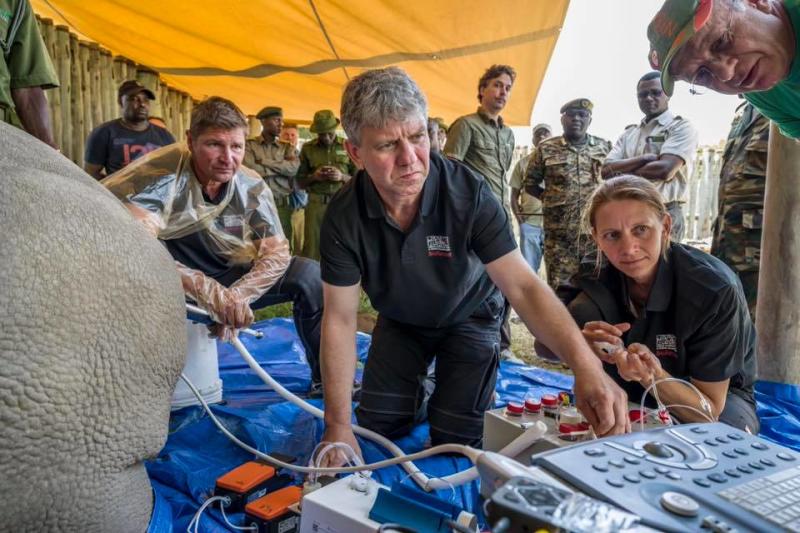 The Ol Pejeta Conservancy in Laikipia is home to the world's only two remaining northern white rhinos.
Najin and Fatu, as they are named are the only sub-species of their kind and spend most of their time in solitude.
But frantic efforts are being made to stop their extinction. Thursday morning saw a group of scientists, conservationists and veterinarians from across the globe converge at the conservancy in an effort to save the rhinos.
Groundbreaking procedure
Najin and her daughter Fatu underwent a groundbreaking egg harvesting procedure, putting Kenya's conservation efforts on the map.
"Thursday's operation means that producing a northern white rhino embryo in vitro – which has never been done before – could become a reality," said Cesare Galli from Avantea, the Italian laboratory of advanced technologies for biotechnology research and animal reproduction.
The delicate process, the Kenya Wildlife Service (KWS) and Ol Pejeta Conservancy said, was successful. It is a process scientists say was developed from scratch following years of research.
The procedure was headed by Prof Thomas Hildebrandt from Leibniz Institute for Zoo and Wildlife Research (Leibniz-IZW) and Dr David Ndeereh from KWS.
"Both the technique and the equipment had to be developed from scratch. We were able to harvest 10 oocytes - five from Najin and five from Fatu - proving that both animals can still produce eggs and thus help save these magnificent creatures," Prof Hildebrandt said.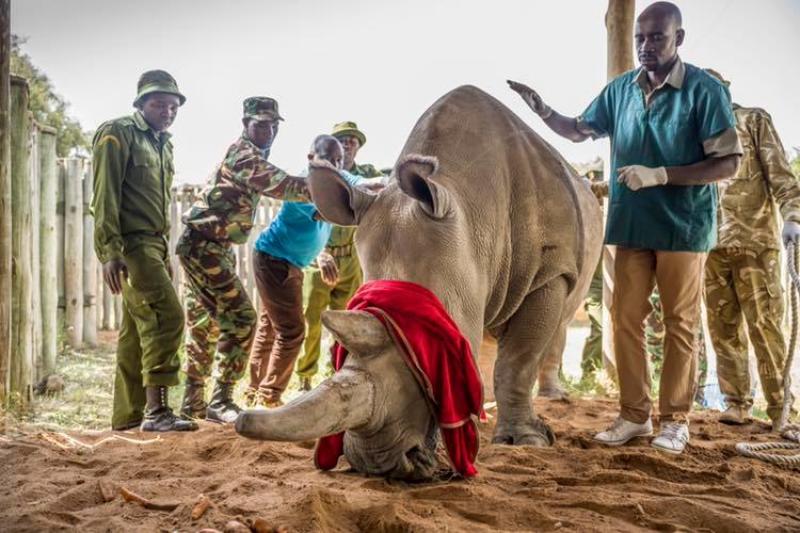 Even after Najin and Fatu and two males, Sudan and Suni, were translocated from Dv?r Králové Zoo in the Czech Republic to Ol Pejeta Conservancy in Kenya with hopes of reproducing, that did not happen.
Suni and Sudan died of natural causes in 2014 and 2018, while Najin and Fatu had reproductive challenges and could not carry pregnancies.
Assisted reproduction
"We came to the conclusion after a health assessment in 2014 that, owing to various health issues, the two animals could not carry a pregnancy", said Dr Robert Hermes from Leibniz-IZW.
Sperms from Suni and Sudan had been collected and preserved earlier in the hope that assisted reproduction techniques would advance enough to facilitate the passing of their genome to a new generation.
The successful harvesting of the eggs means scientists are now a step closer to saving the northern white rhino from extinction.
"The eggs will be artificially inseminated with frozen sperms from a northern white rhino bull, and in the near future, the embryo will be transferred to a southern white rhino surrogate mother.
The egg harvesting procedure was a joint effort of Leibniz-IZW, Berlin; Avantea, Dv?r Králové Zoo, Ol Pejeta Conservancy and KWS," a statement from KWS and the conservancy said.
The conservancy was delighted that the process has kicked off to rescue the rhinos.
"We are proud to be part of the groundbreaking work to rescue this species. We hope it signals the start of an era where humans start to understand that proper stewardship of the environment is not a luxury, but a necessity," said Richard Vigne, the managing director of Ol Pejeta.
Tourism and Wildlife Cabinet secretary Najib Balala said the concerted efforts to save the rhinos should guide resolutions the world makes at the ongoing CITES meeting in Geneva.
"The assisted reproductive technique should focus the world's attention to the plight of all rhinos and help in avoiding decisions that undermine law enforcement and fuel the demand for rhino horns," said Balala.
KWS Director General Brg (rtd) John Waweru lauded the procedure, which is part of an international research project named BioRescue.
"This partnership gets us closer to preventing extinction of the northern white rhino. This is particularly touching given the heart-breaking death of Sudan, the last male, who died of old age last year in Kenya," he said.