Squatters cry foul over historical land injustice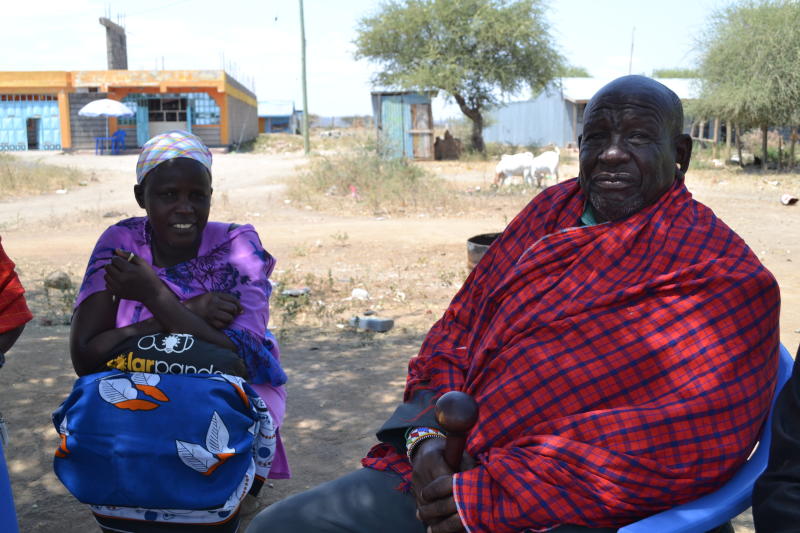 Affected members appeal to Uhuru to order investigations into the matter and ensure titles of non-residents are revoked.
Simon ole Nandeya, 55, is a father of 10, but he cannot guarantee his large family a peaceful home.
He is constantly on the lookout because the place he calls home is disputed land, and arrests at the instigation of those who claim ownership of the property are routine.
Iloodo-Ariak group ranch is being claimed by two groups – Maasai residents who insist the property is community trust land and powerful landowners who say they bought the large swathes of land.
It is this long-running dispute that has seen Nandeya hauled to police cells on numerous occasions for resisting eviction. He now fears for his life.
"All my age-mates don't own land here. We are squatters on our own land. We are being arrested everyday but our cries for justice fall on deaf ears. Politicians who lie to us during campaigns that they will help us abandon us after we elect them," says Nandeya.
Wife arrested
He claims national and county land officials have perpetrated the ills against the Masaai community, but vows that they will not give up what they know belongs to them.
His wife was recently arrested and spent two days in the police cells together with his eight-year-old child.
"Community members helped me get a lawyer who secured her freedom on bond. But her case is still ongoing at Ngong Law Courts," Nandeya explains.
The family's lawyer Wanjiku Thiong'o said the historical injustice should be addressed.
Forged signatures are used to transfer land to illegal beneficiaries with the connivance of rogue officials. Violent evictions then follow.
So common are the incidents that people wake up every day knowing that before the end of the day, someone will be evicted from their land, arrested for being trespassers and locked in police cells. The elderly and children are not spared.
Apart from Nandeya, Saitaga ole Tumusi, Lioke ole Sululu, Jeremiah Shukuru and Kilusu family have been affected.
In 2017, Tumusi could not bury his wife in peace because what he knew was his land for decades was being claimed by a different person.
"Community members came to my rescue by engaging the police in running battles as we laid my wife to rest," Tumusi recalls.
Since then, he has been evicted many times but his efforts to secure their land through petitions to court and National Land Commission (NLC) have not borne any fruit.
Ole Sululu, 86, has witnessed untold suffering his neighbours have undergone on land that he says they inherited from their parents.
"I was in the initial committee of members in 1979 when the government said it wanted us to be given title deeds for ownership. But since most of us were illiterate, I saw our land given to outsiders. When I objected, I was removed from the committee," Sululu says.
He says he is pained to see members of his community evicted and arraigned on fictitious charges.
The suffering of the people of Kajiado is captured in the lawyer Paul Ndung'u Commission report of 2013 that was appointed by former President Mwai Kibaki to investigate irregular allocation of public land.
The report names Iloodo-Ariak, Mosiro and Elangata Wuas group ranches in Kajiado as good examples of the abuse of the adjudication processes.
"The Iloodo-Ariak land is situated south-west of Nairobi in Kajiado. It is occupied by 6,000 indigenous Maasai Kenyans. The land was by all accounts, trust land. It belongs to the local residents of the area. By virtue of section 114 of the Constitution of Kenya, the land was vested in the Olkejuado County Council to hold in trust for the Ilkeekonyokie clan of the Maasai community," the Ndung'u report reads in part.
The report shows that the area was declared an adjudication section in 1979 within the meaning of section 5 of the Land Adjudication Act.
"After investigations, the commission found the adjudication process was fraudulent. The names of many government officials, their relatives and friends were entered in the register as owners of land," says the report.
It further shows that many rightful inhabitants of the area were omitted from the register and disinherited from their ancestral land.
Similar fraud
The commission also found that a similar fraud was perpetrated by Government officials during adjudication in Mosiro, where the faulty adjudication process excluded over 1,000 people who are the rightful owners of the land in the area.
The Standard established that the process of land adjudication and titling of the former Elangata Wuas Group Ranch has been marred by lots of illegal alienation of land.
There are also multiple land allocation to group ranch officials and their close associates.
The members are now appealing to President Uhuru Kenyatta to order the Directorate of Criminal Investigations, Director of Public Prosecutions and Ethics and Anti-Corruption Commission to investigate the matter, revoke titles of non-members and give the land to its rightful owners.
[The writer is a Bertha Fellow]
Dramatic arrest of Keroche owners
Keroche Breweries owners Tabitha Karanja and her husband Joseph Karanja spent Wednesday night in their offices as officers laid siege to the premises