President announces tax cuts on music kits to boost talent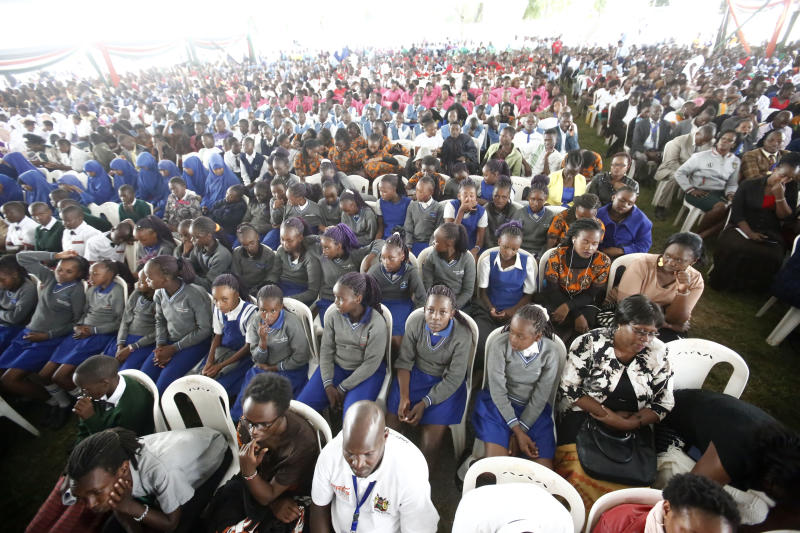 President Uhuru Kenyatta has announced tax exemptions on music instruments to make them affordable for up-and-coming artistes.
Mr Kenyatta said the move would make acquisition of the instruments easy for the artistes and help nurture talent.
Instruments such as pianos, trumpets, tambourines and saxophones would be zero-rated, the President said.
He was speaking at State House in Nakuru during the finalists' gala of the just-concluded 93rd Kenya Music Festival held at Kabarak High School, Nakuru.
"I urge parliamentarians to pass the necessary legislation to allow for importation of duty-free instruments which will allow artists to break new grounds in areas of interests," he said.
Protecting artistes
He added that the Government was also working towards protecting artistes from infringement of their work.
"We are doing all we can to ensure that artistes' rights are not infringed and that they are enjoying the fruits of their creativity," he said.
He observed that presentations at music festivals have improved over time, attracting participants from the East Africa Community.
Some of the gala presentations were on Big 4 Agenda, Vision 2030, health insurance, among other themes.
The captivating pieces, which included folk songs and dances, wowed the audience at State House.
Early childhood learners from Kakamega Little Lillies left President Uhuru in stitches with their poem titled Rudi Mapema (come home early).
In the short creative poem, the learners narrated the story of a bad house help who mistreats them whenever their mother is not around.
They heartily narrated the happy moments when their mother is home, a feeling they said, fades as soon as she leaves for work.
"Mama tunakutamani, rudi nyumbani mapema (Mother we long for you, please come home early)" they said.
Burumba Secondary School and Technical University of Kenya's pieces called on the public to participate in the upcoming census.
The performances saw the President humming along.
In an easy-going song composed by Prof Fred Ngala, the learners called on Kenyans to be counted, noting that census will spell the future.
"Twendeni tuhesabiwe ili tutambulike," they said.
Salvation Army Likoni for the Visually Impaired rendered a song under adaptations of African gospel music. The President was so impressed that he promised the institution a school bus.
"The President promised to buy us a school bus and he promised to come and deliver it on October 20, this year," Christine Chemutai, the school principal said.
Mbale Boys, in their piece, however raised concern of a number of learned youths who are unemployed and living in poverty.
In their poem, St Paul's Erusuri Girls termed the new curriculum as an 'equilibrium' that does not only involve reading but as a solution-seeker.
"We need architects, those that can build durable buildings, the equilibrium gives rooms to talent," they said.
Students heaped praise on the festivals as offering a platform to nurture talents and boost confidence while offering equal opportunities.
"This is a platform where we can compete with others favourably. It has boosted our confidence," Maryanne Wambua from Thika School for the Visually Impaired said.
Kenya Music Festival chairperson Peter Wanjohi said this year's festival saw over 125,000 students participating, with over 7,000 teachers and 60 adjudicators in attendance.
Best County
In this year's festival, Nairobi County emerged as the best county while Western region were ranked best region.
Kenyatta University clinched the best university while Thika Technical Training College was ranked best technical institution.
Kitui Teachers Training College was ranked best TTC while Starehe Boys Centre was crowned best secondary school.
Best Primary school went to Angelina Jolie Primary School while Thika School for the Visually Impaired was ranked the best special school and Aga Khan Academy was ranked Best ECD.
Big 4 Agenda trophy went to Kitale National Polytechnic.
Best cultural non-African dance was won by St Joseph ECDE Rift Valley.
Angelina Jolie Primary scooped the NSSF trophy while Communications Authority of Kenya trophy went to the Technical University of Kenya.