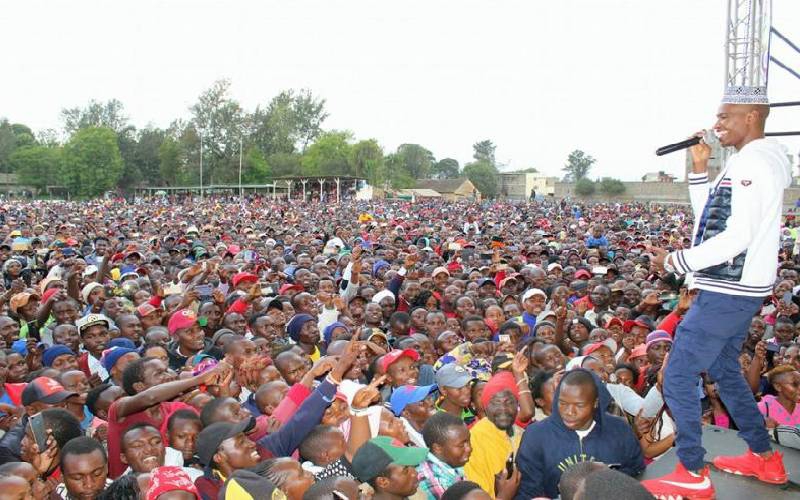 The name Samuel Muchoki Ndirangu does not trigger much attention until his alias "Samidoh" is mentioned.
Born in Subukia, Nakuru County before relocating to Ol Jororok in Nyandarua, Samidoh is today a household name, thanks to the danceable beats of his hit songs.
Samidoh is not like any other musician you will meet on the streets or a recording studio. After some photos showing him holding a rifle and clad in police fatigue surfaced, social media was awash with speculation on who he really was.
"A lot was said. Some people thought it was just a fake photo. Others said I am a member of the Elite forces, Kenya Prisons or Kenya Defence Forces. The truth is I'm an Administration Police officer," Samidoh said.
Caught up
The Standard team caught up with him at a Nakuru hotel where he had gone to perform on a weekend. His broad and genuine smile perfectly conceals his profession as a police officer, as he connects with his fans on stage as a benga musician.
While many fans celebrate him for his content-packed songs that are ageless, what many do not know are the ups and downs he has been through before rising to fame.
Before joining the police service, Samidoh went through a painful life as a teenager.
"I grew up without a father figure. My father died when I was three-years-old. We had a very humble background and problems seemed to always come my way. The worst was losing my mother weeks after joining secondary school," he said.
While in primary school he had to drop out in Standard Seven to herd animals to help his mother pay bills.
"I always felt obliged to support my mother at all cost. I used to herd cattle in Subukia to complement what my mother earned for a full term. This is a story many from Kirengero village know," he said.
Lady luck smiled on him after his mother's friend learnt about his situation. She not only offered to take him back to school but also took him in to ease his mother's burden in raising him.
New institution
It was towards the end of the last term when she took him for an interview to a new institution — Kieni Primary School.
"I was admitted days before closing. The following year I reported back as a candidate. We sat for an internal exam and to everyone's shock the second pupil was 77 marks below mine. I couldn't believe it," Samidoh said.
After sitting for the national examination, Samidoh was admitted to Jomo Kenyatta High School in Bahati, one of the most coveted schools due to its performance and infrastructural development.
"I never opened the letter myself. There was no way I would have joined such an expensive school when survival alone was a challenge to us. I chose to join Kieni Secondary, a sister school to my former primary school," he said.
Continuous disagreement between his mother and some relatives forced his family to vacate their home, giving up all they had, and relocating to Oljororok in the neighbouring Nyandarua County.
Mother died
He got admission at Oljororok Secondary School, but as fate would have it, his mother's days were cut short two weeks later, leaving him and his siblings vulnerable.
"When my mother died my siblings left with our uncles and aunts. Living with relatives comes with its challenges, and I didn't want any of that. I felt man enough to live on my own," he said.
Samidoh says he would return from school and do house chores before embarking on class work.
"Getting food was not much of a problem since I had supportive neighbours. I would alternate homes and get vegetables until I completed high school in 2008," he said.
He left his rural home for Nairobi and in pursuit of his music career, he joined Kamande wa Kioi's band as a backup vocalist.
The pay was, however, meager and with his little savings he in 2011 joined the Kenya Polytechnic for a diploma course in Business Information and Technology.
"I tarmacked for two years. I would come to the city and back to the village. My elder brother would host me, but I felt I was stretching him too far. I had to go back home where I worked in a local flower farm," Samidoh added.
A ray of hope shone on him in October 2013 when he was recruited to the National Police Service.
After graduation
"After graduating from the National Police College in 2014, I was assigned tasks in Eastleigh and Mpeketoni for a few days. Later I was deployed to Daadab, where I have been working for the past six years," he said.
During his stint with Kamande wa Kioi's band and at Kenya Polytechnic, Samidoh recorded a few songs, but which did not get airplay.
It was during his posting to Daadab in Northern Kenya that his vocals reawakened his talent and he gave a second try at music.
"I was off duty in October 2016 when I composed the first song that brought me to the limelight. I never knew it would become an instant hit until I heard it being requested and played on the mainstream media repeatedly," he said.
The song titled Ndiri mutwe mwega loosely translates to "I'm not in my senses." Samidoh says the song was inspired by the anger he had and decided to express it on paper only for it to sound musical.
"Ninety per cent of the song is a true story while the rest is art," he adds.
The track speaks of Samidoh being in an abusive relationship. He sacrifices so much for his lover, Suzzy, who repeatedly hurts him but he keeps on forgiving her. This recurs to the extent he feels he is mad or bewitched.
The video released on YouTube in February 2017 has since attracted 1.7 million views, with 57,000 subscribers to his channel, which is no mean feat for a local artiste.
Most of his other songs revolve around love and relationships, but he is also keen on the rights of the boy child.
He is quick to add that love and relationships are among the biggest causes of suicide.
His most recent hit is a love song done in collaboration with Joyce Wamama. It is titled Wendo wi Cama (Love is Sweet). It was released on YouTube on May 18 and has attracted 1.1 million views.
Samidoh's diary has recently been packed, with roadshows and live performances. "I'm a husband, father and police officer. These roles have a special spot in my heart. I'm not quitting my job for the music industry any time soon," he said.
He encourages upcoming artistes, saying music pays when message to convey and adopts proper strategy.
He got his first transfer to Athi River two months ago.