Two suspects held after botched M-Pesa shop robbery in Lodwar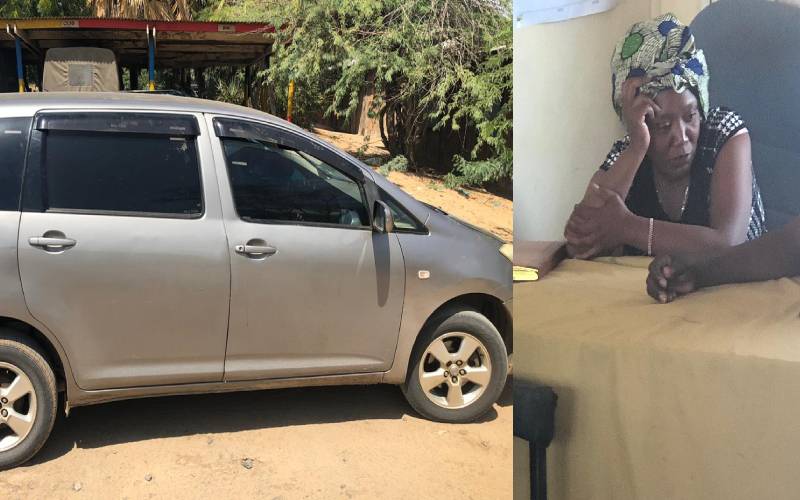 Two suspects believed to be part of a group terrorising M-Pesa outlets in Lodwar town have been arrested.
The suspects were arrested after trying to steal from an M-Pesa shop after the attendant raised the alarm.
They are reported to have posed as customers at the shop before taking an M-Pesa phone and trying to run away with it to a parked saloon car before being chased.
"They came to the shop and posed as customers, took my M-Pesa phone and left for me theirs and ran towards their car," said Ms Rose Kwamboka.
Kwamboka said she shouted attracting the attention of people who gave chase and caught up with them.
The angry mob descended in the suspects before they were rescued by police officers.
"I started shouting and people pursued and caught up with them and started beating them up," she said.
One of the suspects reported to have been the driver of the saloon car registration number KBJ 732 A, a Toyota Wish, escaped on foot.
"During the scuffle, the suspects swiped the M-Pesa line which had afloat of about Sh200,000," said Kwamboka.
Turkana county Directorate of Criminal Investigations (DCI) officer Mr James Lelai said two suspects were arrested in connection with the M-Pesa shop incident, adding that one of their accomplices managed to escape.
"Two suspects Mrs Jane Wambui and Mr George Lumumba are in police custody after being arrested over the M-Pesa shop incident, but one of them escaped and is being pursued," he said.
The suspects will be arraigned once the investigations are completed.
The DCI officer urged members of the public to cooperate with the police officers to help nab other suspects.