Quit over graft cases, senator tells Nandi governor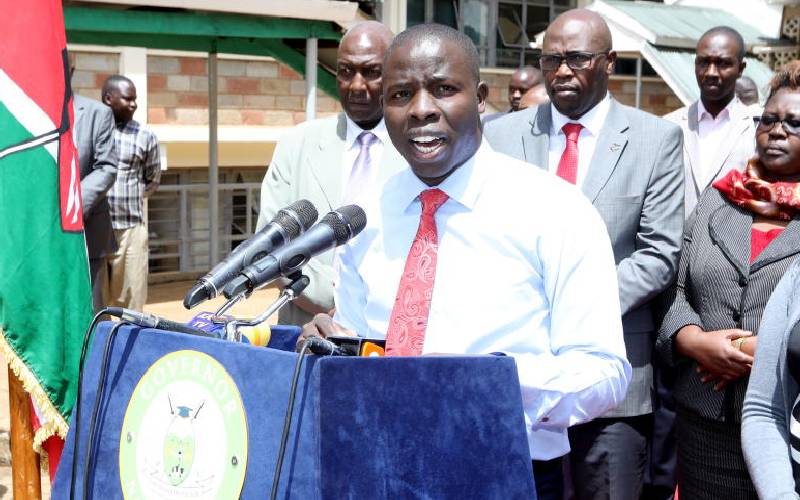 Nandi Senator Kiprotich Cherargei has told Governor Stephen Sang to resign for sleeping on the job, even as the latter suspended 16 senior officials to pave way for investigations over corruption.
The governor's move followed the discovery of millions worth of allegedly stolen construction materials in homes and premises of county officers, which led to arrest of 11 county officials last week.
Addressing a Press conference at Parliament Buildings, Mr Cherargei told the governor to stop dealing with "small people".
"It is not proper for Governor Sang to continue presiding over a corrupt regime. He should take personal responsibility for the failings of his regime and resign," said the senator.
During the Press briefing, Cherargei sensationally claimed that at least Sh2.3 billion could not be accounted for by the county government since Sang took over office.
Amount flagged
He claimed the amount had been flagged by Auditor General Edward Ouko in his books and that six departments in Sang's administration had been found unaccountable.
The county has been in the limelight following the "disappearance" of materials procured by the Department of Education for flagship project to construct 60 Early Childhood Education centres. The stolen materials included iron sheets, cement, ceiling boards, bricks and nails.
Sang's administration allocated Sh234 million for the project in the 2017/18 and 2018/19 financial years. One ECD centre was to be equipped with two classrooms, toilets, an office and a milk drinking area for pupils.
"These suspensions will pave way for investigations into missing county supplies. My administration is in full support of the investigative and prosecuting authorities to pursue these cases to their logical conclusion," said Sang at a Press conference in Kapsabet, yesterday.
County executives Stanley Baliach (Lands), Hillary Koech (Transport and Infrastructure) and Valentine Chumo (Education) were among top officials suspended.
Officers suspended
Chief Officers Jonah Biwott (Transport and Infrastructure) and Daniel Sang (Education) were also suspended.
Other senior officers suspended were David Kemei (Director Roads), Edwin Mosbei (ECD Project Manager), Julius Too (Assistant Director ECD).
Education Chief Officer David Sang, ECD Director Julius Too, ECD Project Manager Eliud Mosbei and Procurement Officer Joseah Kogo are among senior officials in Sang's government who were apprehended on Saturday.
The police later released Sang (David) and Too after they recorded statements with the DCI in Kapsabet.
On Friday, Mosbei and Kogo were arraigned at a Kapsabet court, where they were charged with stealing 400 bags of cement and 637 pieces of iron sheets from the county government.
They pleaded not guilty to the charges and were each released on Sh300,000 bond, pending mention of their case today.
Yesterday, Sang maintained that his administration would cooperate with all agencies to ensure county staff found to have participated or abetted the loss of county resources and property face the full force of law.
The governor also constituted an ad hoc audit committee to identify loopholes in the implementation of the multi-million shilling ECD project that might have contributed to the huge financial loss.
"The committee must report back to me within 30 days to ensure the county is saved from further losses," said Sang.
Besides calling on EACC and DCI to investigate the governor, Cherargei accused him of allegedly shielding high-placed cronies in the Department of Finance and Procurement.
The scandal has roped in Baliach, a former Education CEC, who initiated the ECD project before he was transferred to the Lands docket.
The construction materials scam was unearthed by MCAs led by the assembly's Education committee, which is led by Mengeech Rono, and seven other ward representatives.
The MCAs, in their report, detailed how the Education department allegedly misappropriated more than Sh230 million in ECD project funds through skewed procurement processes.