Four killed, four injured in Narok road accident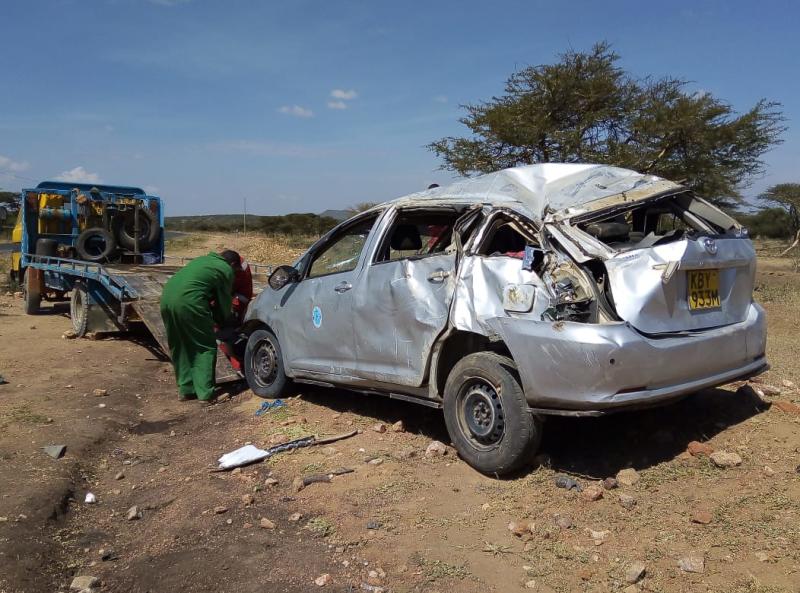 Four people died on Wednesday in an accident at Ng'oswani along Narok-Sekenani road.
According to County Police Commander Adan Yunis, a Toyota Wish which had six passengers rolled after a rear tyre burst.
"The incident happened at around 8.15am but was reported to the police at around 9 am," said Mr Yunis.
He said two women died on the spot while four others were rushed to Narok County Referral Hospital where a 53-year-old man and a four-year-old boy succumbed to the injuries while undergoing treatment.
The county police boss said the driver and another passenger were still recuperating at the facility and were in stable condition.
Margaret Tira who survived the incident that claimed their six-year-old son was still in shock on how she managed to survive the incident.
"I was seated in the front seat when I heard a loud burst in the rear of the vehicle. In no minute, the vehicle was rolling. Other passengers were thrown out. Other passengers who were in the middle and back of the vehicle were thrown out but I miraculously survived," said Margaret Tira.
Her husband Anthony Tira who rushed to the scene of the accident and proceeded to the hospital to check on the wife was lost for words over the incident.
"I was in Talek and my wife had left at 4 am for Narok to do some shopping for a wedding. A few hours later I was informed that the vehicle had been involved in an accident and immediately rushed to the scene. It's sad I have lost a son and glad that my wife has survived, "said Mr Tira.