Sonko leads distribution of relief food in West Pokot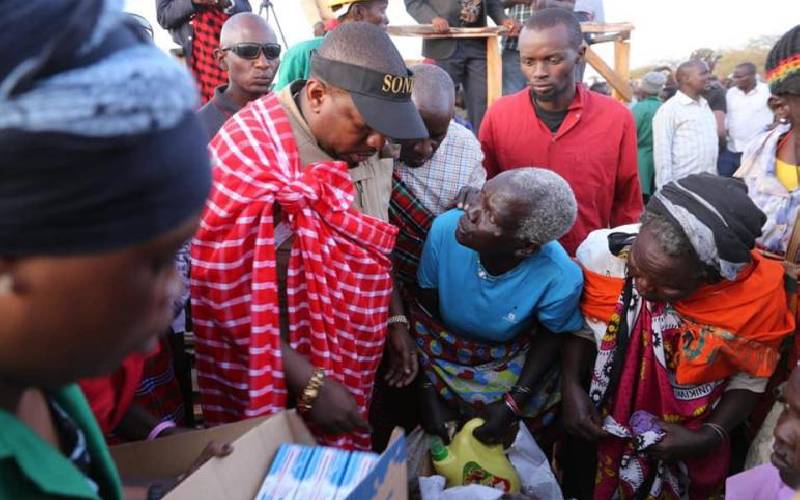 Nairobi Governor Mike Sonko on Saturday distributed food to hundreds of hungry residents of West Pokot.
Mr Sonko led a caravan of six lorries loaded with foodstuff to Nasukuta village in West Pokot on Saturday afternoon.
The caravan branded "Sonko rescue team" received a heroic welcome in the remote part of the county. According to Sonko, the lorries carried enough food to last the village at least one month.
Hungry residents broke into song and dance as the governor's team started offloading the maize and wheat flour, milk, cooking oil, rice and other foodstuff.
Priority in the distribution went to the elderly.
The caravan was accompanied by area MP David Pkosing, former Mavoko MP Kalembe Ndile and ward reps from Nairobi and West Pokot counties.
Every villager who turned up got a share of the food.
Sonko said he was touched by the suffering of hunger-stricken villagers in the county and promised to continue offering support until the onset of rains.
"I call upon other leaders to also do something and help alleviate hunger. The State has offered Sh2 billion to drought affected counties, I am sure President Uhuru Kenyatta will come up with a long-term solution to end perennial hunger," he said.
No politics
Sonko said the food donation was not political. He said he was not seeking votes but was out to help the needy.
"I am here to unite Kenyans. Let us not allow hunger to divide us," he said.
The Pokot South MP said West Pokot was among the 17 counties affected by hunger and that Sonko's donation should not be politicised.
"The humanity in Sonko has challenged me," he said.
He said the community recognised Sonko as an ambassador for the poor and lauded his hunger relief efforts in the neighbouring Turkana County.