Residents grueling search for water amidst biting drought in Turkana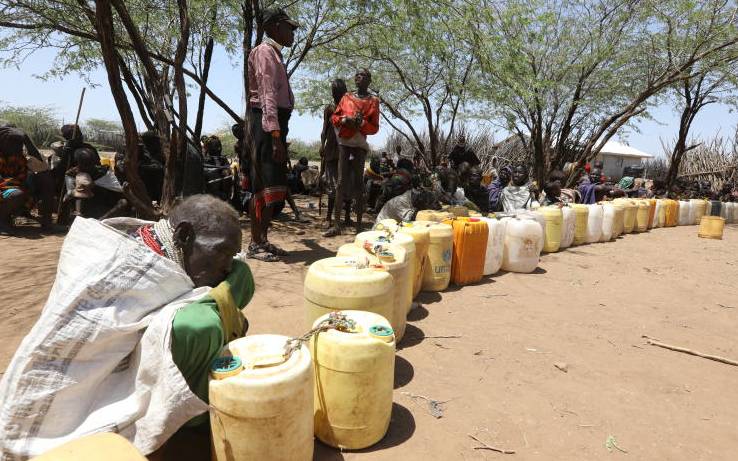 We arrive at Nasinyono village in Turkana County at noon and we are welcomed by a 500-metre long line of jerrycans.
The visibly frail villagers -- women and elderly men are queuing for water, expected to be brought in by a Rift Valley Water Services Board. They had covered long distances to the water distribution point outside Nasinyolo Container Dispensary.
By 1pm, the locals who included expectant mothers, seeking shelter from the hot afternoon sun under two trees, had lost hopes of getting water for the second day.
Snake and scorpions
The last time water was brought to the village was three weeks ago, they said.
Residents of neighbouring Lobuin and Nalet villages had in December migrated to Lokangai, 35 kilometres away, where an oil exploration company sank a borehole about four years earlier when there was a water shortage.
Damien Esekon says it became unbearable for the 120-odd to live in the village without water.
Annah Ng'ikengoi says many villagers walked to Lomakat, 65 kilometres away, Lokichigio (70 kilometres), Kaikor hills as well as Song'ot hills, more than 50 kilometres away in search of water and pasture.
"Young men moved to South Sudan where we have been told that they are now fighting with Toposa community herders over control of pasture and water rich grazing fields," Ng'ikengoi says as she sits under the tree waiting to receive at least 20 litres of water for drinking and cooking for her children.
"Bathing and washing clothes is never a priority here. We need water for drinking and cooking. We have asked the county and national governments to pump water from Lokangai but our pleas have fallen on deaf ears," Ng'ikengoi who hardly speaks in Kiswahili says with the help of a translator.
She says residents are ready to produce food on their own, but they lack water for irrigation.
The State, she explains, had established an irrigation scheme which is more than 100 acres three years ago, but the scheme stalled.
"We had started planting maize but we were told there is no fresh water in the area. We are still waiting for the State to pump clean water. We do not need relief food. What we need is water for irrigation," says Ng'ikengoi, adding that children no longer attend school daily due to the drought.
Residents say that hundreds of goats and cows and camels have perished, causing panic among herders, who are now desperately walking several kilometres in search of pasture and water to save their animals.
Charles Losikiria, a herder says he moved his five cows and 12 goats to Lotikipi swamp on the Kenya-South Sudan border after more than half of his livestock died.
"There, we fight with Toposa herders for water and pasture. The pasture-rich area is in Kenyan side of the border is controlled by armed Toposa herders as security agencies pay no attention," Losikiria says. Authorities including the area Chief says they were not authorised to speak about the suffering brought about by the drought.
"The drought is serious and may start killing residents one by one. We are asking national and county governments to supply water as soon as possible," he says.
At the Nasinyono Container Dispensary, Senior a patient attendant Clement Eyapan says drought, occasioned by increasing temperatures that have hit more than 44 degrees Celsius have increased incidents of snake and scorpion attacks.
"I have referred more than 10 snake and scorpion bite patients to Lokangai Health Centre in recent weeks. We suspect the snakes are attacking people because both domestic and wild animals, which are their major preys have fled the area," he says.
In Turkana South, several camels, donkeys and goats are struggling to quench thirst at arng'amunyan well - the only water point the area.
Women are also line up to with five litre and 30 litre jerrycans to draw water from the same well. "This is the only water source. It is risky to take home dirty water but we have no option," says Mary Ekiro, a local.
Turkana West MP Daniel Epuyo says the water shortage may intensity cross border attacks on the Kenya-South Sudan border. Governor Josphat Nanok says his administration has established an irrigation scheme in Moruese, where farmers are growing sorghum.