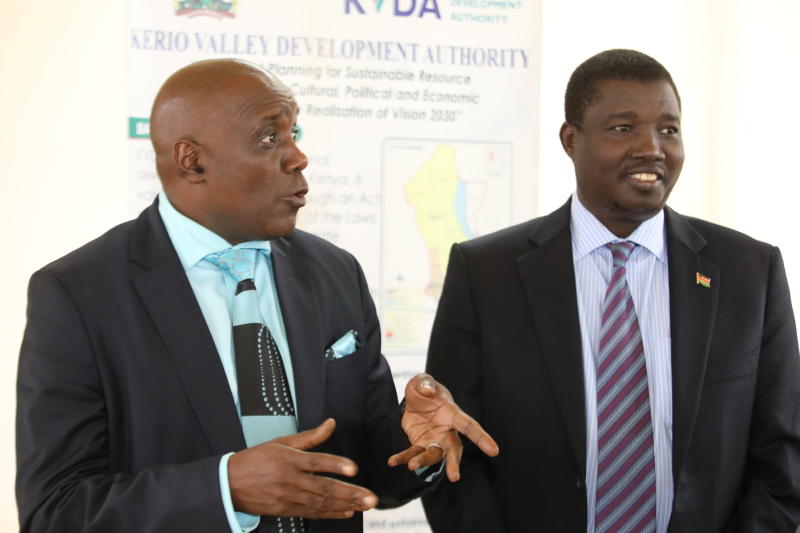 The National Land Commission (NLC) has given notice of the Government's intention to acquire land from over 800 families for construction of the Sh63 billion Arror and Kimwarer multi-purpose dams.
Through the Kenya Gazette issue of February 1, 2019, the Ministry of East African Community and Regional Development will acquire the parcels in Elgeyo Marakwet County from registered owners.
The Arror and Kimwarer dams are set to affect 891 families who will be displaced to create room for the projects.
The two dams will be used for irrigation to boost food production, provide clean water for households and also generate over 60 megawatts of hydroelectricity power to be connected to the national grid.
David Kimosop, the managing director of Kerio Valley Development Authority (KVDA), a State corporation charged with project implementation through a joint venture with the Italian Government and CMC Iterenera, said land sizes at the two sites had yet to be verified.
Mr Kimosop said yesterday that a series of meetings had been held in the area to sensitise targeted land owners.
He explained that geotechnical design for the projects had been going on in readiness for construction work once resettlement and compensation was concluded.
About two months ago, NLC Chairman Muhammad Swazuri, Kimosop and North Rift Kenya Forest Service Conservator Benjamin Kinyili were in a group of officials in a two-day tour to assess progress on land acquisition for the two dams.
Speaking then in Iten, Prof Swazuri said progress had been made after three assessment tours in March, June and November during which over 5,000 acres of land to be covered by the projects had been identified.
Kimosop said the project contractor was ready to move to the site and urged NLC to speed up the land acquisition process.
"We have found out that 891 families will be affected in the relocation to create room for the project. The settlement and compensation of the people affected will go hand in hand and the actual process will be driven by NLC while KVDA will support in logistics and funding," said Kimosop.
According to KVDA, the Arror dam project will cost Sh35 billion and Sh3.5 billion will be paid for compensation. Kimwarer will cost Sh30.8 billion, including Sh2.8 billion for compensation.