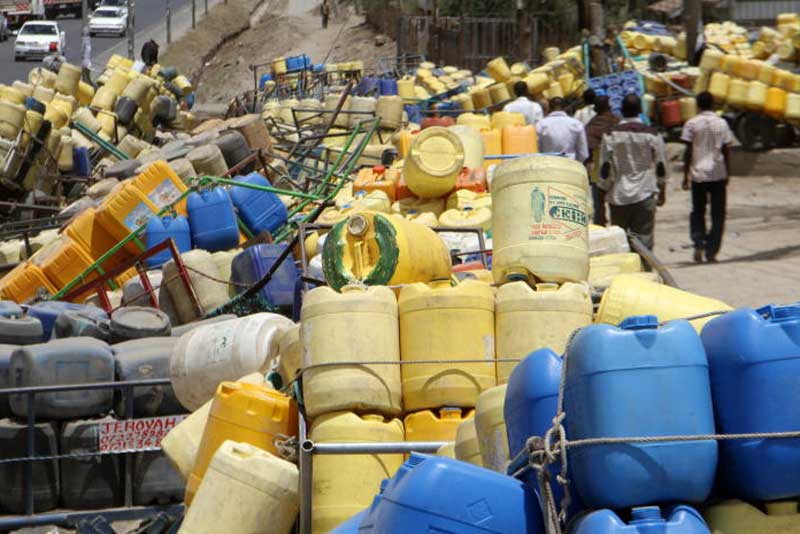 A water crisis is looming in Kajiado ahead of a deadline imposed by the county government banning the sale of salty water. Governor Joseph ole Lenku, who issued the directive in November, said the order was meant to protect consumers from unscrupulous water vendors. "I have heard some people say that salty water is the only available and cheap option. I am giving an executive order that anyone who wants to sell water for public consumption must desalinate such water to be clean and fresh," said Mr Lenku. A spot check by
The Standard
yesterday, however, revealed that the owners of private boreholes, who have been warned that they could face prosecution if they defy the ban, were unhappy with the directive which comes into effect at the end of this month.
SEE ALSO: Police rescue girl from 82-year-old suitor
"We are confused by this decision by the county government. We just don't know where to start. The water purifying machines are very expensive and only a few people will afford to buy them," said John Mungai, who owns a borehole in Ongata Rongai. Mr Mungai accused the county government of imposing the order without enlightening the residents and allowing them to air their views. "Why did the county government decide to take such a move without even calling a public participation meeting, as the law requires?" he asked. Kajiado residents have long complained about lack of fresh water in urban centres. They survive on salty water bought from boreholes and merchants. Water vendors have invaded the populous Kitengela, Ongata Rongai and Ngong towns, where they sell a 20-litre jerrycan of fresh water for Sh50.
SEE ALSO: Two people killed in border clashes
Greedy vendors Lenku said the order was aimed at protecting consumers against exploitation by greedy vendors who were selling cheaper salty water. The governor said salty water had been proven to cause health complications if consumed over a long period of time. He directed Water and Irrigation Executive Florence Waiganjo and her Public Health colleague, Esther Somoire, to immediately start the process of putting in place the necessary legislation. "Going forward, no water vendor should be licensed before they put up infrastructure to purify the water. An inspection should be done to ascertain the same," he said.
SEE ALSO: Governor Samboja, Lenku sign border pact
The governor further ordered the water department to roll out a programme to ensure the desalination of salty water in boreholes constructed by the county government. "We are endangering our people's future by the continued consumption of this water. We must stop it and be prepared to bear the consequences if we want healthy water for our county." But a borehole owner, Joseph Mugambi, who sells water in Kitengela, alleged that the directive by the county government was a way to enrich a few individuals, including some county officials. "We are aware that there is a deal between some corrupt individuals and some businessmen from Nairobi to have water purification machines sold to us. This is pure corruption," claimed Mr Mugambi. Speaking recently in Kitengela during the Kajiado County Maji Awards, Lenku announced that the county government had entered into negotiations with the Nairobi Water and Sewerage Company to supply Kitengela residents with 5,000 cubic metres of water (five million litres) through a direct pipeline. During the awards, 27 water projects were awarded for achieving different levels of good corporate governance. Lenku said the deal would ensure at least 10,000 households were supplied with clean and fresh water.