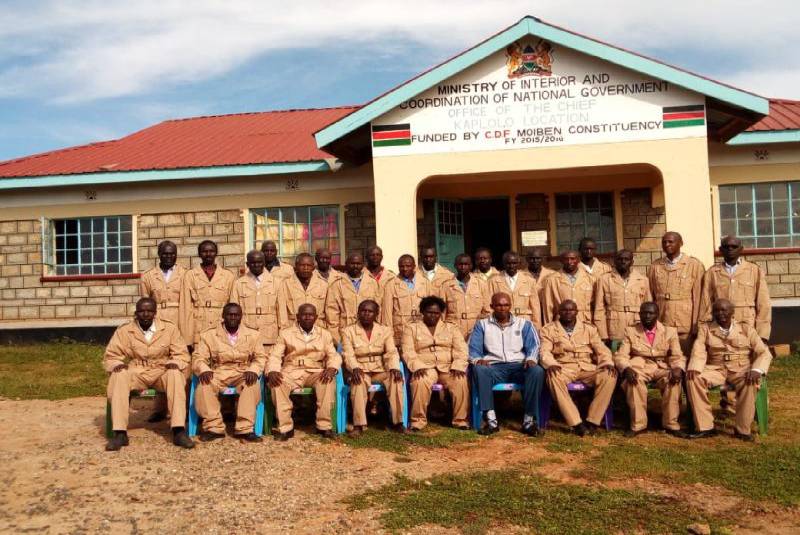 The county has spent Sh10 million to buy uniforms for village elders to make them "more visible" in their areas of jurisdiction.
Already elders from Soy and Moiben sub-counties have received their khaki brown uniforms, with Turbo, Kapseret, Kesses and Ainabkoi set to receive theirs in due course.
Last week, 73 village elders from Karuna-Meibeki ward received their uniforms at Karandili and Kaplolo chiefs' offices. The elders pledged to work closely with the county administration in enforcing the law.
The Standard established that the uniforms are being manufactured at the Eldoret-based Rivatex factory.
County Assembly Majority Leader Josphat Lowoi said the money for the uniforms had been budgeted for.
"Money for the uniforms was in the budget. One uniform is expected to cost approximately Sh800 and meant for all elders in the county," said Mr Lowoi.
According to the county officials, the move is aimed at making the elders visible in the society even as they perform their duties.
"The uniform is a symbol of authority and a form of identification. Our elders have continued to play a pivotal role in our societies and their concern has been that each time they confront illicit brewers, their clothes get torn and dirty and this prompted us to give them a common uniform," said Wilson Sawe, Devolution and Administration acting Chief Officer.
The uniforms have attracted mixed reactions from the locals.
"The uniforms are just a public relations stunt. They should have used the money for meaningful development such as supplying medicine in hospitals and improving infrastructure," said Emmanuel Serem.
But Mary Chesang, a resident of Moiben, lauded the move, saying the uniforms will give the elders more powers to discharge their duties.
Identity cards
"They should also be given identity cards. It is a good idea for the county because these elders contribute immensely on security and guidance on societal issues," she said.
In 2014, a Bill was proposed in the Senate seeking to recognise elders as public servants entitled to a salary.
Former Senator John Lonyangapuo had sought to amend the National Government Co-ordination Bill so that elders could be recruited by the Public Service Commission. The Bill was however rejected on the premise that it was unconstitutional.