Glory of Kenya Lake System fades as pressures intensify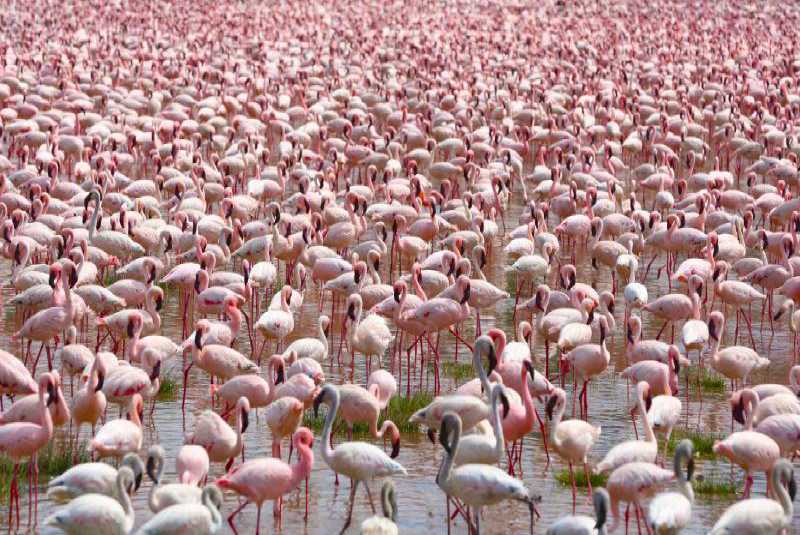 Numerous pink flamingos glide while others strut beautifully, puffing water to create magnificent images that have placed Lake Bogoria on the list of most colourful destinations in the world.
Lakes Bogoria, Nakuru and Elementaita, which form the Kenya Lake System in the Great Rift Valley, are facing menacing pressure due to pollution and encroachment.
The three lakes are inter-linked and are relatively shallow. The system covers a total area of 32,034ha.
The property is home to 13 globally threatened bird species and some of the highest bird diversities in the world, according to UNESCO.
Flamingos that were synonymous with Lake Nakuru have since moved to Lake Bogoria and Lake Elementaita. Researchers have blamed movement of the birds on increased alkalinity in Lake Nakuru and pollution, among other factors.
On the other hand, Lake Elementaita is threatened by pollution and encroachment by major tourism facilities, researchers say.
"The lakes are under pressure due to encroachment, pollution, abstraction of water, invasive species, weeds and climate change," Lake Bogoria National Reserve senior warden James Kimaru said.
The three lakes are among Natural World Heritage sites facing major challenges caused by human activity and climate change.
On the shores of Lake Elementaita, new hotels and lodges have sprung up. Owners have broken every law that protects riparian land, posing a major threat to this important bird area.
Mr Kimaru said challenges facing the lakes could be addressed if conservation efforts are complemented by enforcement of law. Enough resources should also be allocated to programmes meant to save the lakes, he said.
Last year, International Union for Conservation and Nature, in it's assessment of local lakes, commended conservation efforts "but with concerns".
Jackson Raini, the CEO of FlamingoNet, a local organisation, said increased heavy metal content from solid waste was degrading the lakes.
"There has been an increase in organic pollution due to urbanisation. Degradation of lakes has adversely affected water quality, productivity and biodiversity. This is affecting their abilities to support life," Mr Raini said.
National Land Commission county coordinator Frank Kibelekenya termed encroachment a serious concern. "The law on riparian land is very clear that there should be no construction within 30 meters from banks of rivers and lake shores. Hotels have, however, been sprouting, with some extending to inside the water," Kibelekenya said.
He said saving the lakes needed a multi-sectoral approach, bringing together the two levels of government, the National Environmental Management Authority and Water Resources Management Authority among others.
National Environmental Complaints Committee secretary John Chumo said urgent measures must be taken to save the three lakes.
"Several complaints have been brought before the committee. Lake Nakuru is under threat due to poor waste management from Nakuru town, Lake Bogoria has land ownership dispute with Endorois community and faces abstraction of water from its tributaries, while Lake Elementaita faces pollution and encroachment," Dr Chumo said yesterday.