Residents, Nema protest plan to reduce lake's riparian zone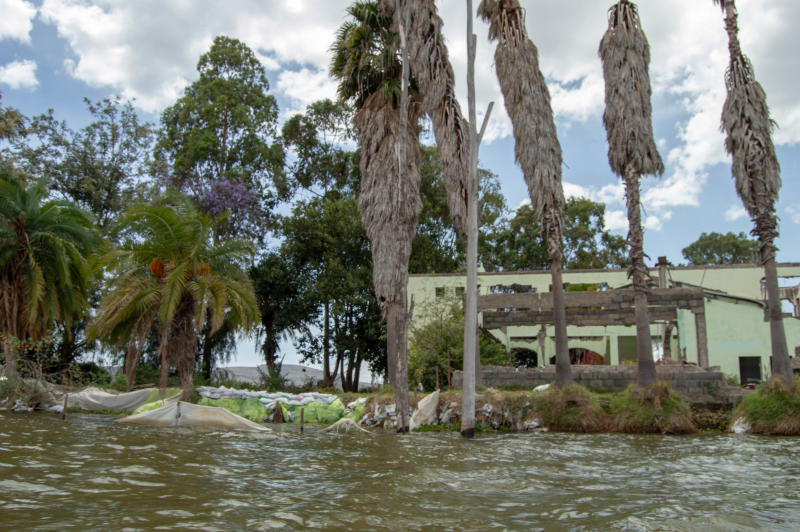 A notice on the broken wall along Moi South Lake Road in Naivasha announces that the dilapidated road to the beach is public.
This wall came down after a series of conflicts pitting locals against a developer who had constructed a gate to prevent intruders from accessing Karagita Beach on Lake Naivasha.
Locals took matters in their own hands and brought down the wall, resulting in running battles with the police. That was just one of the controversies dogging the lake.
Now, people who depend on the lake for their livelihoods are staring at a bigger problem that could have devastating effects.
The Water Resources Authority (WRA) plans to reduce the riparian zone from 1,892 metres to 1,888 metres above sea level, a move which the riparian association argues will expose land as far as a kilometre in some areas around the lake.
Locals are not happy.
Despite the booming fish business, Kennedy Waweru is a worried man just like other people whose lives revolve around the lake.
"We are very worried because of the secret plans to move the riparian zone towards the lake and one of the reasons is that we have not been consulted," says Waweru.
WRA declined to answer questions raised, instead asking journalists – through its communications office - to attend a validation exercise to get answers.
Besides the outcry by locals, different government agencies that also have a stake in the lake basin have raised an alarm claiming they too were not involved.
And locals believe the national government – or senior political figures – are behind the whole plan using WRA in a move veiled as Lake Naivasha Catchment Area Protection order 2018 together with the 2018 Management Guidelines.
Waweru asks: "If the riparian zone is changed, where will those who depend on this lake from activities like fishing and tourism go?"
Other fish landing beaches that will most likely be affected include Central, Kamere, Kasarani and Kigoto.
Lack of transparency
The WRA postponed to December 7 a stakeholders meeting called on November 22 seeking to validate its proposals to reduce the riparian zone. Stakeholders say the authority has placed the cart before the horse by failing to follow constitutionally laid down procedures before it can make such a decision.
In a letter to WRA, Lake Naivasha Riparian Association seeks to know the venue of the meeting to help it plan accordingly in what they term lack of transparency by the WRA association.
Some of the issues raised by the Association include failure by WRA to conduct public participation and consultation; lack of factual and legal basis to reduce the subsisting lake boundary; no legal or factual basis for hiving off public land.
Silas Wanjala, the general manager of the riparian association, questions what decision informed the move by WRA and who was consulted because "other stakeholders were not".
"This initiative has been entirely a top-down approach choreographed from Nairobi because even the local WRA offices seem not to be aware of what is happening yet they are on the ground," says Wanjala.
He says WRA hid the details of the whole project only to emerge with a notice on September 20 seeking for submissions with plans to hold a validation exercise on October 31.
"The date was moved after an outcry by stakeholders to November 22, and moved again," says Wanjala.
The move by WRA has created a rift between it and other government agencies that have a stake in Lake Naivasha. The National Environment Management Authority (NEMA) says it only saw the notice on newspapers like any other person.
Antony Saisi, NEMA's Nakuru County director says the authority only got a letter of invitation to the validation exercise but has not been involved in any other process on the move by WRA before.
Environmental Management and Coordination Act and the Wildlife Management Act require a complete environmental assessment before any move is made.
"Our expectation is that an environmental impact assessment is carried out to give us figures and statistics before any move to reduce the riparian zone is undertaken," says Saisi.