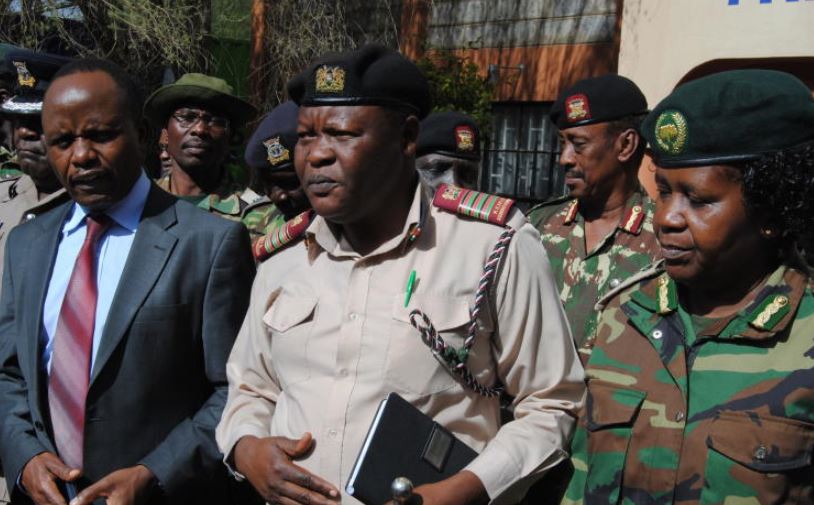 One person was shot dead yesterday night at Nessuit in Njoro Sub County in the ongoing intertribal fights.
Confirming the death, the rift valley regional coordinator Mongo Chimwaga said the local was shot during a confrontation between the police and warring communities.
Mr Chimwaga has said the police were conducting patrols at the area, when they met a group of youth armed with arrows, they were asked to surrender but they went ahead confronted the officers, and one was shot dead.
The coordinator said it is yet to be confirmed whether the local was shot dead by police officers or armed locals during the midnight confrontation.
"One person was shot dead during a confrontation between police officers but we are yet to establish if he was shot by the police or an arrow," Chimwaga has said.
Read More
A local in the area also sustained arrow wounds after he was shot by a group of irate youth.
The local according to the coordinator got outside to find out what was happening, only to be attacked.
"There is also a local who is undergoing treatment after he was shot by an arrow outside his house," he said.
On Friday, he said a police officer was also injured after he was shot by a group of armed youth during patrols in Nessuit, and is undergoing treatment, in a hospital that he did not disclose.
Chimwaga has said that by today morning, a total of six people have been reported dead in the ongoing fights between the warring communities.
The six individuals were all shot by arrows.
"All deaths reported is attributed to infighting between the two communities," says Chimwanga, disputing claims by locals that police have shot dead several locals in the area for the past one week.
At least eleven people have been arrested for the past three days among them, Nessuit sub location assistant chief Nicholus Lesingo, Sigotic assistant chief Sammy Kuirui, a former Member of County Assembly (MCA) Christopher Samoei, Nakuru County Deputy speaker Samuel Tonui.
Njoro Constituency Development Fund (CDF) chairperson William Lagat and head-teacher of Tiritagoi primary school Mr Danson Nyangare have also been arrested.
Chimwaga has said investigations of the suspect believed to have incited war among two warring communities is ongoing, and warned anyone found inciting locals will be arrested and charged.
"We shall not condone any incitement that result into fights. We are conducting investigations of those arrested who will be charged with incitement," adds the coordinator.
The coordinator has maintain that curfew in the area will be effected until sanity is restored and warned that those who will be found breaching the orders will be arrested and charged even as patrols are intensified in the areas.
The directive which was effected from Friday evening will limit movements by locals from 6 am to 6 pm.
"Anyone who will be found outside past the hours will be dealt with according to the law," he says.
Patrols in the area is ongoing.