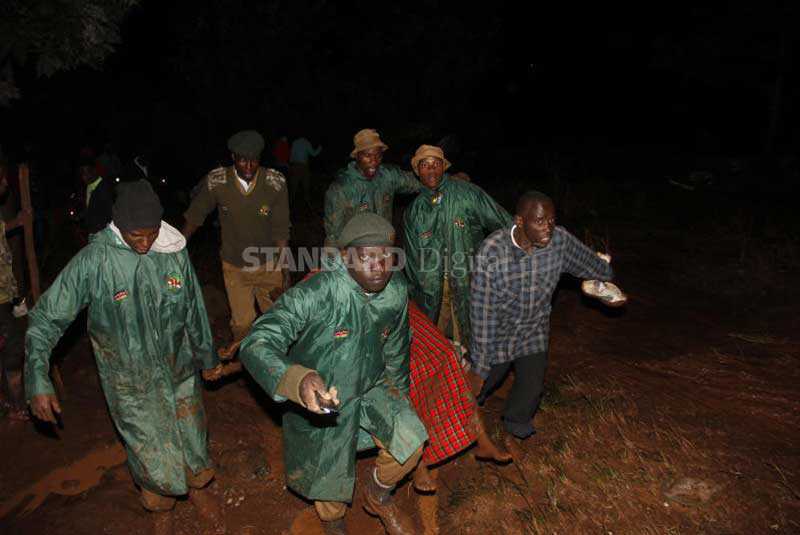 5:00 pm - The death toll had hit 48 with several people still missing and many left homeless following extensive damage caused to homes, schools and businesses.
12:10 pm three more bodies retrieved
Police confirm that three more bodies recovered, bringing the death toll to 31.
11.15 am death toll rises to 31
Death toll reaches 31; NYS, KDF, Red Cross, police and Nakuru County government continue with search and rescue operation, CS Fred Matiangi arrives at the scene.
8:30 am a total of 20 bodies retrieved
Rongai OCPD Japheth Kioko confirms 20 bodies recovered, fears the death toll could rise. Interior CS also leaves Nairobi for Solai to oversee rescue operation.
6:00 am death toll rises to 10
The rescue teams have managed to retrieve 10 bodies as Red Cross reports it has so far rescued 40 people and rushed them to various health facilities in Subukia and Rift Valley General Provincial Hospital.
12:00 am seven people confirmed dead
Police, Red Cross, NYS and the Nakuru County Government workers continue rescue operation. The joint team recovers seven bodies while several people are rushed to hospital. So far over 300 homes are confirmed to have been affected.
7:30 pm (Wednesday) polic help sought
It is now confirmed that Patel Dam in Solai, Nakuru County sitting on approximately 1 acre broke its banks to the nearby flooding the nearby shopping centre and the expansive Nyakinyua Farm bordering the dam. Several people reported missing.
7:00 pm (Wednesday) Patel Dam bursts its banks
Locals at Solai shopping centre talk of a huge explosion" before seeing a cloud of water move their way.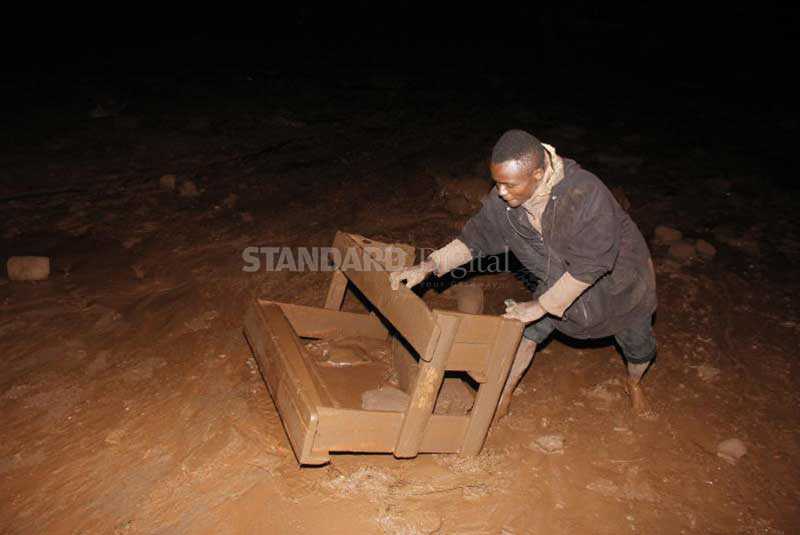 Property worth of billions of shillings was destroyed as the wall of water washed away most structures in its way- within a three-kilometre radius.
Solai Boys' High School and Patel Day Secondary School were also been affected.
Nakuru County Disaster Management Team, The Kenya Red Cross and National Youth Service on site to help in rescuing the people.
The dam, located on the upper part of the farm is eight kilometres from Solai Centre. and one of the four water reservoirs in the area owned by Mr Patel.
"We want the dams demolished, one is now leaking and is the largest covering almost four acres," said Solai resident Stephen Ngugi.
Area MCA Peter Mbae said more than 20 families had been evacuated to safe grounds.
Nakuru Governor Lee Kinyanjui visited the scene on Wednesday night and said the water from the dam had caused massive destruction of both property and life. He, however, said the extent of the damage was yet to be established.
"The county has dispatched ambulances to the scene to aid in the evacuation of victims. Medics have been mobilised at Bahati Sub-County Hospital and Nakuru County Referral Hospital and are on standby to receive victims," said Governor Kinyanjui.
Kinyanjui said they were doing their best to evacuate affected families to safety and assist victims to get medical attention.
A rescue centre has been set up.