Relatives of Narok crash victims throng mortuary to identify kin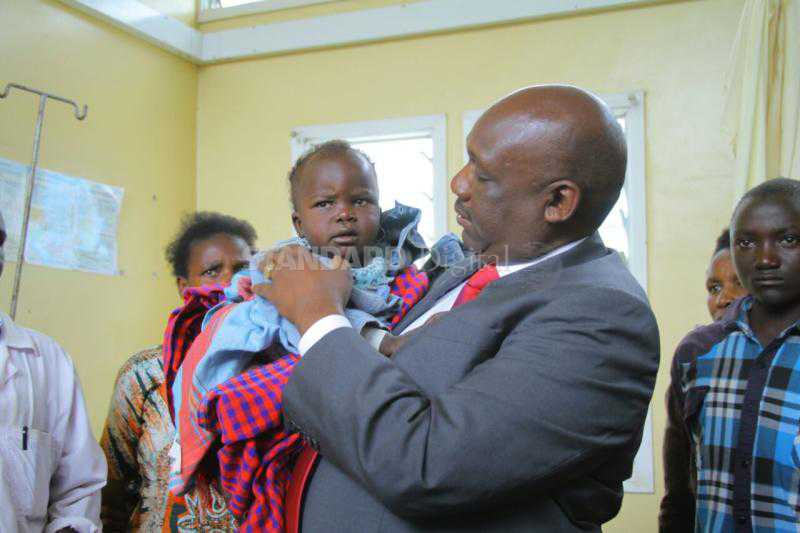 Two brothers were among those killed when a bus plunged into a river in Narok County on Tuesday, reports revealed yesterday.
The brothers, Thaddeus Sogera and Elijah Mogaka, were also said to be brothers of the bus owner.
One was a conductor in the bus owned by Homa Bay-based Daima Transport Company.
The other brother boarded the bus in Kisii town and was travelling to Nairobi.
Nyamira Governor John Nyagarama said most of the victims were from his county.
The governor said families had identified eight bodies. At least 13 other people are still in hospital with various injuries.
"I send my heartfelt condolences to families that lost their loved ones. My government will help those still admitted to foot their hospital bills," said Mr Nyagarama.
He said his administration was also helping the families of those who died to transfer their bodies to the Nyamira County Referral Hospital mortuary.
"Those in critical condition will be transferred to Nairobi for specialised treatment. We have also set up a help desk in the county headquarters to assist families," he said.
"We have sent a team of senior officials to Narok to assess the situation and find out how the county government can help the victims. I wish quick recovery to the injured and condolences to the bereaved."
Narok County Disaster Officer Nancy Laboso said the identification of bodies was slow.
"So far only 10 bodies have positively been identified. I think other family members are yet to arrive due to the distance."
She appealed to those who had identified bodies to transfer them to mortuaries nearer their homes to ease pressure on the Narok County Hospital morgue.
"The mortuary has a capacity for 20 bodies and by the time of the accident, it already had 19 bodies," said Ms Laboso.
The ill-fated bus began its journey in Kendu Bay, through Oyugis then Kisii. It picked more passengers in Kisii, Sotik and Narok, before crashing into the river.
It veered off the road and plunged into River Siyabei, along the Narok-Maai Mahiu road.
Survivors said the driver, who died in the crash, was reckless. They said he was speeding and sometimes overtaking carelessly. They said the bus also appeared to have mechanical problems.
"They changed a tyre three times. And when the driver realised they had wasted a lot of time, he started speeding. We complained but he would hear none of it," said Jesca Achieng, who survived with her seven-month-old baby.
Narok Governor Samuel Tunai announced his administration would waive hospital bills for survivors and cater for their transport back home.
Grisly accident
"It is a sad day for the country following the death of 17 Kenyans through the grisly accident. On my behalf and that of the people of Narok, we send our condolences to the bereaved families," said Mr Tunai.
The governor warned motorists against speeding and overloading.
Meanwhile, Stephen Kibet, the driver of a trailer said to have caused the bus driver to lose control before plunging into the river, has been detained for 10 days to allow for investigations.
In his affidavit, David Mwangi from the Director of Public Prosecutions office said the time would allow police to conclude their investigations.