Three prison officers arrested, vehicles impounded for carrying timber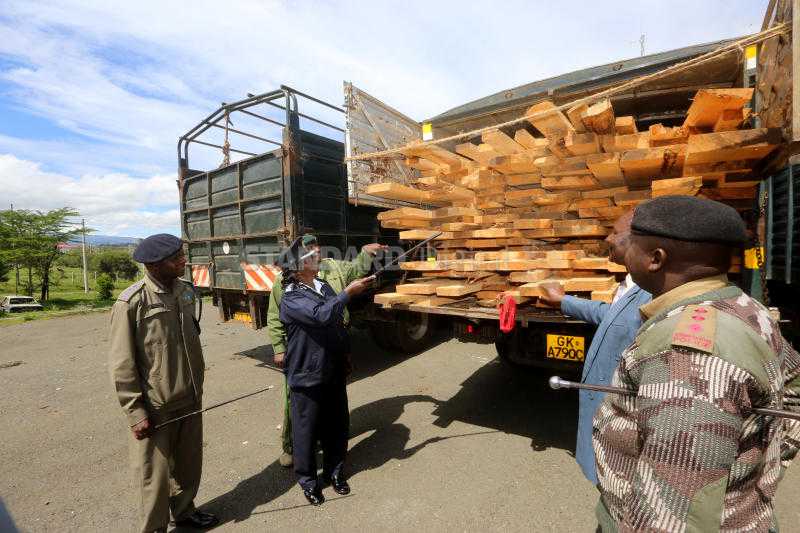 Three officers were yesterday arrested and three vehicles carrying timber impounded in Eldama Ravine, Baringo County.
The officers attached to the Kenya Prisons headquarters were allegedly found ferrying 21 tonnes of timber in Government vehicles.
The three were arrested at Metipso in Chemususu at a sawmill, where the timber was being loaded onto the vehicles.
"The lorries were already full during the time of arrest. Each lorry is estimated to be carrying seven tonnes. We have booked the three officers who were operating the vehicles to Eldama Ravine police station," the Kenya Forest Service regional commandant, David Mutoro, said.
The Government in February banned timber harvesting in all public and community forests for 90 days. The ban was extended for another 30 days to allow for reassessment and rationalisation of the forest sector in the country.
Koibatek OCPD Agnes Kamau said the officers had not recorded statements. She said they had claimed that they were operating legally, although their licences validating the movement of forest goods expired on March 31 this year.
"The officers said they were operating legally and that the timber was destined for the Prisons department. We are, however, waiting for the documents showing the legality of the business," Mrs Kamau said.
The ban, which was announced by Deputy President William Ruto, came into effect just days after the members of the National Assembly Environment and Natural Resource Committee appealed to the Government to consider a total ban on logging to save the drying water towers following massive logging.
Forest conservationists have argued that the ban on logging and transporting of forest produce was applicable to all sectors.