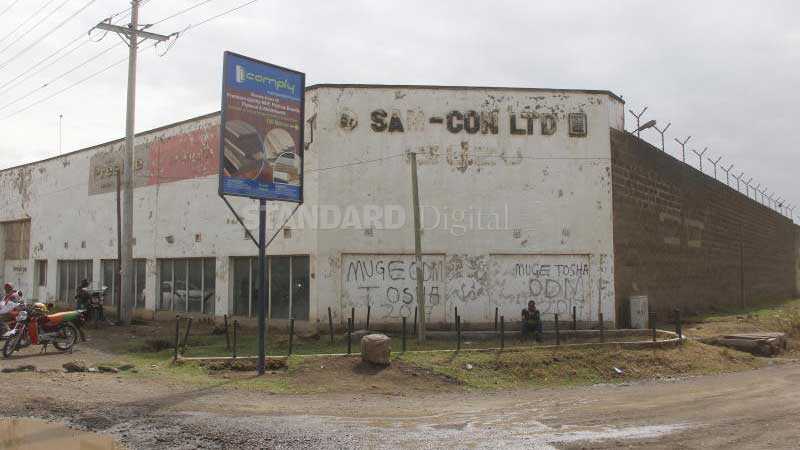 John Mwendwa, 76, was born and raised in Nakuru town. He remembers with nostalgia the days he used to work at the Eliotts Bakeries.
Now frail, Mwendwa recalls the good old days when trucks delivering raw materials to manufacturing plants in Nakuru town's Industrial Area would zoom past him as he walked to the factory where he worked for almost a decade.
"Those were the days when you could hear advertisements like 'Shika Paka Power' by Eveready and you would hardly be on the road for half an hour without seeing a vehicle written 'Another one from Sam-Con Limited-Nakuru'," he says.
Eveready closed shop in 2014 after the management said it could not compete against cheap dry cell batteries imported from China that had flooded the market, while Sam-Con Limited, a steel-body fabricating company that also sold Isuzu Trucks, relocated to Nairobi. Mr Mwendwa says, "This is not the Nakuru I grew up in. The future here is doomed. Nakuru is gone and all that is left is a huge number of jobless youth seeking to start small businesses to support their families."
Painful experience
Read More
Another resident, Andrew Nyabuto, says the closure of Eveready signalled a growing trend of grand industrial exits witnessed in Nakuru in the last three decades.
"It has been a painful experience to the workforce in Nakuru town. Loss of jobs witnessed in the 1990s and early 2000 has caused untold suffering to hundreds of families," he says.
The year 2000 witnessed the closure of Flamingo Bottlers, which transferred its operations to Nairobi after a decade.
"Kenya's only pre-independence tomato paste maker Kabazi Canners, which provided market for Subukia farmers, quietly went under three years ago, leaving behind a rich legacy that saw Kabazi Centre born next to the facility," he recalls. In 1992, Elliots Bakeries (Nakuru) Ltd, one of the oldest bread-making firms in Kenya, wound up, leaving about 600 employees out of jobs.
The firm's management said the decision was taken to avoid further losses after losing Sh51.9 million in 1991.
Within the same period, Valley Bakeries Ltd, a leading bakery in Nakuru town, also ceased operation, following what it described as acute shortages in vital raw materials.
Other factories such as the PAC Industries, Nakuru Oil Mills and Rift Valley Refrigerators followed suit.
According to the Kenya Association of Manufacturers (KAM) 2014 report, Nakuru currently has an unemployment burden of 675,000 young people competing for limited opportunities.
With its agricultural highland hinterland, Nakuru serves as a major source of raw materials for industries. Geographically, the town is centrally located in relation to the rest of the country and is therefore more accessible. Yet the mediocre performance of the town's industrial establishments seems to defy theory.
Many firms that have not closed down are merely hanging on to survive, while others have had to cut down on production or lay off workers in a bid to stay afloat. Long gone are the days of vibrant agricultural production that led to Kenya Railways constructing rail links to go-downs belonging to Milling Corporation, Kenya National Trading Corporation, Unga Limited, Elliots Bakeries, Elianto, Kenya Co-operative Creameries (KCC) and Kenya Planters and Co-operative Union (KPCU).
Businessman Peter Njeru says mass importation of cheap products – from vehicles to knives, farm inputs to second-hand clothes, shoes, synthetic chemical products and processed foods, as well as farm produce – from China and South Africa has dealt local industries a death blow.
"The past 20 to 30 years have been challenging to many manufacturers, not only in Nakuru but across the country. High taxes, cheap imports from China and high cost of production are some of the factors that have led to manufacturers exiting the country or downsizing," says Njeru, a petroleum dealer.
The county government attributes these challenges to a variety of reasons such as increased production costs arising from interruptions in power supply and higher fuel prices, rapid depreciation of the Kenyan shilling leading to higher costs in long-term financing and shortages and increased prices of raw materials.
The KAM Nakuru chapter chairman, Jayen Dodhia, attributes the closure of some factories to issues ranging from unfair business competition, cheap imports to personal decisions.
He says they have proposed to both the national and county governments a raft of measures to address the challenges, including total ban on importation of cheap goods and provision of access to cheap electricity.