Woman dies and body left lying on hospital floor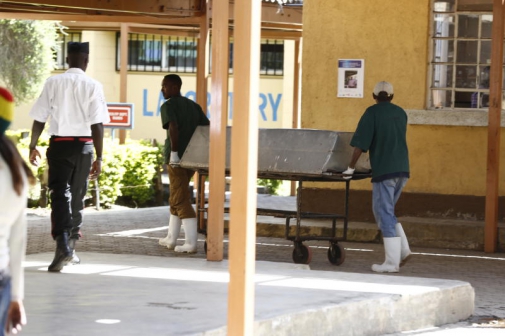 A woman died Wednesday at the Rift Valley Provincial General Hospital as inexperienced nurses who were recently recruited tried to save her life.
According to a subordinate staff, the woman arrived at the facility in the morning and was only put on saline drips until she died at 12.45pm.
Shockingly, the body was left lying inside the room until 1pm when the hospital nursing officer in-charge, Alpharxard Kemboi, got wind of our presence and instructed morgue attendants to remove it.
And as he painfully tried to downplay the incident, Charles Kamau, another patient collapsed in his presence at the causality area.
Hapless relatives said he has been suffering from chest complications since Sunday.
"Ignore them, they are acting. They want the Press to capture what they are doing," said Kemboi as private security guards hired by the hospital abandoned their security responsibilities to assist relatives move him away.
At the observation room, an unconscious Kamau was put on saline drip and screaming relatives ejected out of the room.
From outside, Kemboi described the two incidences as isolated cases, saying operations at the facility had not been interrupted.
Mental illness
"It's unethical for the county to urge relatives to bring their patients for treatment when they know such services are unavailable. The lives of our people should not be used to play politics," complained Salome Nduta, Kamau's wife.
But a spot check by The Standard at the more than 500-bed capacity facility confirmed that only 20 patients suffering from mental illnesses were the only patients wandering around unattended.
A security guard said several of them were let outside the hospital and abandoned.
"Those who could still remember their homes were ushered into the main road and told to go. It was painful given that some of them were almost crushed by speeding vehicles," a guard revealed.
Wednesday, two surgeons and an undisclosed number of nurses were deployed to Annex, a private wing of Rift Valley Provincial General Hospital where a theatre has been opened.