Tears of pain as relatives search for Narok bus crash victims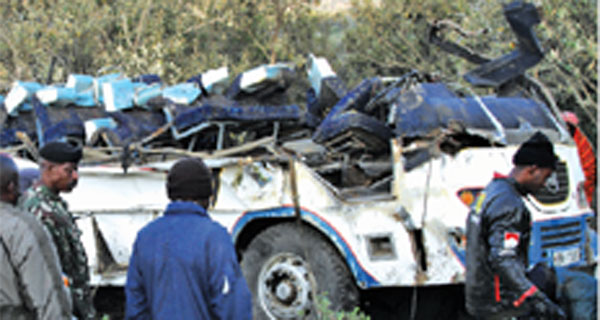 The wreckage of the bus that crashed at Ntulele near Narok on Thursday morning. [PHOTOS: FILE/STANDARD]
By CHARLES NGENO and KIPCHUMBA KEMEI
Narok, Kenya: Cephas Omondi sits outside the Narok Hospital mortuary staring blankly into space. He has been here since Friday morning. His face tells of his agony. He cannot trace his wife and their two-year-old son.
As relatives identify their dead his wish is to find his wife and son. Just to find them. "My wife Liz and our son Bravel had boarded the bus because they wanted to see me here in Narok where I have been visiting my brother," said Omondi with tears rolling down his cheeks.
The 26-year-old said he communicated with his wife from the moment she left Nairobi. But at around two, when he felt she should have alighted in Narok, his attempt to reach her were futile as her phone had been switched off.
"I have looked for them here at the hospital and at the mortuary but cannot trace them. I pray that I find her at Kenyatta National Hospital," said Omondi.
But for Triza Arochi from Gwasi her pain of losing a relative has turned to anger. Arochi, who lost a sister and a niece, is angry that the hospital has refused to allow her to take his nephew to a better hospital.
"My sister's daughter was critically injured but nothing was done until six in the evening. She succumbed to injuries as she was being rushed to the hospital," said Arochi who fears her nephew might also die if nothing is done. She says she wants him transferred to a facility that is better equipped.
"The hospital management is just arrogant and the condition of the hospital is pathetic. This is why we are demanding to transfer our nephew," she said angrily.
For 20-year-old Millie Akinyi and her two-year-old daughter, hers is a tale of miracle. She survived the accident with minor injuries with the daughter having little bruises on the face. "We were going to attend our mother's funeral back home at Mirogu on Saturday. I lost my sister and lying just on the next bed is my other sister. I see this as God's miracle," said Akinyi.
In a quick rejoinder, the county's Director of Health Dr Wago Dulacha refuted the claims that the hospital was refusing relatives to transfer their kins to better equipped facilities. He said relative are free to take their injured to hospitals of their choice so long as such facilities are recognised.
"For reasons of distance and close supervision relatives can be allowed to transfer their patients. But I can assure you that we can manage the patients we currently have," he said.
Dulacha said 32 cases had been referred to Kenyatta Hospital while nine patients were still admitted at the hospital.
Meanwhile, authorities at the Narok District Hospital have allowed relatives of the 42 victims of the Ntulele bus crash to collect bodies for burial.
Doctors at the facility Friday worked round the clock to perform postmortems before releasing the bodies to relatives and friends who jammed the congested mortuary, which has the capacity of only 12 bodies.
Dr Waqo Ejersa, the Narok County Director of Health, said there was need to release the bodies because the morgue could not accommodate them.
"We are going to perform all postmortems today (yesterday) for the bodies to be collected by relatives for burial," said Ejersa, who added that most bodies were in bad state and required immediate disposal.
He said they are using formalin to preserve the bodies.
Ejersa said two victims of another accident that happened at TMC area near Narok town on Thursday when a lorry rammed into three vehicles succumbed to their injuries while they were receiving treatment at the facility.
"We had a hectic time on Thursday receiving, treating, referring and accommodating the dead in the small morgue. We are today relieved because the workload is easing," he said.