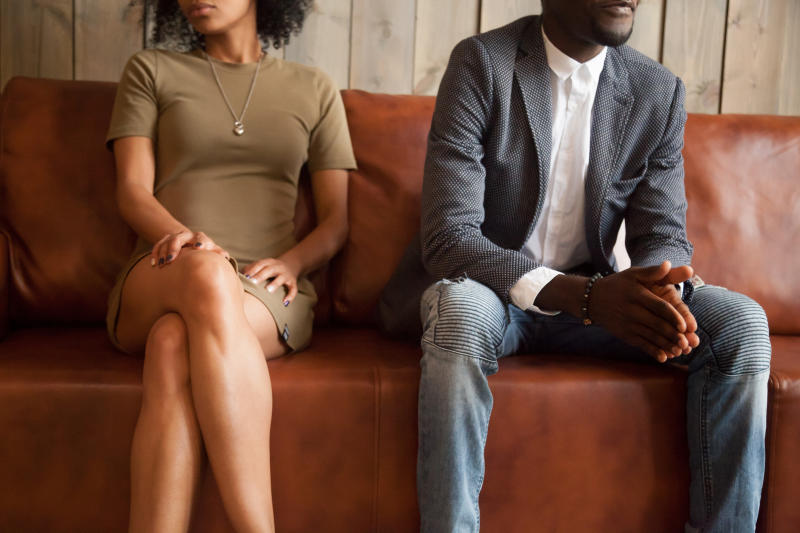 On Wednesday, September 1, The Standard received, on Facebook inbox, a relationship dilemma from one of its readers. We sample some of the advice shared by Kenyans, and also an expert's opinion on how the reader can come out of the confusing situation.
Every Wednesday mid-morning, The Standard will be publishing on its verified Facebook page (Standard Digital) a relationship dilemma sent to us via our Facebook inbox.
If in need of relationship advice – from an expert, or are seeking to get Kenyans' opinions on a certain confusing relationship situation – send us a message via Facebook, with the title 'Relationship Advice', and we will escalate the message to appropriate respondents. We guarantee you dignity by hiding details that could lead to your identity being known or exposed.
Hello, 'The Standard',
Hi, my name is Jane, 35 years old.

I live and work in Nairobi. I'm married to a man, who is loving and is a good father to our three children. We have been together for over nine years now. All through, I have been the one with a higher salary, and the gap is not a small one. As a result, I've been footing a majority of the bills, including rent and the children's school fees. I have been hoping things would look up for him, and he'd get an increase in salary, but that, seemingly, won't happen soon. I've advised him several times to start a business on the side, but he usually tells me that he's not good at doing business. I'm now running out of patience. Making matters worse, many well-off men have been on my case. Initially, I didn't entertain thoughts of having a thing with them, but my partner's financial stagnation appears to have pushed me towards entertaining the thought of having a rich man on the side. There's one wealthy guy whom I really like. He's married but likes me a lot. I'm confused about whether to take this affair forward or remain faithful to my husband.
Please, advise.
KENYANS' SAMPLED ADVICE:
Dindison Oscar: You just a hoe [sic] nothing to do with his low income. Loads of excuses to complicate and make marriages sound bad. Why not start that business for him? Do you ever think of that man's wife and kids what they may go through due to your selfishness? Disgrace to the marriage institution.
Harry Chags: Just go ahead and do whatever you want lady! It's evident that you're so money-oriented. What a devil! What a pretender.
Christopher Ongele: My dear sister, never get tired of supporting your husband and your family. This is for better or for worse. There are many women out here crying day and night for God to bless them with husbands. with or without a job. Just appreciate what God has blessed you with. Don't let the greedy of money overtake you to cheat on your husband. Even those with wealthy husbands cry in their big houses. Money can't buy love, honesty and happiness.
Nene Muthuri: You know right from wrong and are now asking for your wrongs to be affirmed by people who don't and won't share your tribulations. Just remember that choices have consequences.
Daniel Stephen Wamriew: Stick to your husband. Look at your fingers. Are they the same length? Same thickness? No, they are not, so they complement each other and together make a beautiful palm! So it is in relationships and in life at large; two unequal people come together and they complement each other and make one formidable team! You are fortunate enough that both of you are working and your husband recognises his limitations. Love him the way he is and find better ways to build each other. My two cents!
Sammy Wainaina: What if it's the opposite? How would you feel if he cheated on you on the basis of money? Please know that you'll never enjoy an illicit relationship. You will regret it. Be faithful to your husband and manage your money together.
Elisha Winga: Don't entertain the thought, remain focused on your marriage, all you need is a loving and peaceful family, you will regret after losing the marriage.
Shelby Wise: What if you lost that financially stable job you have today? Would you not cling for that little your man has?
We are blessed differently. The key is commitment, loyalty, faithfulness, respect and in everything put God first.
Lonah Asigo: Happiness is a choice. You are married to a CARING and LOVING man you say. Money is a small cell in a marriage. Nurture what you have together and grow. No one is perfect therefore no relationship is perfect...none at all. Make happy. Be happy. Stay happy.
Milkah Kimethu Better the devil you know than an angel you don't!
EXPERT'S ADVICE:
Dr Karatu Kiemo is a sociologist and lecturer at the University of Nairobi.
Hi Anne,
Marriage is often founded on the principle of sexual exclusivity unless the two are in an agreed-upon open relationship. It is unfortunate that a relationship that has produced three children & survived nine years can be wrecked by the need to have a richer partner. For a relatively young couple, it's OK to reflect on the dictum that hard times don't last. However, if the desire to have a richer spouse overrides every other consideration, then the right thing to do is communicate the same so that all concerned may make more informed decisions.