Watch out for Covid-19 as you fast, Muslims advised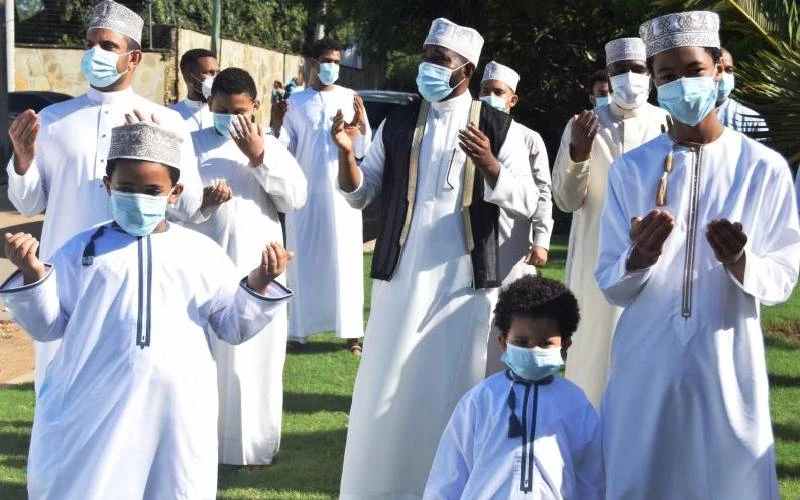 Ramadhan is a holy month marked by fasting, communal prayers, sharing and spending with family and the needy. However, for the second year in a row, community life has been disrupted by the Covid-19 pandemic worldwide.
As Kenyan Muslims join their fellow faithful in starting this year's fasting, many of the obligations that come with the month maybe be difficult to perform.
"This Ramadhan is different from what we have been accustomed to. We won't be able to gather in Mosques for prayers, iftar and Taraweeh as it has been the tradition," Jamia Mosque Nairobi Imam Sheikh Jamaluddin Osman said.
Ustadha Batuli Suleiman, Director Darul Arqaam School and Madrasa in Kileleshwa said these are some of the trials that mankind has to go through in life.
"We should use the time we stay indoors to improve on our Ibada (worship) as well as work more on building our relationship with Allah SWT, and our families as we pray for the pandemic to end," she said.
In the era of the Prophet Muhamad, Muslims used to start preparing and waiting for Ramadhan six months before the month, said Prof Mohamed Karama, a scientist.
To many Muslims, fasting is a period for total prayers; spending more time in mosques, doing charity, visiting relatives and friends and sharing. However, this is not possible, Ustadha Batul said.
She emphasised that all acts of worship commanded in the Quran and the teachings of Prophet Muhammad PBUH are possible with or without a pandemic.
"Family visits can wait but we can reach out through phone calls and video calls," Batul averred.
Karama said Islam has a clear set of principles to guide Muslims through this dynamic life.
"Laws of necessity (dharura) are one of those tenets that are made to guide Muslims to tackle an aspect of life that is abnormal," Prof Karama said.
Abu Khalid, the CEO of Masjid Al-Ameen Nairobi said there was some relief since the lockdown and closure of mosques wasn't affecting the entire country as was the case last year.
"All in all, these constraints remain a big challenge to the entire Muslim Umma, but they are necessary. We should not complain a lot but take this time to reflect and ask for forgiveness," Khalid said.
Apart from being CEO at Masjid Al-Ameen, he also serves as chairman Zakat Kenya and a Coordinator National Muslim Covid-19 Response Committee.
"Even though circumstances have stopped us from standing shoulder to shoulder and feet to feet in prayers, our acts of charity worship have not been stopped," Sheikh Jamaluddin said.
Abu Khalid who has stood among others in funds mobilization to feed the needy families during Ramadhan for years said this year seems a challenge.
"We hoped to collect Sh24 million to at least feed some 6,000 families over this period. As we speak, we have only managed to raise Sh1.5 million," he said.
Karama on his part urged all mosques that used to organize iftar for members of the public to continue this year by packaging and dispatching foodstuffs to those who need them.
Batul called on Muslims to adhere to health guidelines to flatten the curve.
Teaching children about fasting
During Ramadhan, when consumption of food and water is prohibited between the hours of dawn and dusk, how do Muslims observing the fast manage it.