Fashioned in Kenya
PULSE
By - | February 8th 2013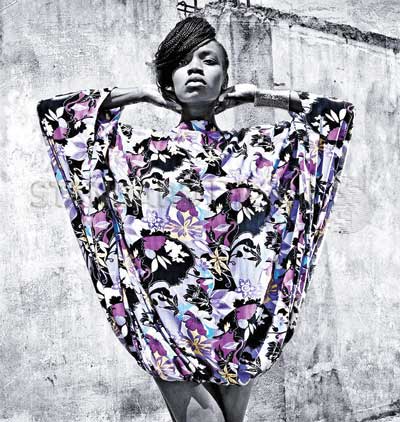 For a long time, the Kenyan fashion industry was not embraced by the young and hip, but as Shirley Genga and Sheila Kimani found out, things are looking up for the sector as a new crop of young Kenyan designers emerges
With the Kenyan entertainment industry sprouting into full bloom, the fashion sector is awakening with young fashion designers fast turning Nairobi into Africa's new fashion capital.
Last weekend, the city hosted two major fashion exhibitions where fashion stables showcased wears that could dictate the direction local fashion goes this year.
We may be miles from achieving what the four major fashion capitals — Paris, Milan, New York City, and London, which are all headquarters to the greatest fashion — offer, but the steady steps Kenyan designers are making are a clear statement that the industry is headed in the right direction.
What is even more encouraging is the fact that showbiz personalities; musicians, actors and actresses, models, popular TV anchors, and the like, are complementing local fashion designs with the rest of Kenyans joining the queue.
From clothing, footwear, accessories to make-up, urban Kenya is slowly soaking in new trends with Kenyan identity with an international fashion touch.
Here are some of the new names to watch out for in the fashion industry:
Melisa Achieng' Nyawade
Age: 25
Fashion House: Achie Otigo
Her style is eccentric and very edgy. She specialises in leather, denim, khaki, Ankara, lace and satin.
Melisa dresses a number of Kenyan celebrities among them Janet Kirina, Avril, Kaz, Black Blingers (Sakata), Ian Mugoya, Nice Githinji, Marie Ojiambo (Miss Africa USA), Pierra Makena, Sarah Hassan, Amina and Jalang'o.
"I began my fashion house back in 2010 after graduating from University of Nairobi where I studied Industrial Design," she says.
Ephy Saint Mururu
Age: 24
Fashion House: KenyaNdula
The model and actor began his shoe line KenyaNdula last year and it has been quite a hit with the young and fashion-conscious Kenyans. His shoe line is stylish, traditional — yet very contemporary.
He specialises in materials ranging from the traditional kitenge, Maasai cloth and leather to create shoes that every Kenyan can identify with.
"Our shoe line has something that fits a variety of styles, ranging from the patriotic Kenyan to the fashion savvy individual," he says.
"KenyaNdula came from the desire to promote local fashion that can compete on an international platform," he adds.
Zeddie Lukoe and Sidney Owino
Fashion House: Blackbird
The Blackbird Fashion House, owned by Zeddie and Sydney was formed in 2008.
At first, the two focused on denim and jeans as their material of choice, but have quickly evolved and become the 'it' men's fashion house today.
Blackbird's men's wear is made up of vividly architecturally designed suits in vibrant colours.
In 2011, the pair got the rare opportunity to showcase their line during the African Fashion Week in New York.
Top Kenyan entertainers from P Unit to Sauti Sol have worn blackbird's line.
Name: Wambui Kibue
Fashion House: AngelSmile
Wambui Kibue, who began making clothes as a hobby back in 2005, has became a force to reckon with in today's Kenyan fashion industry.
She has been in the industry since 2006. She started out by working for designer Monica Kanari. She later began her fashion line in 2010. Wambui describes her designs as 'chic' glamour.
"My clothes make a woman feel beautiful, confident, special and sexy," she says.
Celebrities she has dressed include Ajuma Naisenya, Grace Msalame, Sheila Mwanyigah, Vanessa Mdee, Sanaipei Tande, Muthoni The Drummer Queen, Wanuri Kahiu and Kaz.
Name: Lucy Kawira
Age: 23
Fashion House: Weshlons Fashion House
Lucy has been in the fashion industry for three years now and only began her fashion house last year after finishing her degree in Sociology. Although she is still a new face, she is definitely a person to watch.
Her designs are bold, modern and trendy and her materials of choice include African prints and khaki materials.
Sarah Kathure
Sarah Karay Designs
Sarah Karay launched her label showcasing an array of African inspired designs last year — she was 21.
Inspired by patterns, prints, colour, art, music and nature, Sarah Karay's fashion is aesthetic and unpredictable and it is no wonder her touch ranges from animal prints to loud tasteful colours and African inspired prints
Last year, she graced local fashion platforms among them The Nairobi Fashion Market and Naivasha Fashion Weekend amongst others. Currently, she is juggling design with being a student at the United States International University (USIU).
Anne Sophie
Ola Fashion House
Anne Sophie, 21, launched her brand while she was still in high school. She held her first Ola Fashion show in December last year.
Having worked under Anne McCreath at the KikoRomeo workshop, she learnt design basics and with time she developed her skills.
As a designer, she mostly draws her inspiration from everyday life and strives to ensure that all her creations are a form of expression because to her, each garment is a work of art.
Besides loving the whole glitz and glam, Anne admits that the fashion industry is thoroughly competitive and demanding.
Brian
Vazzi Clothing
Established in 2010, the brand was inspired by creativity, the need for authenticity and something local for young urban Kenyans to relate to.
Vazzi specialises on high quality pure cotton T-shirts, khaki trousers, denim men's vests, female tank-tops and off shoulder tops — all of which the youths have fallen in love with, and are occasionally seen with, especially at social events.
Ogake Mosomi
Ogake Mosomi Collections
As a designer, Ogake's inspiration is drawn from the nature and quality of fabric, especially because she believes that each fabric has a story and it is that which she hopes to tell through her designs.
With a pool of customers, Ogake keenly strives to be precise when delivering and also pays a lot of attention to the quality of design finishes because it's important to her that a garment looks just as good inside, as it does outside.
Nick Ondu
Nick Designs
Having been brought up by a mother who loves African fashion tops, Nick got the inspiration to delve into the fashion world making designs that incorporates the African feel to modern chic designs.
Besides making designs for both men and women, Nick is quickly cutting his niche as a men's wear designer after realising that most designers put women's fashion first. His designs mostly entail custom-made details because he believes in giving each piece a feel of individualism and exclusivity as he hopes to bring colour into African men's fashion.
Janet Mbugua Collection
Wambui Mukenyi
The unveiling of the Janet Mbugua collection by Wambui Mukenyi took place at the National Museum of Kenya, last year. The event was well attended by some of Nairobi's trendiest, stylists and bloggers among them Lillian Muli, Namnyak Odupoy, Connie Aluoch, Kaz, Patricia Kihoro and Annabel Onyango.
The label captures Janet Mbugua's elegant demeanour, class and beauty.
Mercy
Nakyma Fashion House
The young and trendy young designer is slowly becoming a big fashion name identified with her semi-casual office wear. Her identity label is popular among local TV anchors. Beatrice Marshal is one of her many clients.