Why DNG returned to God
PULSE
By - | January 11th 2013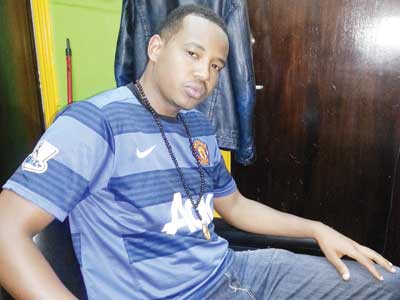 Davidson Ngibuini aka DNG
Born in 1986, Davidson Ngibuini aka DNG started off as a secular artistes (in 2003) before joining the gospel world a year later. But as fame and fortune came beckoning, with a Kora Awards win (in 2004), the singer slumbered back to secular music. Now, he is back with a new twist, writes Shirley Genga
Pulse: Everyone has that 'aha!' moment, when making a major turnaround in life. What was yours?
DNG: Turning back to God is something I have been thinking about for a while now. As much as my life was crazy, God would still tug on my heart. I attempted to walk away from sin severally, but life across there was too sweet to let go.
P: It was sweet but you confessed that you were wasting away...
DNG: Well, as I began to reflect on my life towards the end of the year, I realised that the way I was living my life was not worth it. I was wasting away and slowly heading towards destruction. I decided to change my perennial habits for good.
P: When, specifically, did you rededicate your life back to God?
DNG: It was on December 29, 2012, but I decided to fully effect the change the next day.
P: You can still be saved and have dreadlocks. Why did you decide to shave yours off?
DNG: I had tried to change my ways severally, and managed to do so for a while, but ended up slipping back. This time, I was really tired and I told God that if he could make me over, I would shave off my dreadlocks as a sacrifice. With every covenant, there must be a sacrifice. It was a sign of surrender.
P: What was going through your mind as you sat at the barbershop and watched your dreadlocks fall to the ground?
DNG: I was laughing because I could not believe that I was actually going through with it. However, I was at peace because I had thought about it all through the year (2012). I was ready, and I did it.
P: You were saved before sliding back six years ago. Looking back, what do you think led you away from God for six years?
DNG: Well, I was in campus and so much was going on. I had grown from my school days when I released my first single Samehewa. That was in 2003. My life was at a different place and I had several questions. I felt as if I was living a religious life, just because people expected me to, not because I wanted to.
P: That means you led a rebellion?
DNG: I wanted to experience life, explore and discover myself. I also felt that the gospel of 'salvation' being preached in church then was just legalistic. It was judgemental. The real gospel is not about rules and dogma, but about a heart of worship, in pursuit of God.
P: How has your family and friends taken you decision to rededicate your life to Christ?
DNG: My family is elated and my true friends are very happy for me.
P: Have you received any persecution because of your decision to return to God?
DNG: In every step of growth, opposition is expected...
P: What do you have to say to those who might be sceptic about your decision or who may see it as a publicity stunt?
DNG: My aim is not to justify my move. I wish not to address such quarters. My decision is personal. I made it public so that through me, the worst of sinners, Christ Jesus might display his unlimited patience as an example for those who would believe in Him and receive eternal life. That is all.
P: Last year you left radio abruptly. What prompted your decision?
DNG: It was not abrupt, as I had put a lot of thought into it. I decided to leave in order to concentrate on my company 254 Entertainment.
P: What have you been up to since leaving?
DNG: I have been busy building my brands; DNG, La Familia and 254 Entertainment. As 254 Entertainment, we have handled a number of jobs both directly and also through Agency who have been good to us.
P: What about your music career?
DNG: As La Familia, we dropped a massive record, Roho Chuma, and are about to release a follow-up to that called Saka Doe. The jam is about the paper chase, something that we are all extremely passionate about.
P: How do you think giving your life to Christ will affect your business and music career?
DNG: It can only get better. To be honest, we have just begun operations this week and I have already sealed several deals for the first and second quarter. God is at work!
P: Do you see yourself returning to radio any time soon?
DNG: I cannot say. I still have so much love for radio but I have so much on my plate at the moment.