Pulse got hold of Joe Thomas, the American singer known affectionately as Joe, ahead of his next week's performance at Tusker Lite Experience at Bomas of Kenya. STEVENS MUENDO fired the questions
Pulse: The Tusker Lite Experience concert is your first concert in East Africa. Are you excited about meeting your Kenyan fans?
Joe: It's my first concert in this part of Africa. I am looking forward to spending quality time with couples; newlyweds, friends and more importantly, I want to meet all the single ladies.
Pulse: Your fans, especially die-hard female fans cannot wait to see you. What is your message to them and what should we expect during your concert?
J: It is always a special feeling for me performing in Africa and all I can say to my Kenyan fans is just be there...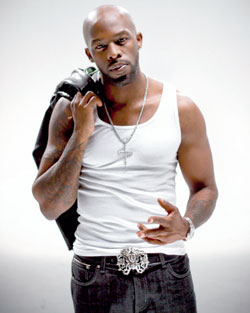 Joe Thomas [Photo:Courtesy]
Read More
Pulse: Just to clear curiosity and for the records, some fans are anxious to know if you are a family man and if not, do you intent to marry soon?
J: Well, all I can say is that I have a very, very beautiful daughter. Let us say I am still searching for my queen.
Pulse: You are coming here with a full band. In brief, tell us who will be in the entourage.
J: Wow! It is a pretty long list... from managers to my drummer, bass guitarist, trumpet, saxophone and keyboard players. I also have a sound engineering team to ensure that the sound is perfect for my audience.
Pulse: How did you click this huge deal?
J: My manager did it. After my last show in South Africa, I told him I want to come back to Africa (and he must have taken it seriously). When he approached me about this (Tusker Lite Experience Concert) I was in for it and agreed...without a doubt.
Pulse: It's five months since you made your music comeback with your new album The Good, The Bad, The Sexy. How has the new album been received in America?
J: The reception has been great. My fans appreciate my music growth. In particular, the two singles Losing and Dear Joe have been huge in America.
Pulse: The album debuted at number eight on the Billboard 200 and number two on the Hot R&B/Hip Hop albums chart. Did this affirm that you are still the hot R&B king who has overcome the test of time?
J: Thanks! Those were blessings thanks to my fans and most certainly (I said most certainly), have been lit up, career wise with this new development. It is like a fire burning under me.
Pulse: That must be a great motivation, right?
J: My motivation and energy is through the roof at this point. I plan to release an album every year, every 12 months or every 16 months.
Pulse: This is your ninth studio album. How is it different from your previous works?
J: It is all about love, lust and romance...
Pulse: Among other honours, you have been nominated for the Grammy Awards seven times. Does it bother you that you are yet to win a Grammy and do you see yourself getting one in the future?
J: Seriously! Most definitely! I would love to have a Grammy.
Pulse: What would a Grammy mean to you?
J: Who wouldn't want someone to walk into their house and get amazed by it (a Grammy trophy)? From nieces and nephews, the entire family would be like: "Wow, you did it Uncle! You got a Grammy? Oh... Wow! That is so crazy."
Pulse: Grammy would define music excellence, right?
J: Yes of course! It says you've reached excellence in your field of music. At the same time, it does more for me when little kids see it