Celebrities' shocking stunts
Celebrities — world over — have lived to reap the benefits of media hype, which usually translates to greater fame and album sales. STEVENS MUENDO brings you the local connection
It was flattering and outrageous news. Pulse declined to buy the rather hilarious joke. But it was breaking news for other publications and Internet sites when the self-styled Godfather of Genge Nonini declared that he was tying the knot with his long-time music partner, Lady B.
"Nonini announced his eagerly awaited engagement yesterday via his official Facebook profile. This comes after Nonini just completed the shooting of his video to the song Ghetto Love at the Tribe Hotel," screamed one of the blogs.
Their beaming headline could translate to great sales — Nonini getting married!
Another publication claimed the exclusivity of what to them was a breaking story, hyping it as their lead gossip piece.
Nonini

But the biggest of the twisted hype was the controversial reporting that Nonini had indeed gone on one knee and proposed to Lady B during the launch of the new video.

Neither Nonini nor Lady B denied the news, which — Pulse later established — was largely their own creation targeting media hype.

For years, Nonini has been working closely with Lady B whom he sometimes refers to as his sister.

They have been working together in various collabos such as their Kumbuka and Genge Love projects. Lady B attends most of Nonini's concerts and literally hangs out with him in other showbiz events. But that is just it!

Besides, the Genge Godfather's fiancÈe is a girl named Nyambura aka Kababy. She has been living in the United States and is currently in Kenya. As a matter of fact, the two lovebirds were on holiday at the Coast last weekend. There is no betting. They are like a pair united in heaven.

The Lady B and Nonini wedding shocker was no doubt a publicity stunt aimed at creating a swirl to coincide with Nonini's new single, Genge Love.

And with the media buying the prank, Nonini's showbiz profile was up again.

His gamesmanship had paid off as he claimed showbiz headlines in popular entertainment magazines. Local FM radio stations queued to book him for interviews. The industry was talking about him and so were his fans. Since then, his game has been up. Indeed, it has been a good year for the Kadhaa hit singer.

Celebrities go to extreme lengths in a bid to capture the much-needed attention, pulling outrageous publicity stunts, some of which may be both life and career threatening.

Take the example of Elvis Presley who was packaged as news item by his manager every time, sometimes sparking mass hysteria.

This was taken to the crescendo when Presley was drafted into the United States Army in December 1957.

Three months later, he entered the Army at the Memphis Draft Board. Presley was filmed as he was being given a haircut and fitted with his uniform.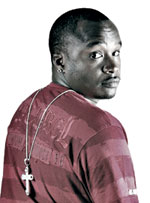 Jaguar

One early Tuesday morning, Jaguar called the media and declared himself the new King of Bling Bling. He opened a fierce war on Prezzo challenging him to step out and declare his 'wealth' .

He suggested that Prezzo's showbiz glorious days had been overtaken by events. The story was a big sale and for months it was the showbiz talk of town. Prezzo bit the bait. Jaguar's strategy to rise to showbiz stardom was working. He took to the airwaves with demeaning hype on Prezzo and hired bouncers to guard him everywhere he went with his convoy of state-of-the-art cars.

Everywhere he goes, Jaguar leaves a memorable presence and the drama around his controversial moves always turn to be juicy pieces for the paparazzi.

With his newly elevated status, Jaguar released two hit singles, Nimetoka Mbali and Nikuskize, which were received positively becoming club bangers all over the region.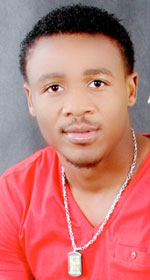 Ali Kiba
The stunt is one of the most discussed Kenyan showbiz topics on Facebook. Now, the hullabaloo has elevated Sly to a new celebrity status getting him nicknamed the 'new kid on the block'. The media is loving the showdown. From the look of things, a happy Sly is not ready to call a ceasefire. Have we seen the last of this unfolding drama?
Abass' verbal attack on Chiwawa
Barely a year after tying the knot with his singer flame Baby G, Abass and the Norwegian girl called it a day. Animatedly, Abass sprang an attack on his fellow rapper, Chiwawa, who had been the best man during the flashy wedding, saying he had been behind the couple's break-up.
Now, that statement alone was very questionable. Abass has always been known to be a controversial artiste capable of initiating a spat just to capture media glare.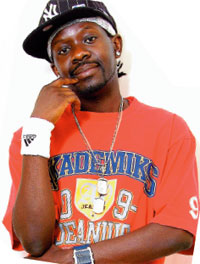 Delicious
With a music career spanning over five years without a meaningful take-off, Delicious has often been viewed as being desperate to attain the long awaited breakthrough hence the outrageous claims.
Well, the Cry baby single is out. Few can hardly remember its title. The stunt never worked for Delicious. Probably, this story will.
Grace's acid attack claim before album launch
Just a few weeks ago, rising Ugandan songstress Grace Nakimera was reportedly rushed to hospital following an incident in which an unidentified man doused a suspicious liquid substance on her face and hands.
But it was later reported that the alleged acid attack was nothing more than a 'fictitious' story made to hype Grace's name.
Well, the truth was that the singer was headed to a titanic album launch clash with award-winning duo Mozey Radio and Weasel.
They were launching their albums on the same day in different Kampala spots and it could only take something extra-ordinary for Grace to pull through.
The acid talk was seen to be a publicity stunt geared towards getting her sympathy.
The move worked in favour of the singing beauty since on the material day, Grace pulled more fans than the Goodlyfe duo.
A week after the showdown, Grace tasked a tattooist to mark her boyfriend's name on her behind, an operation she invited the media to witness.