Celeb pairs: For love, money or fame?
Whether it's just wild showbiz fantasy or genuine love, the debate rages on whether some celebrity couples are together just for show, writes Stevens Muendo
In a video review carried in this magazine two Friday's ago, Baby Gangsta's new single Freakin' Ya Beat, featuring her husband Abbas received a two star rating.
It is among the worst rated videos this year.
The review had it that the video had tasteless graphics, poor picture quality and weak dramatisation.
Nameless and Wahu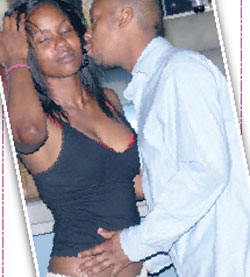 Sana and Manga
Marya and Moustapha

This is the first major collabo the couple has recorded since they tied the knot last November. Their's could be a happy celebrity marriage. However, with all due respect, critics still believe that whereas Abbas remains the indisputable 'king of rap', Baby G remains an impostor in the music world, simply riding on her husband's glory to break into showbiz limelight. Singing may not be her true calling if the single is anything to go by.

In a nutshell, critics believe Baby G should leave music making to her hubby. She has, however, hit back at haters stating that she is an artiste in her own right.

Nameless and Wahu

Nameless and Wahu could be the perfect model of a celebrity couple after the two stood the test of time, each releasing hit after hit, winning awards and traversing through the continent without riding on each other's fame.

Word has it that after many years of marriage and successful showbiz life, the two are for the first time working on a collabo, which will be out soon.

Shaffie Weru and Debbie Asila

Another celebrity couple who have, despite being in the public eye withstood the pressure over the years.

And after Shaffie's success as a radio presenter, the belief that Shaffie may have been riding on Debbie's Tattuu popularity is no more.

Manga and Sanaipei Tande

But the same can't be said of Manga who has been hanging around Sanaipei Tande, now riding high with her hit single Najuta after her successful Kwaheri with Jua Cali.

Manga has nothing to show of his music efforts since his collabo with Habib and is arguably roasting under Sanaipei's wings in a bid to remain relevant.

Colonel Moustapha and Mary Maina

And above all, Colonel Moustapha and his boo Mary Maina aka Marya have created a buzz with their relationship.

Even before breaking out of the shell, naysayers were already pouring scorn on Marya claiming that she is in Moustapha's life for the fame.

"Did you feature her because she is Moustapha's boo? I have never heard of her?" a Pulse reader wondered.

"Haters will always make noise. Moustapha is my boyfriend. But my music career has nothing to do with his fame. Time will tell," said Marya.

"I am an Ogopa signed artiste. Both of us have different managers. I write my songs and he writes his. We complement each other's efforts, but I'm not in music because he, being my boyfriend is in music," she said.

Admitting that there is a thin line between groupie celebrity singers and real singing couples, Moustapha says:

"I met her four years ago. She was a model and wasn't singing back then. But it's Ogopa who discovered her singing talent and she is not singing because I compelled her to. Sometimes I think she is even better than I am".

When to make babies

"We are taking each other's music career so seriously that we are careful on issues like when to get officially married and when to make babies. Believe you me, our love life and singing careers are two different things," he notes with Marya stressing that when the right time comes, the two are ready to tie the knot.

"I feel bad when people say I am in Moustapha's life for the fame. This is not groupie love. We are in a serious relationship," she added.

The couple — who live under one roof — released their separate singles Ogopa Anthem, Lenga Stress and Mahaba early this year and their follow up sentimental duet Hey Baby to be released next week may stir new waters for the two Ogopa signed lovers.

And down at the Coast are Jonnie of Skani Flani and Beryl, an events organiser, a confessed couple, which has been together for the last two years.

While Jonnie has his Skani Flani group riding high at the Coast, Beryl is still trying to cut her niche in event organising and for now, she can only be seen as Jonnie's girlfriend.
Celebs, charity and fun
Some minutes to 2am that Thursday night, the rains came pouring, putting off the bonfire and forcing a host of local celebrities to scamper to their tents. Dark rain clouds covered the open skies as hyenas began their night patrol, laughing in the thickets surrounding Oloilalei Hills. Someone claimed to have heard a cheetah wailing.