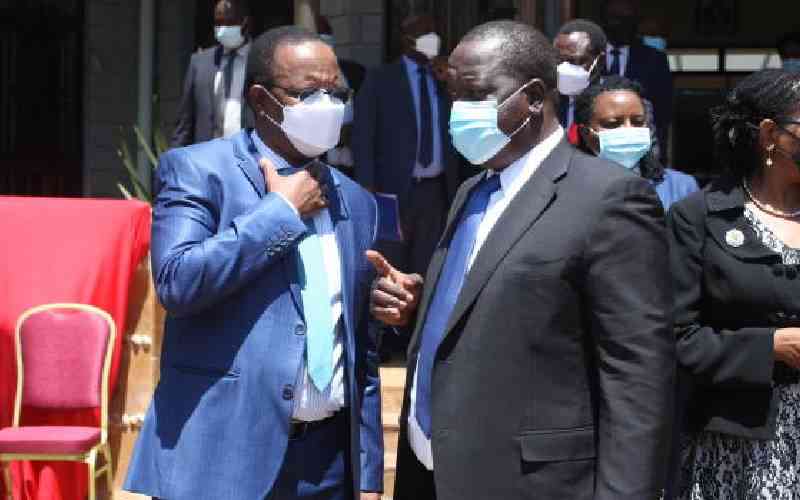 Interior Cabinet Secretary Fred Matiang'i has slammed Deputy President William Ruto for implicating civil servants in fictitious election rigging plots.
Dr Matiang'i termed Ruto's claims that there are plans by senior public servants to interfere with the General Election as untruthful and unfortunate.
The CS accused the DP of lying to Kenyans and implicating public servants in some fishy, non-existent schemes that they knew nothing about.
He said it is the role of the country's top leadership to ensure the elections were conducted in a secure environment.
Matiang'i said together with his Principal Secretary Karanja Kibicho they have an enormous responsibility to ensure adequate security for those going to vote on Tuesday and ensure peace and harmony after the voting.
"I am greatly disappointed that our Deputy President is playing politics with a very serious matter. Our President has stated clearly that nobody is going to interfere with the election and that he is going to hand over power to the presidential candidate who wins," said Matiangi.
The Interior Cabinet Secretary said they have been having routine meetings with chiefs for the last five years since they are the government representatives at the grassroots level and they brief the administration on security situations in their jurisdiction.
Matiang'i said it was wrong for Ruto, who is the second in command in government, to publicly mention names of senior public servants linking them to plans to rig the elections. He explained that there were no such plans and observed that if Ruto had any concerns there were channels to raise them.
"The president has given us a job to ensure adequate security in the country. We are going to perform our role until when we hand over office to a new government with new people taking over our responsibility, as for now we are going to do our best," said Matiang'i.
Kibicho said Ruto is their boss in government and that when he openly mentions names of officers working under him, he sends a wrong message to Kenyans.
Speaking in a local TV station on Thursday night, Kibicho assured Kenyans that the government will not allow anything to go wrong under their watch since it was the concern of all citizens to go on with their lives normally after the election.
Kibicho said they have put up security measures to avoid violent scenarios witnessed after the 2007 and 2017 elections.
"I am asking the Deputy President to carry on with his campaigns without mentioning names of senior civil servants unpleasantly, we are peace-loving Kenyans dedicated to doing our duty and I am sure by the end of next week we are going to be vindicated," said Kibicho.
During a press conference at his official Karen residence in Nairobi on Thursday, Ruto accused Uhuru, Matiang'i and Kibicho of being behind plans to interfere with the conduct and outcome of the General Election to benefit his main opponent.
The DP accused his boss of holding meetings which he claimed were aimed at influencing the poll outcome, giving an example of a meeting held early this week in Nakuru.
Ruto also blamed the National Cohesion and Integration Commission and the Directorate of Criminal Investigations for failing to take action on the continued incitement of Kenyans by powerful individuals in the political circles.