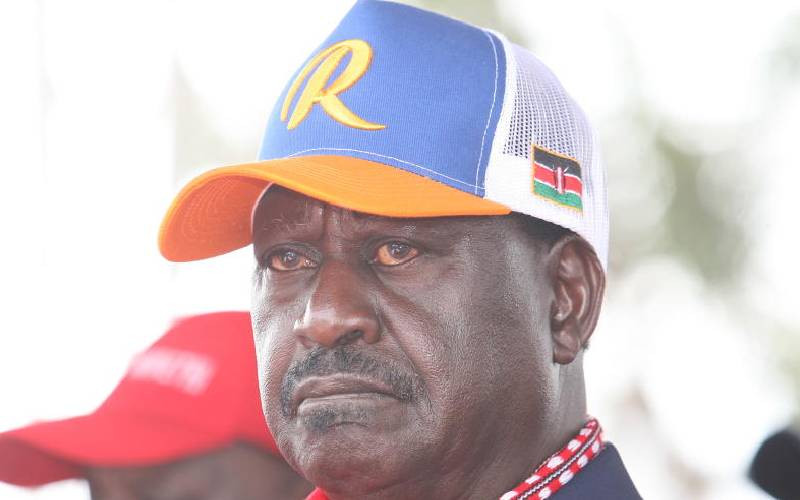 Azimio la Umoja One Kenya presidential candidate Raila Odinga has declared that there will no elections on August 9 if the electoral commission does not provide the manual and electronic voter register.
Mr Odinga claimed that there was a plot to rig the elections in 10,000 polling stations where 200 ballot papers would sneak in so that his opponent can get an extra 2 million votes.
"That is why we're saying that there must be a manual register at every polling station, it is not negotiable. We're telling the IEBC they must have a manual register along with the biometric identification of voters on that day; failure to which, there will be no election. Kama sio hivyo hakuna uchaguzi," he said.
"With a manual register, it will be easy to tell how many people have voted in every polling station. In the electronic register, there is no record that remains," he added.
Addressing a rally in Githunguri, Kiambu county, yesterday, the Azimio presidential candidate claimed that a plot had been hatched where the printing of ballot papers had been infiltrated by some of his opponents.
"They have sent someone to the country where ballot papers are being printed to go and print extra papers and sneak them for the purpose of stealing the election. They plan to target 10,000 polling stations and use these extra printed ballot papers to top their votes. That is why Wafula Chebukati is reluctant to ensure we have a manual register alongside electronic one. The manual register is a must in every polling station...there is no negotiation about this," he said.
At the same time, Mr Odinga told his opponent Deputy President William Ruto that he is ready for the August 9 polls and exuded confidence he will win because of his reformist track record.
He asked Dr Ruto to stop deceiving Kiambu residents and Kenyans that President Uhuru Kenyatta is shielding him in the ongoing campaigns.
"DP Ruto says that he wants to face me eyeball to eyeball. I do not need President Uhuru's protection. The contest is between me and Ruto and I am challenging him to a duel," said the Azimio leader.
"Our desire to bring change that will benefit all Kenyans, especially the unemployed youth and women is unstoppable," he said adding that, "we are talking about the third liberation with the aim on the state of our economy. The moment we shall fix the economy we shall free our youth and Kenyans at large from poverty, illiteracy and diseases."
Mr Odinga also addressed rallies in Ruiru town and Kirangari Polytechnic in Kabete.
He promised to hold a major rally at the newly refurbished Kirigiti Stadium where he will seek to rally Kiambu county behind his presidential bid on August 9.
The Azimio presidential candidate took a swipe at DP Ruto for lying to Kenyans in 2013 that they would deliver laptops for all school children.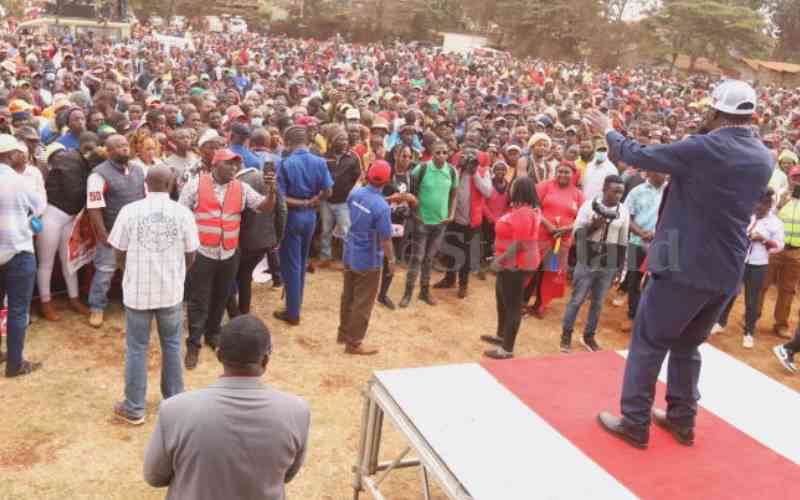 "We want our youth to get decent employment upon graduation and not push wheelbarrows around as a means of earning a living after spending a fortune to get a university education. Tell Ruto to take the wheelbarrow to Sugoi," he said.
"He (Ruto) promised children laptops and 10 years later he has come back to give them wheelbarrows. That is the height of dishonesty and such a person does not deserve any vote from the Kenyan youth," he said.
The ODM leader said if Azimio wins the August 9 polls they lower the cost of living within the first 100 days in office.
"The moment we shall seize power on August 9 we shall transform our country to another level. Our competitors cannot be able to effect any meaningful change because most of them are entangled in one scandal after another. Their work will be to loot more from public coffers," he told Ruiru residents.
"You (Ruto) are part of the problem and therefore you cannot be part of the solution. Kenyan needs leaders who will genuinely fight corruption and restore the country to the status of an investment hub in Africa," Mr Odinga added.
The Azimio presidential candidate was accompanied by Governors James Nyoro (Kiambu), Hassan Joho (Mombasa) Charity Ngilu (Kitui), Suna East MP Junet Mohammed, former Gatanga MP Peter Kenneth among other Mt Kenya leaders.
The leaders were later joined by Azimio deputy presidential running mate Martha Karua in Kabete where she urged Kiambu residents to vote for the Azimio team which has leaders with proven track records.
"Our competitors have no proven track record of their sacrifice for Kenyans. All Kenyans will be equal before the law when it comes to corruption," Ms Karua said.
She asked Mt Kenya voters to rally behind Mr Odinga saying the region stands to benefit under his presidency.
"All that DP Ruto has been campaigning for in the last four years is hate and anger and politics of division. He needs to control his anger before he can be entrusted with power," Ms Karua said.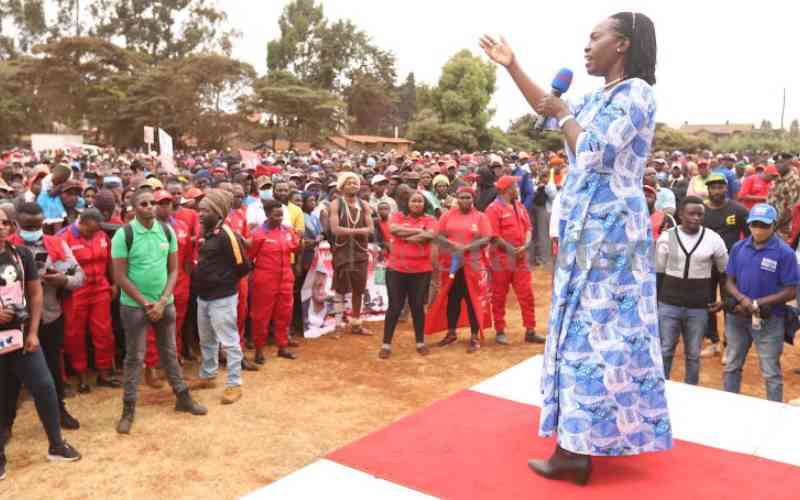 Speaker after speaker challenged Dr Ruto and his Kenya Kwanza brigade to come clean on graft allegations levelled against some of them before they convince Kiambu residents and Kenyans to trust them with instruments of power.
"Raila brought democracy and the 2010 Constitution while Ruto is coming to the ballot with the maize and land scandals. This is the man who says he made Uhuru President and Raila Prime Minister then why can't he make himself president since he has all it takes to make others occupy national offices?" Posed Suna East MP Junet Mohammed.
"If there is one person who needs to be investigated it is Ruto on how he acquired the ADC land and where Weston Hotel stands. Kenyans are also not ready for an angry president who can slap anybody who stands in his way whether he is in the wrong or not, " Junet said.
Mr Kenneth described the DP as a master of doublespeak. "Ruto was in charge of all mega projects in 2013 when the government incurred most of the debts the country is grappling with. When the achievements of Jubilee are counted he wants his name to top the list but if the failures are mentioned he leads the bandwagon shouting from the rooftops. What kind of leader is that?" He posed.
Mr Odinga further said that he has over the years been fighting for the good of Kenya and future generations, unlike his competitors who are out to protect their ill-gotten property.
"Our stand remains that there are four major enemies facing Kenyans today that is diseases, ignorance, poverty and corruption. These are the enemies we want to fight and that is why I picked Martha Karua as my running mate so that she leads the war against graft. All those who are corrupt will be kicked out of government so that we have a country where you enjoy the fruits of your own labour," he said.
He said Azimio administration will issue all Jua Kali artisans with a Certificate of Prior Learning (CPL) which will enable masons, and carpenters, among other artisans to win government contracts.
"We don't want a situation where Kenyans in this category are forced to go through brokers who ask for kickbacks so as get a government tender," he said.
Mr Odinga said Azimio government will assist youths with businesses to access low-interest loans that will be payable after seven years.