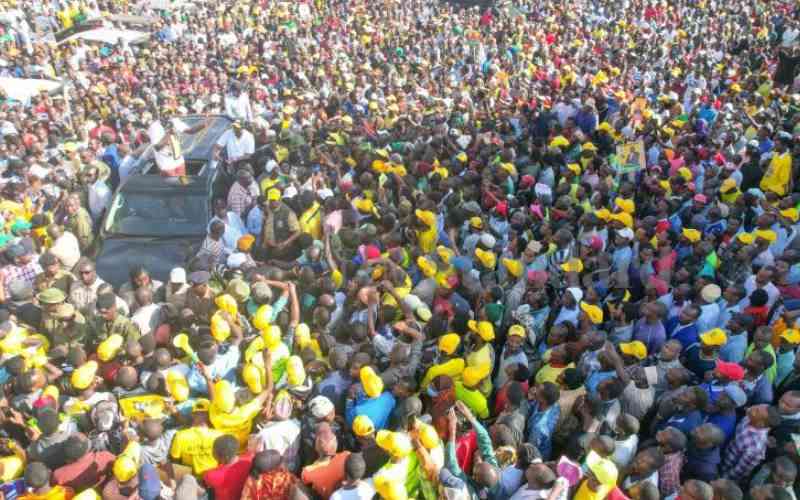 Deputy President William Ruto yesterday campaigned in Isiolo, identifying himself with the local communities whose main economic activity is pastoralism.
Speaking at Kina and Isiolo town, Dr Ruto said his government will construct dams and a textile factory to make them food secure and create jobs.
"We have a market for meat. Hides and skins which have been going to waste shall be processed here." The DP urged the residents not to be bribed not to vote for him as food shortage continues to hurt residents who depend on relief food.
"Accept the food supplies they will bring. That is your tax. Let them bring every day but know where you will cast your ballot. Do not be bribed with food," he said. Dr Ruto tore into his main rival ODM leader Raila Odinga whom he accused of misleading President Uhuru Kenyatta, adding that it is after the duo's handshake that the cost of living shot up.
Mr Ruto further linked Mr Odinga to the lost billions of shillings meant for fighting the Covid-19 pandemic, saying suspects were never charged due to their links with the high and mighty.
"Don't give us long lectures about corruption when billions of the Covid-19 funds were lost in the hands of your cronies. As Kenya Kwanza government, we shall deal with chronic corruption." He added that the Building Bridges Initiative (BBI) which had the support of Raila Odinga would have disadvantaged the less-populated counties.
"BBI would have seen the reduction of Isiolo's share from the current Sh4 billion to Sh2, but by luck, we stopped it. For this reason, Mr Odinga should not ask for votes here," he said.
The DP said leaders from the county are supporting his presidential bid behind the scenes.
"Some of your leaders always call me to express their support. They are only supporting Mr Odinga because they have been threatened." Dr Ruto took issue with recent opinion polls indicating Mr Odinga's camp was more popular, terming it as a government creation.
"I would have finished Mr Odinga long ago were it not for President Kenyatta. I don't know why he is doing that yet I helped him become President." He reiterated that he has no bile against the President and Mr Odinga.
"I helped Raila become the Prime Minister and Uhuru the President twice. They have now ganged up against me."
Kiharu MP Ndindi Nyoro drummed support for Dr Ruto, saying Mr Odinga is only enjoying the President's support as his backyard continues to drift away from him.
UDA's Isiolo governor candidate Hussein Tene urged Ruto to address historical land issues once elected.