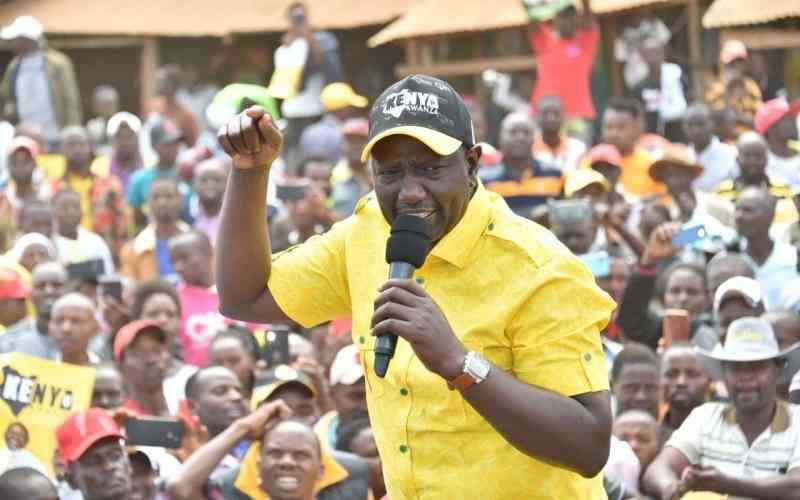 Deputy President William Ruto has confirmed that it was he that convinced President Uhuru Kenyatta not to let go of the presidency in the disputed 2017 election.
This followed leaked audio capturing the voice of the DP saying he was prepared to slap President Uhuru, who, it appeared, was on the verge of letting go of the presidency following the nullification of the vote by the Supreme Court.
Speaking at Kithirune in Meru as he completed his three-day tour of Tharaka Nithi and Meru counties, Dr Ruto said he mounted the biggest campaigns for Mr Kenyatta, and was not prepared to concede to Mr Odinga, who also claimed victory.
"I was the one who did the biggest campaign. I used to wake up very early and have three rallies before the President arrived. Because he is my friend, I helped him and there was no way I was going to let Kitendawili (Mr Odinga) to snatch that seat. I was prepared to push him because there was no way the victory of voters who woke up early was going to be taken away," he said.
The DP, who addressed crowds at Kithirune and other centres, said he had heard that the Azimio leaders were spreading word that he had "pushed" the President.
"I want to ask the Azimio people to stop conmanship and hypocrisy. Now they are pretending that they are supporting President Uhuru? You have never voted for him, or know how we made him President. They do not know how hard we worked to make sure he became President. You have no business lecturing us on our relationship with President Uhuru.
"You cannot pretend to think that you know President Uhuru and you value him better than us who made him president," he said.
In Meru town, where the Kenya Kwanza team was hosted by Nominated MP Halima Mucheke, who is also a UDA candidate, Dr Ruto said when the then Chief Justice David Maraga-led Supreme Court annulled the poll results, he had to prevail upon the President not to give up. "Did you want me to let him to let go of the work I had done with you? Even if I forced him, did I do anything wrong? Did you want the work we had done to be undone? I did nothing wrong to prevail upon him to go ahead with campaigns for us to win the election. That is why he became president," Dr Ruto said.
Dr Ruto told supporters he should have resisted the President's move to bring Mr Odinga into the fold. "I think it is actually me who erred. When he started to bring Raila I should have resisted it. Had I done so, we would not be in the current crises. The Big Four agenda would not have collapsed. The price of flour would not have gone up."
It is a message that was echoed by his running mate Rigathi Gachagua and Tharaka Nithi Senator Kithure Kindiki, with the latter calling Mr Kenyatta as a reluctant president.
Mr Gachagua said he and Dr Ruto had in 2002 campaigned for Mr Kenyatta's maiden bid, where he garnered 1.8 million votes.
"In 2013, when things were tough, he wanted to let the seat go to Musalia Mudavadi. We went to his home with Mithika Linturi and Justin Muturi and told him not to surrender the seat. We pushed him and he became President. When Maraga brought issues, we got information that he wanted to surrender. We went to Ruto and urged him not to let him give away our seat," Mr Gachagua said.
The Mathira MP said if Dr Ruto was wrong in pushing Mr Kenyatta to pursue the seat, it was the Jubilee leaders who should take the blame.
Prof Kindiki said: "I want to affirm what our incoming president and his DP Gachagua have said; that we will not let those who have never campaigned for Uhuru to lecture us about him. We are the ones who made him President. I can confirm to you he was the reluctant candidate like he did not want it. When Maraga ordered the repeat poll Uhuru wanted to surrender it, but we said it should be done as Maraga had said. And today, Uhuru owes his presidency to Ruto, Kindiki, Gachagua and the team here."
National Assembly Speaker Justin Muturi echoed the sentiments and urged Mr Kenyatta not to be part of Azimio.